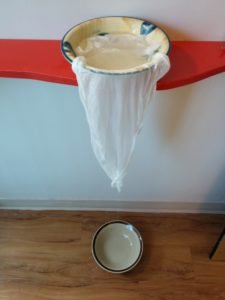 During winter, when the air at home is being heated, it can get dry and very uncomfortable. A humidifier is  great machine to keep the air healthy. However, not every household keep a humidifier.
So, people have to come up with other solutions to add humidity when the air's drying out your skin, furniture and woodwork.
In the same way that you might decorate with vases of flowers or bowls of fruit, try decorating with bowls of water. Place a few around your house and the water will evaporate into the dry air. If you have radiant steam heat: place a water bowl on top of radiators to heat the water and aid in evaporation.
Set up a drying rack in your bedroom and lay out damp clothing to dry overnight. You'll save energy by not running the dryer, and add more moisture to the air.
Leave the water in the tub after you've finished bathing. Letting it sit and cool completely allows more moisture to evaporate into the air than when you're showering.
Cook on the stovetop. Not only is this a cozy practice during cold winter weather, it also releases moisture into your home's air.
Like any resourceful person, you don't always have to break your bank to live a comfortable life. This fix is only temporary and most likely can't sustain a healthy air for bigger homes. If you decide to purchase a humidifier, you check out our the best humidifiers in the market from our homepage!