You never know what kind of air conditions you will encounter when traveling. You might find yourself in a place with dry air or you might find yourself staying at a hotel with stuffy air. It is better to be prepared for such eventualities rather than end up with discomforts such as stuffy and congested airways, dry skin and uncomfortable sleep. This is true especially if you are bringing your baby or kids with you when traveling.
Having said that, it is a good idea to invest in a travel humidifier. This handy and nifty device effectively delivers more moisture into the air, thereby relieving throat and airway congestion, reducing stuffiness, preventing static and dry skin and improving the overall air quality of the space you are occupying.
We checked out the best travel humidifiers out there and found the ones that are durable enough to withstand rough handling from all the traveling and effective enough to deliver the benefits of a humidifier. Find out below which products we highly recommend.
Benefits of a Travel Humidifier
Are you a frequent traveler? Do you often find yourself in different time zones, traveling on the road or occupying different hotels more often than you can count? A travel humidifier will surely come handy. Here are some of the benefits you can get:
1. You never have to worry about dry air conditions.
It is inevitable that you will deal with dry air conditions, especially in the winter season. This can bring out a lot of issues such as chapped lips, dry skin, frizzy hair and a host of other conditions. With the humidifier, you never have to worry about these poor air conditions anymore because a travel humidifier will make sure the air quality is good and there is proper humidity levels in the air.
2. In case of a respiratory illness when traveling, you can use the humidifier to increase comfort.
You never know when you might come down with cough or colds while traveling. A lot of people have been in this situation in the past. Exposure to different people and exposure to cold weather can increase a person's susceptibility to respiratory illnesses. A humidifier can help relieve respiratory illness symptoms such as nasal congestion and itchiness of throat and chest without the use of medications.
3. It helps you sleep better at night.
Even when traveling, you still need good quality sleep. It can be difficult to sleep in stuffy hotel rooms, which is why you need a travel humidifier to correct that problem.
4. It is small and compact, more ideal than the regular sized humidifiers out there.
You can always bring your humidifier at home but that would be cumbersome as many home humidifiers are big. These are more compact and designed for traveling, so they are more convenient to use.
5. These travel humidifiers are built to withstand wear and tear.
You can rely on these humidifiers for a longer period of time because of how durable they are and how capable they are of withstanding wear and tear.
Best Travel Humidifier Reviews
Now here are the features you can get from these travel humidifiers:
Compact and great for travels, this portable humidifier effectively delivers up to 0.85 fl oz of water into the air for every hour you use it. Get rid of nasal stuffiness and minimize allergic reactions when you are in an unfamiliar place. With its 20 dB of noise level, this should be a great companion for those restful nights because it won't disrupt your peace. It has up to 8 hours of run time and comes equipped with an auto shut-off system. Once it detects no water in the tank, an alarm will set off to alert you.
This humidifier is quite durable as it is made from aluminum alloy and ABS plastic. It can withstand harsh travel conditions. It even comes with a night light.
Pros:
It has a good tank capacity. You can get up to 8 hours of continuous run time.
Can be charged using your phone's power bank.
Has a nice and attractive design that you should be proud to display anywhere.
It features an auto shut off feature. It gives off an alarm once the water is gone.
It is very portable and easy to take with you on your travels.
It comes with a 1-year warranty.
It is very affordable.
Cons:
Some said the light is too bright.
Nothing gets more portable than this pocket-sized humidifier that easily fits on the palm of your hand. It doesn't have a water tank, but you can easily convert a 200-oz water bottle into one. It makes use of PureMist Ultrasonic technology that allows this mini humidifier to work inconspicuously. It is cordless, so you can use it no matter where you are. Just make sure to bring a USB charger or 3 AA batteries to run it.
Pros:
This unit is very compact. You can easily fit it in your bag or pocket.
It has two modes of operations – USB or batteries.
It is very lightweight.
It comes with an adjustable timer. Choose from different timer settings.
This features an automatic shut-off function.
The PureMist Moisture Technology ensures this will humidify even bigger-sized rooms.
It operates quietly.
It is a cinch to use.
Very affordable.
It is easy to maintain as there is no water tank to clean.
Cons:
Be careful not to tip it over because the top bottle can be heavier than the base.
Humidify your room easily with this portable humidifier that works in small spaces. The variable mist settings allow you to get just the right level of mist output for the space you have. The rectangular base can easily hold a water bottle. It is big enough to provide stability but small enough to bring it with you on your travels. It can produce mist for up to 6 hours even when you are only using one 16.9 oz of water.
Pros:
It has a good room coverage. It can humidify a room of up to 160 square feet.
Comes with a soft glow mood light.
It works quietly.
This has an auto shut-off feature.
It comes with a 5-year warranty.
The mist settings are adjustable.
The base is more stable.
Cons:
Some said it doesn't run as long as advertised.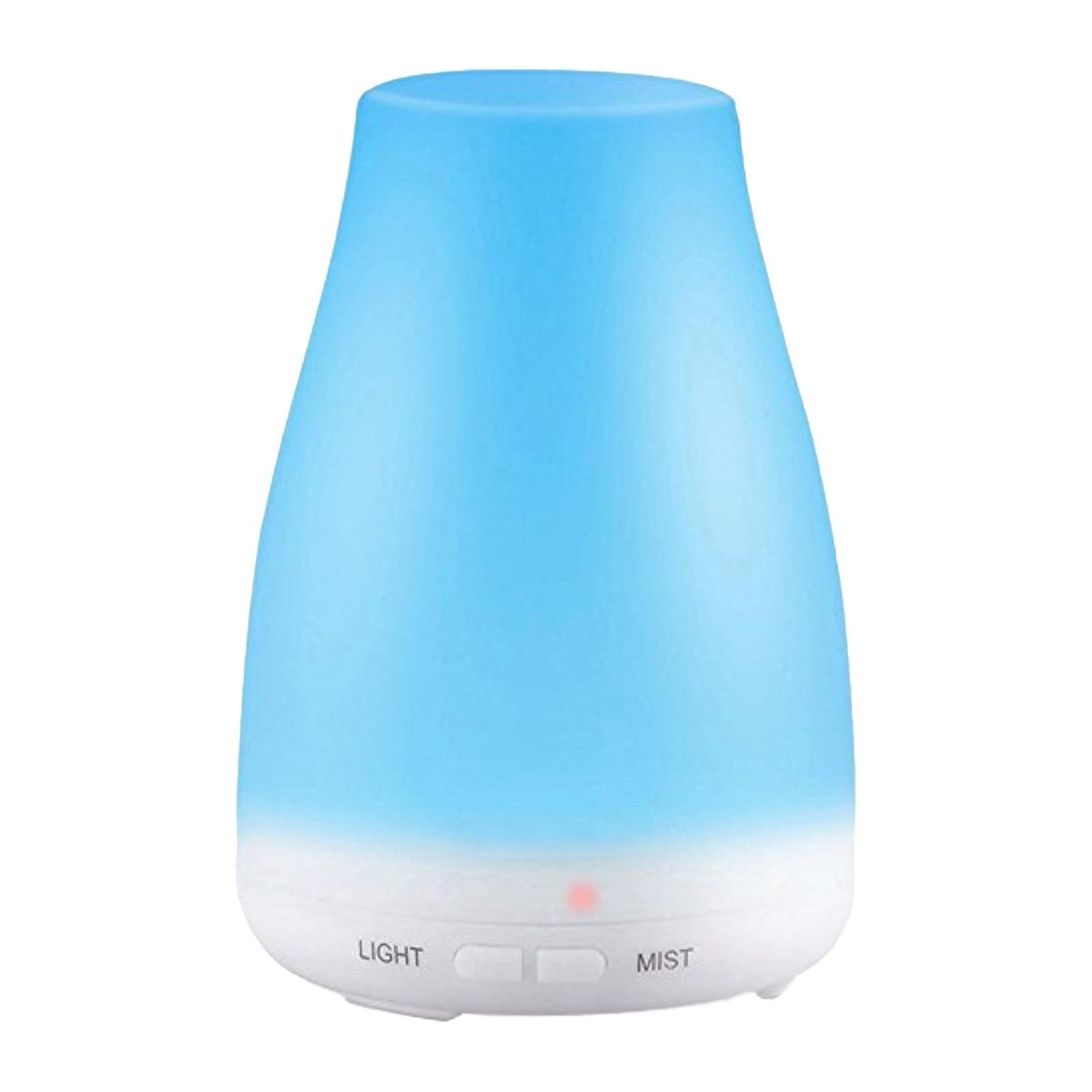 This is a great entry-level humidifier. If you only need a humidifier to place at your bedside table and to provide relief in a small room, this can be a good option. It is small and compact enough for travelers but functional enough to provide relief for anyone. Since it is also a diffuser, you don't have to bring two devices.
Pros:
This is a 2-in-1 product that works as a diffuser and a humidifier.
It is an affordable choice, great for travelers who want to invest in a humidifier but don't want to spend a lot of money.
It is very quiet. It can even be used in a baby's room.
It features 7 different night lights, great for soothing tired little ones.
The diffusing function is easy to control. If you only like a subtle scent, you can reduce how much oil it will diffuse. It's not as pervasive as others.
It has an automatic shut off function.
Cons:
The upper lid tends to be difficult to pry off. You have to exert a bit more effort to access the water receptacle.
The diffusing radius isn't that big. It won't permeate all over the room.
Which One Should You Choose?
Now which of these products is the best choice for you?
Durable Construction: GX Diffuser USB Cool Mist Humidifier. This is a good travel humidifier because of how well-built this is. It can withstand wear and tear and won't get damaged easily. It also has a nice design that is nice to look at.
Pocket-Sized: Fancii Cool Mist Personal Mini Humidifier. This pocket-sized travel humidifier is what you need if you don't like to bring something bigger or clunkier. There is no water tank for this but makes use of a water bottle. You don't have to worry about cleaning it up later as well because there is no water tank.
Stable Base: Pure Enrichment Ultrasonic Cool Mist Water Bottle Humidifier. This is just as portable and reliable as other humidifiers but has a nice and stable base. It is in no danger of tipping over when you use it. It has a nice design that does not make it difficult to bring with you when traveling.
User-Friendly: URPOWER 2nd Version Essential Oil Diffuser Aroma Essential Oil Cool Mist Humidifier.. This compact humidifier is easy to bring and easy to use. It works quietly and has the right humidifying features in place. Perhaps its best feature is its mild diffusing effect. It doesn't inundate the room with a strong cloying essential oil odor like scented candles.
Tips in Buying the Best Travel Humidifier
Make sure you buy only the best travel humidifier. Here are some tips to help you figure out which one is the best choice out there:
1. Check out your different power options.
Some travel humidifiers are operated by batteries. That means you should bring extra batteries with you or choose those that come with rechargeable batteries if you opt for this kind of humidifier. Others come with a USB charging system. They are easier to recharge because you only need to bring the charging cable and not have to worry about running out of battery and finding replacement batteries.
2. Find out how much water it can hold.
There are different ways to supply water to a travel humidifier. Some smaller travel-sized humidifiers function like a full-sized one where there is a water tank you can fill up with water. These are good because you can operate them like you would a regular humidifier. However, that extra tank space can make them bigger than others.
On the other hand, you can find a humidifier equipped with a slot where you a water bottle will sit on it. You can use a standard-sized water bottle to fill it up with water. Because there is no additional tank space, this is usually more portable. You also don't need to worry about cleaning a water tank. This also gives you a longer run time as you can use as much or as little water as you want.
Which water tank technology you should choose will depend on your personal needs and preferences.
3. Look for something that is more durable.
What is it made of? Are the internal parts shock-proof? It is inevitable that your bags will be mishandled. This is why it is important to look for one that is made from more durable materials, so even if your bag will be mishandled, the humidifier will not get damaged.
4. Think about size.
Travel humidifiers are more compact, but you should still think about how portable it is. Make sure it can easily fit in your travel luggage and isn't too heavy.
5. It should not produce too much noise.
It should have whisper-quiet operations. Traveling is already stressful enough and you don't want a noisy humidifier to add up to the stress. It should have features that enable it to operate quietly.
These are the things you should consider if you want to get the best travel humidifier out there.
What to Do Next?
We want you to get the best humidifier, no matter what your intended purpose is. So, whether you are looking for a humidifier for a large room, to clear up congestion or to improve air quality, you can find what you are looking for in this website. Whether you're at home or abroad, we're always here to keep you up to speed with the best humidifiers on the market!