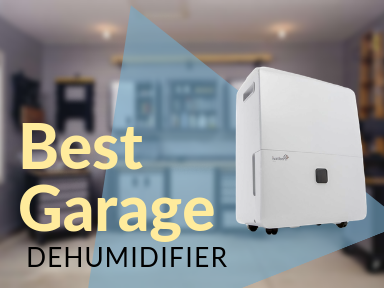 Too much moisture in the air can't be easily felt. However, it can be seen through its effects to a property such as the growth of molds and the persistence of musty odor. These are indications that your house is suffering from too much humidity.
Keep an eye out on molds and musty problems in certain areas of your home prone to excessive humidity such as the garage. Since most people use their garage as an extra storage room and to keep their car, it is important that the air is not too moist, or it can lead to corrosion and damage to your property.
Today, you will learn more about the various dehumidifying products out there more ideal for garage use. Read on to learn more about the products we recommend.
Best Dehumidifier for Garage Reviews
1. Ivation 95 Pint Energy Star Dehumidifier
This is a fitting option for garage spaces as big as 6,000 square feet. It is capable of drawing up to 95 pints of moisture from the air in a day. It can provide a solution to your molds and mildew problem in your garage. What makes this different from the others is its built-in pump. This 16W feature ensures that the water will drain out continuously.
The LED display in front of it is easy to see and understand. You can spot crucial information such as humidistat, fan speed setting, filter alter and timer. This unit also boasts of an auto-defrost function and an automatic restart feature.
Pros:
This has a good capacity. It can accommodate bigger dehumidifying needs.
Water gets pumped out continuously. You need only to direct it to a sink or a window, so water can be expelled outside.
It is a nice-looking unit. You won't be ashamed to use it even in your other more visible spaces.
There are caster wheels for easier transport.
The auto-defrost function comes handy in the winter when garage temperatures become too low.
The auto restart feature is a nice touch in case there is a power outage.
It has a filter alert. If the filter needs cleaning, the machine will alert you.
Cons:
This dehumidifier is a little bit more expensive than others.
2. Whynter Elite D-Series Energy Star 95 Pint Portable Dehumidifier
Here is another dehumidifier great for bigger spaces such as a garage. It is capable of removing up to 95 pints or 45 liters of moisture from the air. What is great about this is that it can operate even under low-temperature settings. If your garage has temperatures of up to 40 degrees Fahrenheit, it will still operate. Noise level is ideal at less than 58 dBA.
Pros:
You will never have to deal with excess moisture problems again because this one is capable of removing a lot of moisture from big spaces.
It boasts of low temp operation. Even if the temperature drops down in your garage, it won't freeze up like the other dehumidifiers out there.
It comes complete with a 24-hour timer, an auto restart function, an auto shut off function, auto defrosting feature and dual fan speed.
This unit doesn't create too much noise.
It is compact and looks great no matter where you put it. The casters also make this easier to transport.
It comes with a drain hose attachment already.
The filter has a silver coating to kill germs and bacteria. It can also be washed and then reused.
It comes with a one-year limited warranty.
Cons:
There were some customers who said they had issues with a leaking pump.
3. Powilling 5500 Cubic Feet Smart Home Dehumidifier
You will like how quietly this dehumidifier works. It features a Thermo-Electric Peltier module technology. This is the technology that allows the extraction of excess moisture in the air minus the compressor noise. It gets the job done but in a quiet manner. Expect this workhorse to extract up to 60 ounces of moisture from the air in each day. It has 106 ounces of water reservoir, should you choose to collect it in there instead of draining it continuously.
Pros:
This has a big capacity. With the ability to remove 60 ounces of moisture in a day, you should have your garage nice and dry in no time
It works quietly. There is no annoying sound to disturb your sleep.
This unit can be installed with ease. It is lightweight because of its lack of compressor.
When the tank is full, it will automatically turn off.
This is an inexpensive option.
You can get a 60-day money back guarantee and 12 months warranty for the unit.
Cons:
It doesn't work as quickly as compressor technologies.
4. Inofia Portable Dehumidifier
A 70-pint dehumidifier just like this one from Inofia is just right for the needs of most households when it comes to removing excess water from the air. The 3.5 L tank accommodates more collected water. Once it fills up completely, an alarm will warn you that it is time to remove the contents of the tank.
Pros:
It is well-designed. It will look good in your garage.
The LED screen is easy to read. You can check the humidity levels of your garage with ease.
The fan speed can be changed to suit your preferences.
It has an auto defrost function that comes handy when using it in low-temperature settings.
Capacity is just right for moderate dehumidifying needs.
It comes with a 60-day money back guarantee.
It has a very compact design. It doesn't take up a lot of room.
Cons:
Some said this unit gives off a smell when it is new.
5. Tosot 70 Pint Dehumidifier
Get rid of excess moisture in your garage with the help of this dehumidifier that has a built-in pump. The pump effectively expels water no matter the direction and even with a distance of 15 feet. Once it detects that the drain bucket is full, the pump will begin working to expel the collected fluid. With only 52 decibels of noise, you won't notice this unit running. It will work quietly.
Pros:
This dehumidifier has a nice and attractive design. It is compact and doesn't take up too much space.
The internal pump can be used no matter what direction it is. It still effectively dispels water.
The LED display controls are easy to use.
It is energy star-rated. It won't consume too much electricity.
In case of a power outage, it has an automatic restart function to ensure this unit still works properly.
It comes with a 30-day money back guarantee and 1-year manufacturer warranty.
Cons:
Some thought the humidifier readout is not that useful.
Why Do You Need a Garage Dehumidifier?
The obvious reason why you need the best dehumidifier for a garage is to control moisture levels in this room. Doing this can help in preventing molds growth. Molds, when inhaled, is toxic. It can also destroy your property and your belongings. This is why it is important to control or completely eliminate molds growth in order to protect your belongings from damages.
Corrosion is another issue that can be prevented if you have a garage dehumidifier. If you own recreational vehicles and expensive recreational equipment, you need to ensure that they are stored properly in a conducive environment. Otherwise, they could succumb to corrosion. That can also be said of the many appliances that you keep in your garage.
A dehumidifier can help keep important possessions and documents from damages brought about by fungus and mildew. If you have old film photos that you keep in your garage, having a dehumidifier can also prevent them from getting damaged.
The Verdict
Great for Big Spaces: Ivation 95 Pint Energy Star Dehumidifier. If you have a big and spacious garage, you would want to get something as capable as this one from Ivation. It won't disappoint when it comes to its ability in getting rid of moisture in the air.
Powerful Dehumidifier: Whynter Elite D-Series Energy Star 95 Pint Portable Dehumidifier. You won't be disappointed with this one. It really does a great job in extracting moisture from the air without consuming more energy.
Works Quietly: Powilling 5500 Cubic Feet Smart Home Dehumidifier. If you are worried that the dehumidifier will disturb your household, get this one. It makes use of Peltier technology, a noiseless kind of technology that will allow this unit to dehumidify your home but without the excessive noise.
Reliable Features: Inofia Portable Dehumidifier. There are more positive reviews about this unit, thanks to its consistent and reliable functions. It does what it is supposed to do, so it is hard to complain about it. If you are looking for consistent results, this should be a good choice.
Value for Your Money: Tosot 70 Pint Dehumidifier. You are getting a reliable machine that does its job in dehumidifying a room but comes in a price that isn't too steep. Additionally, this unit is backed by a warranty.
Now that we've taken everything into account we think the best dehumidifier for garage environments has to be the Ivation 95 pint model. It's suitable for use even in large garages and has a convenient inbuilt pump.
How to Choose the Right Garage Dehumidifier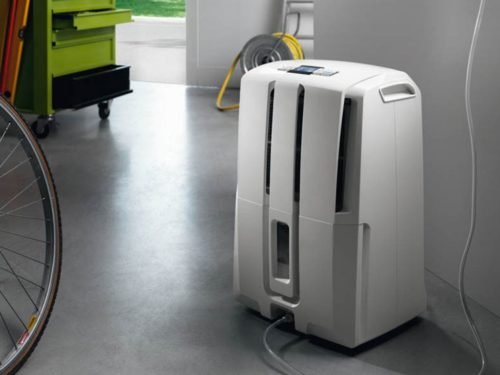 We want to make sure you choose the right dehumidifier for your garage. Here are some of the tips you need to keep in mind, so you can make the best buying decision:
1. Understand the various types of garage dehumidifiers out there.
There are different types of garage dehumidifiers suitable for indoor use. You can choose from desiccant dehumidifiers and compressor dehumidifiers. Desiccant dehumidifiers are a wonderful option because they make use of desiccant wheels to extract moisture in the air. These units operate quietly, so if you don't like too much noise, this should be a good choice. These dehumidifiers are also ideal for your garage because they don't have coils that can freeze when garage temperature reaches low levels.
On the other hand, compressor dehumidifiers might be a better option for bigger garage spaces. These units typically are more powerful when it comes to drawing more moisture from the air. Best of all, they also tend to conserve more energy because of how quickly they operate.
Both these types of dehumidifiers work in garage settings. Which one you should choose will depend on your dehumidifying goals and needs.
2. Get the right size that corresponds to how big a garage you have.
Measure the space you have. If you have a big garage and you usually experience severe dampness in this area, you might need to get a dehumidifier with a bigger capacity. One that can accommodate 70 pints of water or above should be a good option for bigger spaces or spaces that tend to suffer more from humidity.
3. Make sure it has all the safety features you will need.
Safety is paramount when using a dehumidifier, especially since you have it running all day. That said, look for a dehumidifier that has an automatic shut off feature in case it reaches full capacity. Better yet, look for one that you will be able to connect to a drain hose, so the water will continuously drain, and you won't have to deal with constantly removing the contents of the water tank. Also look for units that can alert you when the tank gets full or has an automatic restart feature in case of a power outage.
4. Choose one that will not produce a lot of noise.
Check the noise level emitted by the dehumidifier and pick one that will not produce too much noise. If you will have the dehumidifier running all day, it's important that it isn't too noisy, otherwise, it can be too distracting.
5. Pick a garage dehumidifier that can operate in low-temperature settings.
The problem with garage is that most people do not heat them up. In the winter, garage temperature can reach low levels. If this is the case, the dehumidifier might not work properly. Some dehumidifiers, especially the compressor ones, don't work when the condenser coils are frozen. You should look for those dehumidifiers that have anti-frost features, so they can operate well in the garage even when the weather gets colder.
Conclusion
Here are the dehumidifiers we recommend getting:
Make sure you click the links of the dehumidifier you think is the best option for your garage. We hope you find that your new unit clears up your humidity issues in no time. But don't leave without taking a look at our more general buying guide, so that you can find the right dehumidifier for any room in your house!