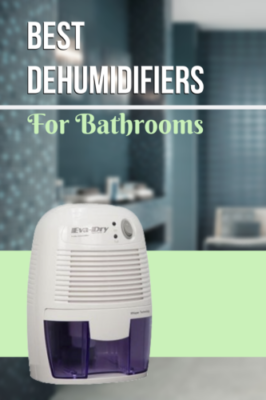 Whether your bathroom has some leaky fixtures or poor ventilation, excess moisture from showers and general washing up can lead to mold and mildew if it's not allowed to dry properly.
It gets worse:
That can lead to moldy towels, fungus in the shower, and mildew odors permeating all your toiletries. Plus, you're risking serious damage to your home with each shower.
But you're in luck:
A bathroom dehumidifier can help correct that situation in a hurry…
…however, it can be hard to find a dehumidifier that's compact enough to fit in your bathroom without being too weak to handle your humidity problem.
We've already searched far and wide for you, and highly recommend the Eva Dry Electric Petite Dehumidifier due to how compact, affordable, and effective it is in small spaces.
Best Bathroom Dehumidifier Reviews
Product
Details

1. Eva Dry

Best Value: Very Affordable

Star Rating: 4.0
Highlight: Compact & Quiet
Price: $

Check Price

2. Ivation

Safety Auto Shut-off

Star Rating: 4.2
Highlight: Easy to Reservoir
Price: $$

Check Price

3. Frigidaire FFAD7033R1

Powerful But Pricey

Star Rating: 4.5
Highlight: Digital Humidity Controls
Price: $$$

Check Price
1. Eva Dry – Editor's Choice & Best Value

It's compact, quiet, and very affordable.
This little dehumidifier unit is a great solution for steamy apartment bathrooms with poor ventilation, or for secondary bathrooms in houses. It's compact, quiet, and very affordable. We think it's a great choice for a bathroom smaller than 10X10'.
Previous buyer said it was surprisingly effective in small spaces, and kept basic moisture concerns under control. If you're strapped for cash, or tight for space, this is an excellent choice.
Pros:
It's extremely compact. This bathroom unit is just over 6 inches wide, so it's ideal for cramped spaces. This will fit easily on the edge of a sink, or on a small shelf. At just about 1 pound, it's also easy to move around when you're cleaning your bathroom.
It has a long power cord, ideal for rooms where power sources are few and far between.
It's very inexpensive. While the vast majority of dehumidifiers cost upwards of $100, this one costs just around the $50 mark. We think it's a great preventive option for people who don't have any serious mold or mildew concerns in the bathroom but want to prevent any from occurring down the road, without investing in a full-size machine.
It's dead-simple to use. There's just one switch: on and off. Just like full-size models, it shuts off when the reservoir is full. This one also has a light which alerts you that it's time to empty the tank. Previous buyers said it was incredibly simple to use and much less tricky to navigate than larger digital units.
The spill-proof reservoir holds up to 1 pint of water. Previous buyers said it could fill up pretty quickly, depending on the severity of their bathroom moisture problems. Some buyers with very wet, unventilated rooms said it filled up in 48 hours, while the average buyer said they got to about a week before having to empty the tank. That's some impressive performance for a bathroom unit that takes up less than 1 foot!
This dehumidifier is rated for spaces up to 10×10'. Previous buyers reported very good results in small spaces. They said their towels, bathmats, and other linens dried much more quickly with the Eva Dry running.
It has a long power cord, ideal for a bathroom where power sources are few and far between. The cord is 5'10" long, so you should have no problems getting this dehumidifier connected.
This dehumidifier unit is very quiet since there's no internal compressor. The compressor is the loudest component on a full-size dehumidifier. Previous buyers said this machine wasn't any louder than a space heater or a bathroom vent fan running on a low setting. The low noise level makes it a smart dehumidifier choice for smaller rooms that are attached to a master bedroom, or for apartment bathrooms which are next to a bathroom with thin walls.
Cons:
It's not all that powerful a dehumidifier. While most full-size units can pull at least 20-30 pints per day from your air, this bathroom dehumidifier generally pulls 1 pint per 2-5 days.
We don't recommend this dehumidifier unit for larger bathrooms, or for spaces with very severe moisture problems. It's a better choice for mold and mildew prevention in smaller bathrooms in apartments or condos, as well as secondary (smaller) bathrooms in houses.
Some buyers found that this dehumidifier only pulled teaspoons of water out of their bathroom air, even in smaller spaces. Your results will vary depending on the specific conditions in your home bathroom.
It has a relatively small reservoir. Since it only holds 1 pint of water, you'll have to empty this dehumidifier more often than a larger unit. However, most buyers said it didn't fill up more than once every couple days-even in very humid conditions.
You can't set a specific humidity level for your bathroom. This one will work continuously until it's full, and you can't set a humidity level for it to bring your space to. That's not a huge concern, since most bathrooms will never get bone dry.
However, it does mean that this one will use power pretty much constantly. It's not as efficient an energy user as units with programmable settings.
It doesn't have a particularly good track record for durability. Several buyers said it only lasts about a year, while others said their machines kicked the bucket just outside of the warranty period or return window.
Overall, it's definitely not as reliable as most full-size dehumidifier units. We'd recommend adding on extra warranty coverage, since we've found that you can add two years of extra third-party coverage for just a few dollars. The manufacturer's warranty is just 30-days, which really isn't sufficient for any appliance, especially one like a dehumidifier which you'll be running continuously.
2. Ivation – Best Seller

It's exponentially more powerful than the EvaDry, and it's still very easy to fit into your bathroom.
Our top midrange choice for a bathroom dehumidifier comes from Ivation. It's a compact, 30-pint dehumidifier unit which is suitable for larger bathrooms, and more serious moisture concerns.
It's exponentially more powerful than the EvaDry, and it's still very easy to fit into your bathroom. We think that between its price, user-friendly design, and water capacity, it makes a great dehumidifier solution for small to midsize bathrooms with substantial moisture and humidity issues.
Pros:
It's way, way more powerful than the EvaDry dehumidifier. While this one costs about 3x as much, it packs more than 30x the bathroom dehumidification power! The Ivation dehumidifier is rated to remove up to 30 pints of water from your bathroom air in a given day.
We'd recommend it for a bathroom as large as 300 square feet, which should be more than enough for even the most spacious bathroom. It's a good choice for people who have bathrooms attached to suites or smaller apartments, where humidity and moisture can spread.
Unlike some other full-size humidifiers, previous buyers said the Ivation's water reservoir was easy to remove and empty.
That extra power comes in handy in two ways: first, it can handle more severe moisture problems in your bathroom than the Eva Dry. Second, the Ivation can have even more of an impact on your humidity levels in even less time. That means it'll spend less time working, and use less electricity!
Unlike the Eva Dry, the Ivation dehumidifier has precise, digital controls which allow you to set a humidity level for your bathroom or suite (35%-80%). It'll work until it brings the room humidity down to your set level, then shut off automatically until your room becomes more humid again.
When the humidity in the bathroom goes above your set level, the machine will notice and spring into action to keep humidity under control. That saves noise, energy, and wear and tear. Previous buyers said this dehumidifier unit easily brought moisture levels down by as much as 40 percentage points in their bathroom. They really appreciated being able to set the machine and forget about it! It'll even restart automatically after an outage!
It's very efficient. As we've said, the Ivation's powerful dehumidifier design means it can spend less time working than the Eva Dry, which has to run constantly. Additionally, this model is Energy Star-rated, which means that it's EPA-certified to use minimal electricity while it runs. Previous buyers said running this dehumidifier barely made any impact on their power bill.
It comes with a manual cold-temperature setting, which allows it to run safely at temperatures as low as 41 degrees F.
Unlike some other full-size dehumidifiers, previous buyers said the Ivation dehumidifier's water reservoir was easy to remove and empty. It's easy to get in and out of the unit and has a retracting carrying handle.
Even though it's larger than the EvaDry, it's still a very compact dehumidifier. This dehumidifierunit is less than 2 feet tall, and just over 1 foot wide. That makes it nearly as easy to fit in your bathroom, especially given that it doesn't take up any more space than the average bathroom trash can.
It's portable. This dehumidifier unit is mounted on a caster-wheel base, which is easy to roll in and out of place as you clean around the bathroom.
It's very affordable. This unit costs quite a bit more than the EvaDry dehumidifier, but it's one of the most affordable full-size units on the market! Plus, you can extend the warranty for just a few dollars more. All in all, we think that one of these with extended coverage is a real bargain.
Cons:
It only has a 1-year warranty.
It's hardly the most industrial solution on the market. If you've got a big master bathroom with serious moisture concerns, you'll be better off shelling out for the maximum-power Frigidaire below.
The Frigidaire can handle even the most severe levels of dampness or moisture, and put a stop to your mold and mildew problems in the first day of use.
This compact unit is one of the most powerful dehumidifiers on the market, period. It's our top quality recommendation for dehumidifiers in general, and we're more than satisfied with how it performs in a whole house.
Because it takes up such a small footprint, we also think it's the ultimate choice for solving your bathroom's moisture problem. The Frigidaire can handle even the most severe levels of dampness or moisture, and put a stop to your bathroom mold and mildew problems in the first day of use. Plus, it'll make a big difference with humidity levels in the rest of your house as it works!
Pros:
It's massively overpowered for most bathrooms. This is a 70-pint unit, which we would generally recommend for spaces as large as 1500 square feet. In a small space like a bathroom, it can easily handle the most severe moisture issues.
It's ideal for bathrooms with very poor or even no ventilation, which have severe condensation or problems with leaks and mold. Since it's so overpowered, it can handle even the most severe bathroom conditions. It can also tackle moisture more quickly, and at a lower noise level than less powerful units.
The biggest benefit of having a dehumidifier this powerful in your bathroom is that it can make a big dent in the humidity level of the rest of your home, provided you leave the bathroom door open when it's not in use.
One other benefit of the 70-pint format is that, since this model is designed to collect more water in a given day, it has a reservoir to suit. This one has a nice big water bin, at 13.6 pints. That means you won't have to empty it nearly as often as smaller units with reservoirs at 6 or 7 pints. This is one you can empty on a daily basis, or even less frequently, depending on your bathroom.
Previous buyers loved how ergonomic the water reservoir in this dehumidifier was, especially compared to comparable dehumidifier units. It has a fold-out handle built into the top, and a flat bottom which makes it easy to set down en route to the bathroom drain. We also like that this dehumidifier has a splash guard around the edges. It's easy to get in and out of the machine, and easy to get to the drain without making a mess.
You can also use it continuously, with a hose attached to the drain valve. That's ideal for people who can operate the dehumidifier  above drain level, since you'll be able to skip emptying the water reservoir completely.
Most people use these hose setups in a basement, but if you can either elevate your dehumidifier, or have a floor-level drain with no raised bathtub rim, you can easily run a short length of hose to your shower to drain the dehumidifier without having to empty the reservoir all the time.
This dehumidifier is full of automatic, convenient features. The Frigidaire has simple, digital humidity controls, including a 24-hour timer, alerts for the bucket and filter, and automatic frost prevention which makes this dehumidifier suitable for temperatures as low as 41 degrees F.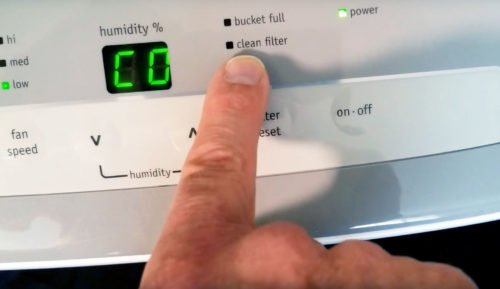 Most bathrooms won't get that cold, but if you've got a drafty house or keep the heat particularly low overnight during the winter, the frost prevention feature could come in handy.
It's Energy Star-qualified. If you're shopping for a bathroom dehumidifier, especially one this powerful, chances are you're planning on running it constantly. Since this one can run at lower levels and do the same job as smaller machines on full blast, it's actually a smarter buy where your electricity bill is concerned. It'll use shorter duty cycles, and consume less energy each time.
It's very compact. Even though this is the most powerful, effective appliance in our top three, this dehumidifier is only 2 feet high, and just over 1 foot wide. That's awfully compact for a 70-pint dehumidifier! It's easy to fit in even the most cramped bathrooms.
It's a very portable dehumidifier. This one's on a caster wheel base, so it's easy to roll out of the way when you're mopping the bathroom floor.
It's Energy Star-qualified.
It's very quiet. This unit produces just 52 decibels at full power, so it's very unobtrusive to have in the bathroom, especially if your bathroom is connected to a bedroom or living room area.
It's covered by a 1-year warranty, and it has a much better reputation for reliability than the Ivation or EvaDry. The Frigidaire isn't immune from quality control issues, but on the whole, it's the most reliable dehumidifier we've found on the market right now. Its parts hold up better than other makers, and the digital controls have fewer fatal glitches.
Cons:
It's quite expensive. This one can cost close to $300 (twice as much as the Ivation), so it's definitely not a casual purchase. We recommend it mainly to people who have very severe moisture issues in their bathroom, or folks who can afford to spend more money up front for a machine that will last longer than average. If you're dehumidifying a central bathroom in your home, you'll also probably get better value from your purchase, since you'll improve air conditions in a wider area.
While this one isn't as finicky or unreliable as our other bathroom recommendations (or other 70-pint models), it's still imperfect. Frigidaire units are often plagued by a similar fatal error message, and this one isn't immune.
Most buyers didn't have any issues, but some people simply ended up with lemons which kicked the bucket fairly quickly. Especially when you're spending this much money on a machine, it makes sense to add an inexpensive extended warranty.
The larger bucket might be less ergonomic for older users since it can weigh a fair amount when it's full.
Which is the Best Dehumidifier for Your Bathroom?
The best bathroom dehumidifier is the Ivation. Read below to see why we think this is your best choice.
If you have a very small bathroom or only a mild moisture problem, we strongly recommend buying the Eva Dry. It's a lot less gimmicky than other countertop models, and it can make a big difference if used properly.
However, it's really not very powerful, and we don't recommend it for more than a mild moisture problem if you have space for something full-size. We recommend it to people who are tight on cash or people who want a preventive solution for small, slightly damp bathrooms.
For small to medium bathrooms, with moderate dampness, we highly recommend the Ivation dehumidifier. It's a very reasonably-priced solution for people who need a full-size dehumidifier, but don't want to spend a premium for something like the Frigidaire.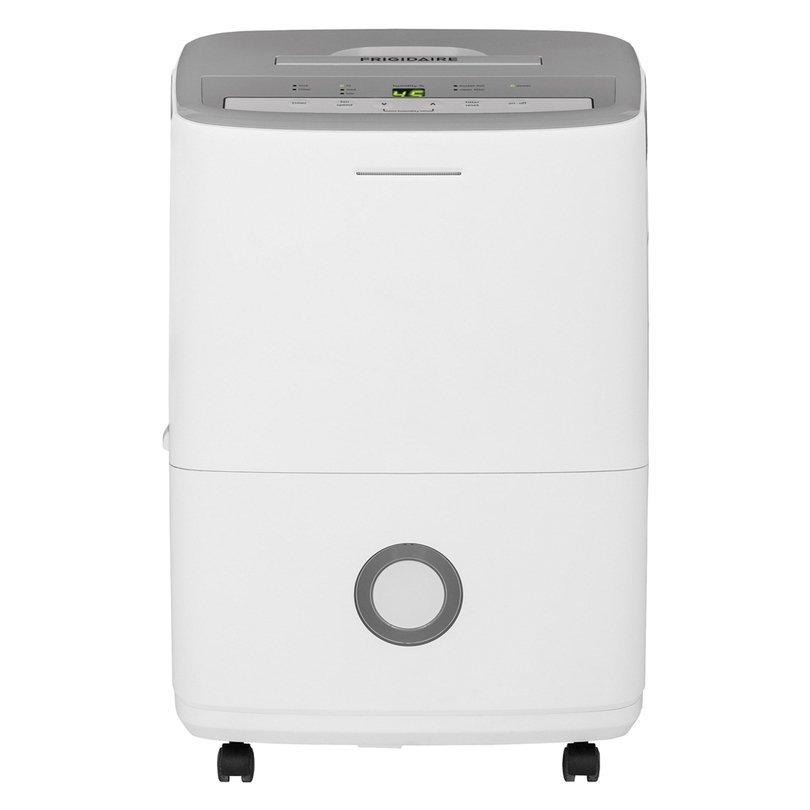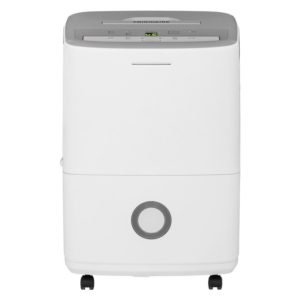 It's more than powerful enough to handle the average bathroom, even if you have some mold and mildew going on already. Plus, the digital humidity controls make it infinitely more reliable and convenient to use than the Eva Dry.
If you have a severe moisture issue in your bathroom, own a home with a large bathroom, or want your bathroom dehumidifier to reduce the moisture in the rest of your house, the Frigidaire is the best choice.
Although it's hard to choose the best bathroom dehumidifier, we've weighed everything up and decided that our favorite product is the Frigidaire Energy Star model for its impressive quality.
It's by far the most powerful unit here. It has all of the features on the Ivation, with better efficiency and quieter operation.
We especially love that it packs all its power into the same footprint as the Ivation. There's not much to complain about with this model except the price. Our verdict: if you can afford it, and have the space for it in your bathroom, go for it! Just be sure to buy that extra warranty coverage, just in case.
How to Choose the Best Small Dehumidifier
It can be tricky to find a dehumidifier powerful enough to handle drastic fluctuations in moisture levels, especially if you're shopping for a room with multiple users.
We've gone on a hunt to find the best bathroom dehumidifiers for tackling your damp bathroom. We compared lots of compact bathroom models, to find the best power to size, and power to money compromises. We compared features, specs, and reliability ratings, as well as user feedback from buyers who spent time with these dehumidifiers in their own home bathroom.
In the end, we chose three dehumidifiers to recommend for this guide. Below, you'll find our own in-depth reviews of each dehumidifier, and a handy guide to shopping for your ideal bathroom dehumidifier unit.
Know the size of your space, and the severity of the moisture problem:
While some of us have central air systems or windows to ventilate our bathrooms, excess dampness is often a fact of life for many apartment dwellers or people who live in older homes.
Before you start comparing models or making any big decisions about your new dehumidifier, make sure you have a good sense of the scale of the moisture problem you're trying to tackle.
First, make sure you know the square footage of the bathroom you're going to dehumidify. If you have a very small bathroom, such as an apartment or secondary house bathroom in a modified closet, you can get away with a compact unit that's smaller than a full-size (30+pint/day) dehumidifier.
For a standard bathroom to a larger bathroom or a compact bathroom with very poor ventilation, we recommend something around the 30-pint.day range. For larger bathrooms and living spaces where the moisture problem extends beyond the bathroom itself, consider buying a 50 or 70 pint per day unit.
After you get a good picture of your coverage requirements, think about the severity of the dampness in your bathroom. If you just have a lot of steam to deal with but no evidence of mold or mildew, you probably don't need anything more powerful than a 30-pint unit.
If you have permeating dampness that's affecting your bathroom linens, causing traces of mold, or creating mildew, you should consider something more powerful–even in a smaller bathroom, to the tune of 50 or 70-pint power [1]. If you have severe problems, especially in a larger space, it's worth spending the extra money for a 70-pint model which can bring the situation under control fast before the damage gets to the point of being irreparable. These models are also the best choice for dampness which is affecting rooms around the bathroom.
If you have a very small bathroom, such as an apartment or secondary house bathroom in a modified closet, you can get away with a compact unit that's smaller than a full-size (30+pint/day) dehumidifier.
Decide on your budget:
Dehumidifiers can cost anywhere from $50-$500, depending on the power rating and size of the machine. We don't generally recommend $50-$100 units since they tend to struggle with moderately-sized to large rooms or open spaces.
However, they can be inexpensive for very small, closet-type bathrooms in apartments, or second bathrooms in your home [2]. If you have more serious moisture concerns, though, you're better off with a full-size (30+ pint/day) dehumidifier. These start around $150. For larger bathrooms or more serious moisture concerns, plan to spend between $200 and $300 for either a 50 or 70 pint per day model that can bring your dampness under control in the bathroom and beyond.
We don't think you should have to spend more than $300 on any bathroom dehumidifier. Even the most severe bathroom moisture problems can be dealt with for less than $300. If you're trying to dehumidify your whole living space from a central bathroom location, you can still get the job done with a unit under $300.
When you're comparing models, don't let price be your primary motivator. With many appliances, the more expensive models tend to be the most reliable or effective. For many full-size dehumidifiers, that's not the case. Pay the most attention to the square footage ratings, and reliability feedback from buyers.
One final note as you're considering prices: be sure to factor in additional warranty coverage. For reasons we'll get into very shortly, we think third-party, extended warranty coverage is a very smart buy when it comes to a new dehumidifier.
These plans can cost anywhere from $5-$25, but they'll save you having to buy a new machine at full price if you get a lemon. In many cases, these plans can also double (or triple) the warranty period, so you can safely double the expected working life of your machine for a very minimal price increase.
We don't think you should have to spend more than $300 on any bathroom dehumidifier.
Think seriously about durability:
While we've done our very best to recommend long-lasting models for this guide, the fact remains that dehumidifiers just aren't a very reliable product over the long term. Many current models develop leaks in their coolant system while they're in storage, so they often turn out to be duds after the standard year-long warranty runs out. The life might be extended, however, if you run it less than the recommended time each day [3].
The most commonly-cited problem, a computer system error, is a fatal issue which plagues all the big manufacturers, even their latest models. It can come out of nowhere and render a machine that's mechanically sound completely useless.
With all that said, we can't stress enough the importance of buying something with a good track record for reliability. The saying "they just don't make them like they used to" is rarely more appropriate than in the case of dehumidifiers. Current models have very iffy reliability, and while many buyers end up with machines that last for 5+ years, quite a few end up with lemons which croak just outside the manufacturer's warranty, leaving them high and dry.
We've consulted Consumer Reports test results for all our recommendations, to make sure they performed well in lab tests [4]. Then, we made sure to go out and find buyer reviews from people who had updated their reviews 6 months, 1 year, and 2 years out, to see whether their machines were still going strong. Our recommendations did better than most, but they were still far from perfect.
We strongly recommend buying an extended, external warranty policy for any new dehumidifier. These policies can double or triple your coverage, which guarantees a longer working life for your machine, and/or a free replacement.
The biggest benefit of these plans isn't the coverage period, though. It's the fact that they're operated by a third party company that's set up specifically to represent you as a consumer. They'll contact the manufacturer and make sure you're taken care of.
That saves you from dealing with frustrating company representatives, and it saves you the hassle of having to jump through lots of hoops just to get your warranty honored. Buyers who purchased add-on coverage through Square Trade or another company were very glad they had, given the experiences of customers who hadn't.
So, in short, due to the poor quality of dehumidifier models on the market, and manufacturers' poor customer service, it's always worth the extra $10-$20 upfront for a third party coverage plan which allows you to avoid spending hours of your time being frustrated by company representatives and onerous warranty claims procedures.
We strongly recommend buying an extended, external warranty policy for any new dehumidifier.
Buyers Also Asked
How many square feet does a 70 pint dehumidifier cover?
A 70 pint dehumidifier covers over 2000 square feet of space. It is a great choice if you have a very damp basement or crawl space. Likewise, it's ideal for a bathroom with high humidity levels to deal with.
How long should a dehumidifier last?
A dehumidifier should last three to five years. This is based on continuous use and maintenance. Using a dehumidifier in a bathroom can put a lot of wear and tear on your machine, though.
Where is the best place to put a dehumidifier in a house?
The best place to put a dehumidifier in a house is the most humid room. That will normally be either your basement, laundry room, or bathroom.
What's Next?
We hope this guide helped you to find the best bathroom dehumidifier to fit your needs. If you're not absolutely sure you've found the solution to your bathroom humidity problem, don't worry! At the very least, you should now have a much clearer idea of what you're looking for, and how to shop for it. Check out all of Amazon's best-selling dehumidifiers here! Or visit our main buying guide to find the best dehumidifer reviews available!