Molds have no place in your home. They are not just unsightly and damaging to your home, they are also dangerous to the health. They can cause a variety of respiratory issues like difficulty breathing, wheezing, and coughing and may also trigger allergic reactions. One way to make sure molds do not grow in your home is through an air purifier for molds. Today, we will help you choose a good air purifier for mold that has durability to last for a long time and has a capacity to work in the size of space you have.
Best Air Purifier for Mold Reviews
After thoroughly inspecting what the market has to offer, here are the air purifiers for molds we think are the best among the rest:
So, are these air purifiers really effective for molds? Find out below:
1. Levoit LV-H132 Air Purifier for Home with True HEPA Filter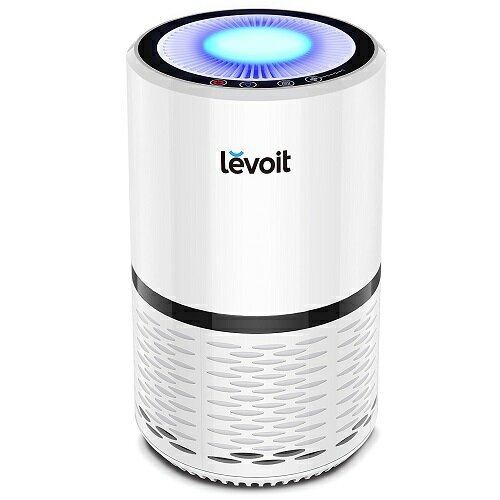 Who said you can't have a good air purifier on a tight budget? You can definitely get the best of both worlds with the help of this air purifier. It has an accessible price tag, but it is not lacking in essential features that will keep your home molds free. One of those features is its 3-stage filtration system. All those particles in the air will go through a pre-filter, a TRUE HEPA filter and an activated carbon filter, which will allow it to successful filter out up to 99.97% of particles including mold spores, dust, allergens, odor, pet dander and pollens. No particles bigger than 0.3 microns will pass through this filtration system.
It is safe to use even in kids' bedrooms because it is 100% ozone-free. And unlike other air purifiers out there, it does not utilize UV rays or even ions. Choose from low, medium and high-speed settings to get the right filtration condition you need in your room.
Pros:
It is perfect for regular-sized bedrooms, living rooms and even office spaces. The size is just right in delivering good air purifying benefits. We also like the cylindrical design that makes this easy to place on surfaces without the risk of toppling over.
It really does a great job in controlling molds. You can breathe easier in rooms where this unit is installed. The 3-stage filtration system can be relied on to make the air inside the house better.
You will like how portable this unit is. You can easily place it from one room to another.  
It is free from different contaminants and ozone particles that can harm the health, particularly of children. It also does not emit ions and UV.
The 3-speed settings are a nice feature. You can control how much it should purify. If you have a larger room, you can set it up to its highest setting. It also works fast. The coconut shell activated carbon filter works well in instantly purifying the air.
Unlike other air purifiers for molds, this one operates quietly. It isn't disruptive.
It comes with a night light to make this easier to see in the dark. It also has 2 different brightness settings, so if you don't like a bright light to disrupt your sleep, use the lowest brightness setting.
The replacement filters are affordable as well. You can install the filters easily and not have to worry about replacing them for about 6-8 months.
Your purchase comes with a 1-year buyer assurance. You have the option to extend it for another year. It also comes with lifetime support from the manufacturer.
Cons:
There were those who had issues with this unit being too loud.
2. GermGuardian AC5350B 4-in-1 Large Room Air Purifier for Home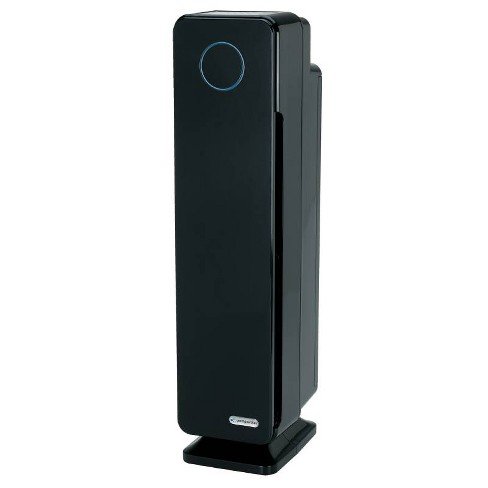 Aside from a modern and aesthetically pleasing design, this air purifier also has the capability that will work in bigger spaces. Use this to keep your big living rooms, apartment and basements free from pesky molds. This air purifier goes through a HEPA Filter that effectively filters out 99.97% of harmful particles, mold sores included. It also goes through a charcoal filter that eliminates the odor that comes from smoke and pets. An optional UV-C light technology can be used to get rid of airborne bacteria and germs. This technology is also what is needed to get rid of mold spores.
This air purifier is capable of working in spaces as big as 167 square feet. It is AHAM Verified, which means it is also capable of removing tobacco smoke, dust and pollens in the air. This unit has a height of 28 inches and features 5-speed settings.
Pros:
This is the unit you should go for if you are looking for one with a sleek and modern design. It has a compact footprint and has a height of 28 inches, so it should easily blend with the rest of your modern appliances.
It really does a good job in purifying the air in bigger spaces. You can use it in rooms as big as 167 square feet without the unit struggling. In fact, it is capable of filtering and circulating air 4x better than others in every hour. Since it has a high CADR, you can be assured that this one works fast in filtering out air.
This is one of the best when it comes to dealing with mold spores. The HEPA filter in it won't let anything bigger than 0.3 microns to pass through the filter.
The UV-C light, which can also be used to get rid of mold spores, is optional. That means you have the option of using it if you are concerned about its safety for children.
It effectively eliminates bad odor in a home, thanks to its charcoal filter.
You can easily access its digital display panel. It will tell you when you need to change the filter. The display panel also allows you to set its timer settings up and even features 5-speed setting to control the allergens in your space. It even comes with an ultra-quiet sleep mode, which comes handy when using it at night.
This is backed by an impressive 5-year limited manufacturer warranty.
Cons:
There were a few who said this did not control their dust problem.
3. Alen BreatheSmart Flex Air Purifier for Bedrooms and Living Rooms
With its 700 square feet of coverage, this is the best air purifier to get if you need it for bigger spaces. In fact, it can work as a whole house air purifier. This is one of the best out there because it has been engineered by NASA airflow engineers. In just 30 minutes, it can purify a 700-square foot space. It also has a lot of convenient features including WhisperMax technology and Turbo Speed.
The HEPA Silver filter has a unique antimicrobial compound coating that prevents bacteria and other microorganisms from growing. It also works in filtering mold spores, dust mites and allergies. Choose from 14 different panel colors to suit the space you intended for it.
Pros:
This product has a wide coverage. It can purify spaces as big as 700 square feet.
It works twice as quietly as other air purifiers with the same size. You can use it without being disrupted, especially at night. It has a pink noise frequency, which SleepScore endorses. It supposedly helps you get 25% better sleep.
This product has a lifelong guarantee.
It has a small footprint. The size isn't intrusive, so you can simply place it in a corner of the room and not worry that someone will trip over it.
We like its sleek and modern design. There are even a lot of color options, so you can choose the one that will truly work for your needs.
The silver filter helps inhibit the growth of bacteria. It even features an OdorCell technology that eliminates odors from pets.
Cons:
This product is a bit more expensive.
4. Pure Enrichment PureZone 3-in-1 True HEPA Air Purifier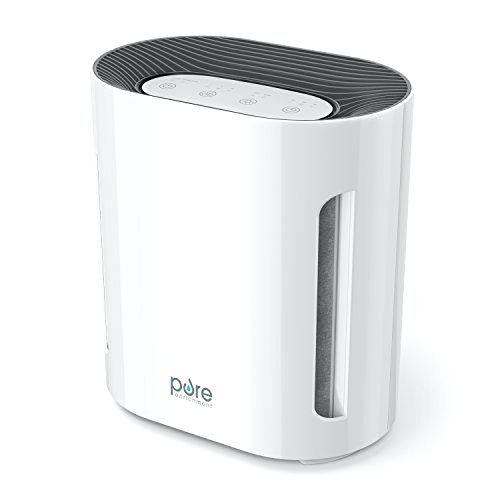 This product is not as expensive as the others but isn't lacking in stellar features including a 3-in-1 filter, which is a combination of a pre-filter, an activated carbon filter and a HEPA filter. This effectively gets rid of up to 99.97% of harmful particles in the air.
Easily tweak the settings to accommodate your personal needs with its 3-speed fan and automatic timer feature. Use this without disrupting the entire household, thanks to its Whisper-Quiet Operation.
Pros:
Many people can attest to how well it purifies the air. You can really tell the difference by how good the air smells and how it suppresses the growth of molds.
The design of this unit is suitable for modern spaces. There is a control panel found at the top of the machine, which makes it easier to control the settings.
You can set it up to 2,4 or 8-hour timer.
There is also an optional UV-C light mode, so if you are having molds issues or you need more help in keeping bacteria at bay, you can turn this setting on.
It is energy efficient, so it shouldn't take a toll on your electric consumption.
It works quietly. When set to low settings, it has 30 dB of noise level. Set it to high settings and it has 50 dB of noise level.
This product comes with a 5-year warranty.
Cons:
Some said it might not work in bigger spaces.
Which is the Best Air Purifier for Your Needs?
Let us help you decide even more:
Most Affordable Choice: Levoit LV-H132 Air Purifier for Home with True HEPA Filter. This mid-sized air purifier has an affordable price tag. If you are on a tight budget but you need a reliable and powerful air purifier that will work even in bigger rooms, this is a good choice. It has excellent filtration system that truly removes mold spores and a host of other allergens without emitting UV or ozone.
Compact Choice: GermGuardian AC5350B 4-in-1 Large Room Air Purifier for Home. If you have a bigger space, get this one. It has a nice, compact design that you can easily place in one corner of the room. It works in getting rid of mold spores and many other harmful particles. It is easy to use and comes with a lot of features that will allow you to personalize your settings.
Best for Big Spaces: Alen BreatheSmart Flex Air Purifier for Bedrooms and Living Rooms. This air purifier is the best fit for bigger spaces. It makes use of silver filter technology, which is a better kind of filter because it prevents bacteria and fungi growth. You can rely on it to make your home free from mold spores, allergies, pet dander and many more.
Value for Your Money: Pure Enrichment PureZone 3-in-1 True HEPA Air Purifier. This is more ideal for smaller spaces like bathrooms or a small bedroom. It has good filtration properties that really get rid of all sorts of microorganisms. It is not that expensive, but it will give you the features you are looking for in making your space more livable.
More Tips in Finding the Best Air Purifier for Molds
Here are some more tips you need to keep in mind if you want to buy the best air purifier for molds:
Consider the space you are using the purifier for.
Is it a big space? Does it lack ventilation? What other microorganism issue do you have? Take these things into consideration, so you know how big a capacity you need to look for in an air purifier.
It should operate quietly.
You definitely don't want to hear the loud hum of an air purifier all day long. Check how loud it is. Many manufacturers specify the decibels of their products, so you can compare.
You don't want to wait for hours to experience relief. Make sure the purifier works fast in getting rid of stale air.
Conclusion
Click on the links in our reviews to find out more about the air purifiers we've recommended in this category. You can also scope out some other options if you're not quite sure which model to buy. We've got you covered with lots more products that can help in improving indoor air quality. Check out our general buying guide to see all the best air purifiers.