High-velocity fans are a great solution for cooling, ventilating, and drying for professional and personal use. Whether you need a powerful fan for your home, workshop, garage, work site, or patio, or you need a personal fan to keep you cool and safe from fumes, you can find the option best suited for you in our unbiased list of recommendations.
We have also created a buying guide which goes over the different factors you should consider when choosing the best high-velocity fan that will keep you cool and allow you to work comfortably.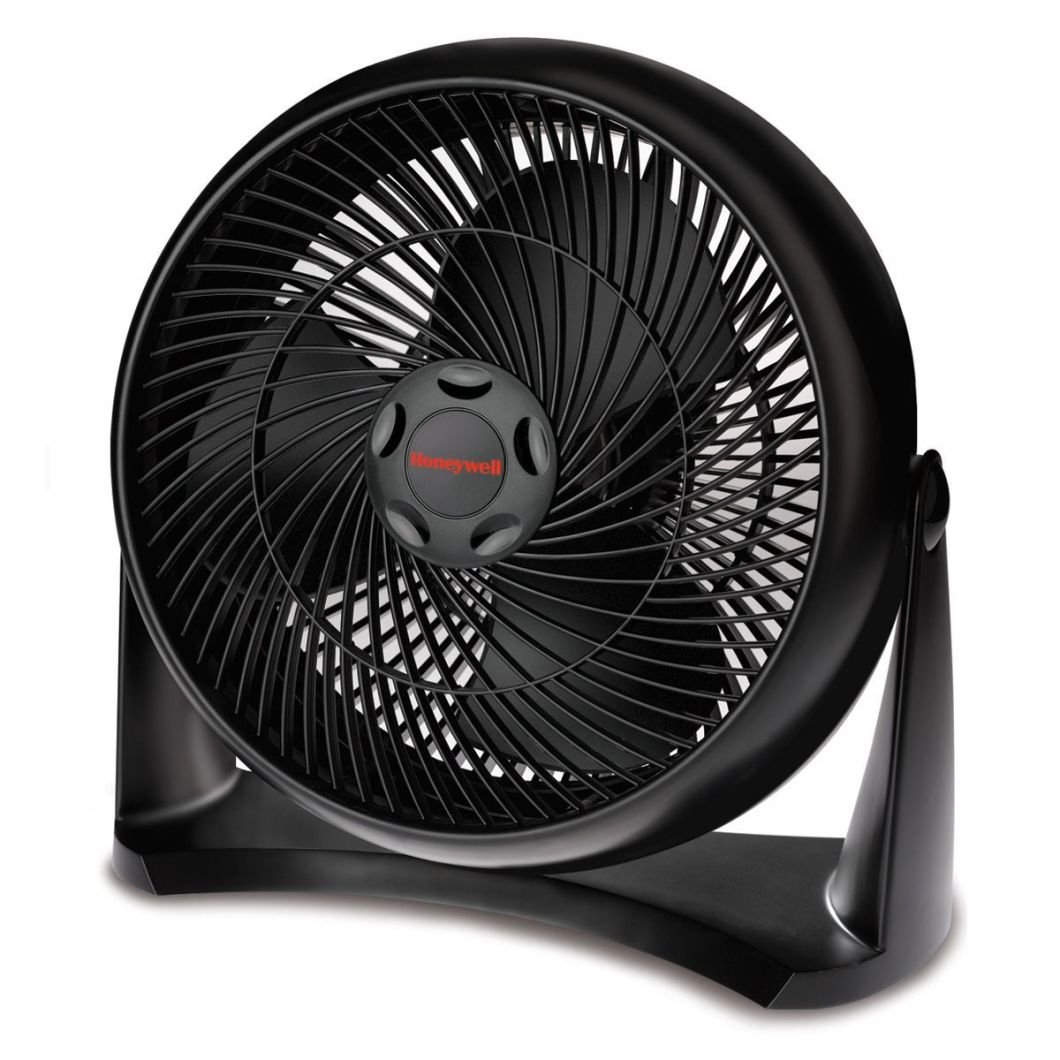 The Honeywell HT-908 Turbo Force Air Circulator is our top budget pick for a high-velocity fan. Its high power comes at an affordable price, and it's a great choice for small to medium rooms because of its reach and its small size. Additionally, we recommend this model for people looking for a fan that's on the quiet side.
Pros:
One of the best features of this fan is that its compact size of 15 inches allows it to fit in small spaces and it can be placed both on a table or on the floor. It has a 90-degree pivoting head that allows the air to circulate in multiple directions, while the 32 feet reach makes it most practical for smaller rooms. Additionally, its compact size makes it easy to move around.
Another reason to love this fan is that it's estimated to be about 30% quieter than other high-velocity fans, which makes it a good solution for bedrooms overnight.
This fan is easy to use and maintain. Like most high-velocity fans, it has three settings. The grill is removable, which makes cleanup simple.
This budget option comes with a 1-year limited warranty.
Cons:
Some users have found that after several months of use, the Honeywell starts to make an engine-like noise.
Additionally, as it's a budget purchase, its construction is mainly plastic. As plastic is not the best quality material, the various parts may deteriorate over time.
The Patton 18-inch High Velocity Fan is built with a durable metal construction, making it resilient to harsher environments. This fan is recommended for workshops, garages, or even patios. It's good for wider spaces, as the size of the blades has a decent reach that will cool, ventilate, and dry the room. This fan comes in also a 14-inch and 20-inch alternatives, for smaller or larger rooms.
Pros:
One of the best features of the Patton is that in addition to the durable metal construction, it also comes with a powerful motor and large blades which are effective in ventilating and cooling large spaces. If you're using paint or chemicals that leave a strong smell in your workshop, garage, or home, this fan is a great way to get rid of the odor.
Another great thing about this model which makes it suitable even for outside use is that it has a long power cord. It also has an adjustable head which you can tilt to focus the airflow in the direction you need.
Additionally, the fan is easy to maintain thanks to its removable grill. It also has rubber feet beneath the metal, which keep it in place. The fan is best suited for the floor.
The Patton has three speed settings, and while it is quite affordable, it comes with a 3-year limited warranty.
Cons:
Some customers have complained that the motor may begin to overheat over time, which questions its durability. Still, the 3-year warranty is a safety-net if the motor stops functioning.
Additionally, some have found that this fan needs frequent oiling to function properly.
Our overall best recommendation is the Vornado 293 Heavy-Duty Shop Air Circulator Fan thanks to its high quality, durability, and power. This model can move air in the largest rooms, while the versatility of airflow and speed settings make it suitable for spaces of any size. This ergonomic fan is really easy to use and maintain, and it can be placed on the floor or mounted on the wall. Although it's a pricey purchase, the Vornado 293 is recommended for anyone looking to make a long-term investment in a durable, powerful, and quality high-velocity fan for any room in the home or office, for a workshop, garage, or even work site.
Pros:
This top recommendation has been praised time and again for excellent air circulation and cooling, with the power to move air up to 100 feet. Despite its functionality, this fan does not make a lot of noise. It has 3-speed settings and an adjustable head, which allows for multi-directional airflow.
One of the best features of this model is its indisputable durability. The Vornado is assembled in the USA, and its resilient structure and steel base along with its 5-year limited warranty ensure that this product will stay with you for years to come.
Additionally, this fan is quite low-maintenance. To begin with, the removable grill is easy to clean. At the same time, the motor is dust-resistant and never needs oiling, which adds to the product's lifespan. The 20-inch fan is also easy to store.
Another reason to love this product is that it has a 10-foot power cord that allows you to move it around and set it up as far from the plug as you need, which makes it a great choice for work sites. On the other hand, the product comes with additional brackets that also make it mountable on the wall.
Cons:
This product is on the pricey side. Although its quality and durability justify the price, it's not a great option if you're on a tight budget.
The Max Storm Durable Lightweight Air Mover is our top recommendation for professional janitorial or carpet cleaning businesses, as it has the best drying capability. This is not the best option if you are looking for a cooling fan, as it's designed more for drying and moving the air around. This light, easy-to-maneuver high-velocity fan additionally comes with a long power cable, making it great for transporting and drying the floors during cleaning. Additionally, we recommend it for establishments such as restaurants or hotels, as it can dry wet floors quickly, while it can also keep the air circulating in overheated kitchens.
Pros:
There are several features that make this fan ideal for heavy-duty use in janitorial and carpet cleaning businesses. Firstly, it can be adjusted to 3 angles (0, 45, and 90 degrees) depending on what area you need the fan to focus on. Secondly, this 20-inch fan weighs about 25 pounds, has wheels, and comes with a 25-foot power cable, which makes moving it around very easy. It's compact design also makes it easy to store.
Thirdly, satisfied customers attest to the durability of the Max Storm. The design includes a roto-molded polyethylene shell which is impact resistant and reduces possible damage to the fan. The model is sold with a 1-year parts and labor and a 5-year housing warranty.
Another thing to love about this fan is that it's simple to use. It comes with 2 speed settings, which are quite powerful and sufficient for its purpose.
One of the fun features of the Max Storm is that it comes in three bright colors: blue, orange, and purple.
Cons:
This fan is not very attractive – although the colors it comes in are fun, it's not the most stylish or elegant choice.
Additionally, a few customers have shown concern over the durability of individual parts over time, such as the wheels.
Although this fan does not seem very cheap, it's quite affordable in the heavy-duty category.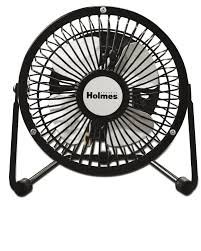 The Holmes Mini High Velocity Personal Fan is our top recommendation for anyone looking for a tiny, highly affordable solution for personal cooling. The fan's 6-inch measurement makes it a great choice for a table, a desk, or a bedside table. The fan is recommended for offices, bedrooms (if you don't mind the sound), or for people trying to keep fumes out of their face – such as manicurists or painters.
Pros:
One of the best features of this fan is its combination of compactness and functionality – while it can fit just about anywhere, it has the power to deliver sufficient air in small spaces for personal use. Also, it's quite cheap!
Another reason to love this fan is that it has dual grills on the front and back, protecting the fan from damage and you from the blades.
Additionally, the head of the fan is tilt-adjustable, so that you can direct the airflow to wherever you need it. The fan is simple and easy to use, as it does not require assembly and only has one power setting.
This fan comes with a 1-year limited warranty.
Cons:
Since the fan is quite affordable, the materials used are not exactly high-quality. Some customers have questioned the durability of this fan, while others have found it insufficiently powerful over distance. Also, this fan is recommended for personal use, so don't expect it to cool a room.
Conclusion
At the end, which fan is the best choice for you depends on what specifications you are looking for. If you are looking for a budget turbo fan that's compact, easy to transport, and doesn't make much noise, therefore ideal for smaller spaces, the Honeywell HT-908 Turbo Force Air Circulator is the best option for you. If you are looking for an even smaller fan for personal use, the Holmes Mini High Velocity Personal Fan is another highly affordable purchase.
On the other hand, if you're looking for a more long term investment, our best overall pick, the Vornado 293 Heavy-Duty Shop Air Circulator Fan, is the way to go. Its durability and the good quality material it's comprised of ensure that it will serve you for the years to come. This fan is also the most powerful recommendation on this list, as it has a 100-foot reach. The reach and the long, 10-foot power cord make it the perfect choice for cooling/ventilating an outdoor setting such as a work site or patio, or for large spaces, like a garage or a workshop.
If you are looking for another resilient alternative that comes at a more affordable cost, the Patton 18-inch High Velocity Fan is the best option. As it has a durable metal construction and is almost as large as the Vornado 293, it can also be used for wide spaces such as workshops, garages, and patios. If you need a fan more for drying or air circulation rather than cooling, the Max Storm Durable Lightweight Air Mover is the choice for you. Its long cord and wheels make it easy to maneuver in heavy-duty use.
If you still aren't sure what you are looking for, read on to our buying guide to learn which factors you should consider when choosing the best high-velocity fan for your needs.
Buying Guide
Function and Capacity
Do you need a high-velocity fan that cools and ventilates, or rather a fan that dries? Do you need it for a workshop, or for professional cleaning purposes? Are you looking for something that has a longer reach, or something smaller for personal use? Each of our recommendations is fit for a different use, so knowing what you need the fan for may help in your decision-making process.
Transportability
Usually, high-velocity fans are needed for larger spaces to ventilate odor and heat, to cool, or to dry. Therefore, you want to choose an option that's easy to maneuver, or comes with a long power cable that increases its mobility.
Price
Consider how much you are willing to invest in a fan. While there are options on both the cheaper and the pricier side, do keep in mind that good quality comes at a cost.
Warranty
To be confident about your purchase, it should be supported by a good warranty. Keep in mind that longer warranty and higher quality come at a steeper price.
What's Next?
Hopefully, you found our review and buying guide of the best high velocity fans useful for deciding which option is the best for your individual needs. To get more information about each recommended product, you can always follow the title link to learn the price, in-depth specifications, and customer reviews.
In the meantime, make sure to visit our reviews of the best cooling fans to find our latest recommendations in all categories, including tower models and more! You can also swing by our contact page to drop us a line if you have questions, comments, or other feedback for us.