If you're in the market for a new tower fan than you've come to the right place.
In today's article, we've listed our top 5 picks of the best tower fans on the market, based on extensive research into brands, price tags, quality, cooling power, noise levels, durability, wind distribution, degree of oscillation, aesthetic appeal, power usage, fan speed, warranty and more.
Although they all share the same basic features, each tower fan has its own particular pros and cons, and that's exactly what we're here to discuss.
Let us be your source and help you find the best tower fan for your needs, your budget and your general preferences.
Bionaire Oscillating Tower Fan with Remote Control & Timer BT19
Best Tower Fan Reviews
After having considered all of the aforementioned factors that we find important when it comes to choosing the best tower fan on the market, we've come up with the following list of top 5 tower fans. These are 5 of the most popular, high quality and durable fans on the market, so keep on reading below to see which one's a good fit for you!
1. Dyson Cool AM07 Air Multiplier Tower Fan
The Dyson Cool AM07 uses patented air multiplier technology to cool down any space, without using fast-spinning blades, which makes this tower fan safe for small children and pets, while also stylish and innovative. Even without using fast-spinning fan blades, this tower fan has a powerful airflow and is much quieter than other tower fans on the market.
Let's have a look at some of its main benefits and characteristics and find out what makes this fan our number one choice.
Pros:
As we already mentioned before, the Dyson Cool AM07 doesn't use spinning blades, but instead it uses air multiplier technology, consuming 10% less power and emitting 60% less noise than traditional tower fans.
The Dyson Cool AM07 has 10 precise airflow settings to choose from, and can be operated using a remote control, which is magnetized and curved so you can easily store it on the fan itself.
The Dyson air multiplier tower fan has a lot of other amazing features, including:
A sleep timer which can be set to turn off after 15 minutes up to 9 hours

2 year warranty

Powerful airflow

Oscillation control

Whisper-quiet technology

LED digital display
What makes this tower fan so popular, other than the fact that it is super safe to use, and is much more quieter than other similar models, is the fact that it's very easy to clean as well since it doesn't have any blades or grilles.
Cons:
It's a bit pricey and you cannot operate it without the remote since it doesn't have any push buttons on the unit itself.
2. Lasko 4924 High Velocity Blower Fan with Handle
The 4924 high velocity blower fan by Lasko is a powerful tower fan, with a simple design, and a lot of nice features. It has widespread oscillation and directional louvers that allow you to easily direct and adjust the airflow to your preference, which is a very helpful feature that not all tower fans have.
Pros:
It has 3 powerhouse speeds (low, medium and high), and optional oscillation which allows the fan to oscillate side to side, and direct the air evenly across the room.
It also features directional louvers which allow you to direct the air up and down as well, which is not a common feature most tower fans have.
Another not so common feature of this fan is the built-in carrying handle, which makes it easily portable from one room to another, for maximum comfort.
The fan comes fully assembled and ready to use, you just need to take it out of the box and plug it in.
Although we've already listed a lot of amazing features that this fan has, the best one of all is its safety feature, also known as blue plug technology, which gives you extra safety when it comes to faulty outlets or potentially hazardous or abnormal electrical current. The way this technology works is by using a fuse placed directly in the power cord which can detect abnormal or hazardous current and cut it off so it doesn't reach the fan.
Cons:
It doesn't come with a remote control and some have reported hearing a rattling, clicking sound when using the fan.
3. Honeywell Fresh Breeze Remote Control Tower Fan
The Honeywell Fresh Breeze tower fan comes in a tall, sleek, black design that goes perfectly with other elements, furniture and appliances and can be a great addition to your home.
Pros:
This tower fan comes with 3 available speeds, a timer/sleep function which can be set to 1-12 hour automatic shut-off.
Another cool feature that it has is the electronic LCD display with easy to use touch buttons as well as a remote control with a built-in flashlight for greater convenience.
The Fresh Breeze tower fan by Honeywell comes with everything you'd expect for the price, including a programmable thermostat, a washable air filter and most importantly, it has powerful turbo wind generator blades.
Having powerful turbo wind blades doesn't mean that the fan is noisy. The truth is this fan is very quiet and many even find the sound emitted by it to be soothing and relaxing.
You also have the option to turn the fan to breeze mode, which feels like having a gentle wind right in your living room.
Cons:
It's smaller than some of the other units we've reviewed.
4. Ozeri OZF1 Ultra 42 inch Wind Fan – Adjustable Oscillating Tower Fan
The Ozeri OZF1 is another super quiet tower fan with noise reduction technology and powerful performance. Its oscillating blades are quiet yet powerful so that you can get an evenly distributed airflow throughout your room.
Pros:
This tower fan comes in a stylish, white and grey design that goes great with every type of room décor.
It doesn't take up too much space and it can fit in almost any corner of your home.
The Ozeri Ultra can be used to cool down larger spaces and is suitable for homes, offices, restaurants, libraries and other larger public spaces.
It comes with its own LCD display where you can see all your settings and adjust accordingly.
What's particularly great about the Ozeri OZF1 is that it has a lot of preprogrammed features which are really helpful. You have the ease of choosing one of these programs and let the fan do its job, instead of having to adjust everything yourself.
The Ozeri OZF1 has three super quiet settings which make this tower fan suitable for night time use. Even if you're a light sleeper, you'll be able to sleep comfortably while it runs and cools down your bedroom.
This tower fan also has a sleep timer, which means that it can turn itself off when you fall asleep, helping you cut down on your power bills even more.
Cons:
It doesn't come fully assembled, but it can be easily put together at home without the use of any tools.
It's not as steady on a carpet as it is on smooth, even surfaces.
5. Bionaire Oscillating Tower Fan with Remote Control & Timer BT19
https://www.amazon.co.uk/Bionaire-Oscillating-Remote-Control-Silver/dp/B004G6PEIW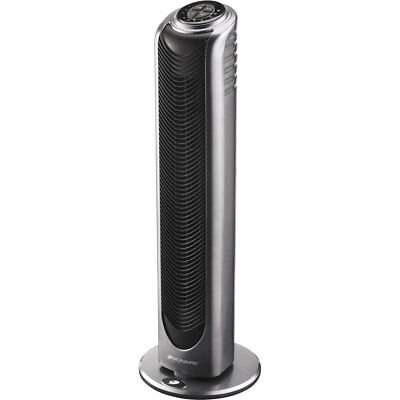 Last but not least, we have the Bionaire oscillating tower fan, which comes with a timer and a remote control. It also has three different speed settings and various wind speed modes, like breeze and sleep mode which can stimulate natural airflow and cool down your room evenly.
Pros:
The Bionaire oscillating tower fan comes in a very stylish, and attractive silver/black design.
It doesn't take up a lot of space and you'll barely notice it when it's working, as it stimulates a natural light breeze, distributing it evenly throughout the area.
It has 3 different speed settings, and two additional modes, including breeze and sleep.
Its oscillation angle is quite wide which means that you can feel the breeze evenly distributed throughout the space.
It comes with a remote control, an LED digital display and a built-in timer which can be set to 1, 2, 4 or 8-hours.
What's also great is that it comes with a 3-year warranty.
Cons:
It's taller than most tower fans.
Conclusion
For our top choice, we recommend Ozeri OZF1 Ultra 42 inch Wind Fan. It is hard to beat its upper quiet functionality, which is something many people want in homes. After all, you don't want a fan that produces so much noise, it muffles all other sounds. The air flow is also excellent, and this has a nice and modern design that will work in most homes as well. It is powerful enough to be used in bigger spaces.
Buying Guide
If you're still not sure which one of these tower fans is the best fit for you, let's have a look at some of the main things you need to consider when buying a new tower fan for your home, office, business or so on.
Noise
One of the main factors people consider when buying a tower fan is the amount of noise it emits when working. If you're a light sleeper or have trouble falling asleep, then you're probably better off going with a quieter model.
The fact that a tower fan is super quiet doesn't have to mean it's not powerful, although generally the louder ones can be more powerful than the whisper-quiet models. In order to know for sure which model is right for you, you'll need to consider both how powerful it is, as well as how quietly it runs so that you can find the right option for you.
Speed and Power
Another important factor you'll need to consider is how powerful the fan blades are and how many fan speeds are available. Most typical tower fans have 2 or 3 speeds available, while some can have as many as 9 or more. Having more fan speeds and a powerful fan will make it easier to use it in different spaces and areas in your home, as you can easily adjust it according to the space you'll need covered.
Ease of Use
Not all tower fans are as easy to use as the rest. Some come with a remote control, an easy to use LED digital display and lots of preprogrammed features, while others come in very simple design, and might not be as convenient to use.
These are some of the main factors you'll need to consider when buying a tower fan, so that you can make the right choice for your home or business.
What's Next
Keeping indoor air quality good does not have to be difficult. With the help of the products we suggested in our buying reviews that you can find in our homepage, you should be able to maintain good indoor air quality.