Suffering from chronic dry throat? Itchy, scaly and dry skin? Clogged sinus? Before you take antihistamines, nasal decongestants or any other over-the-counter medicine, consider adding a humidifier in your home first.
A lot of people don't realize that many of their everyday health issues can be treated with just the use of a humidifier – a device that injects more moisture into the air. Having more moisture in the air helps clear up the airways and makes it easier to breathe when you have respiratory issues like clogged nose. It also makes hair and skin softer and more supple.
Not all humidifiers out there are the same. If you want to get one that has the features that can solve your particular health concerns, check out our recommendations below:
Humidifiers do not just function in improving indoor humidity levels. Many humidifiers are also equipped with air purifying functions. These humidifiers should be large and powerful enough to accommodate the air purifying and humidifying needs of an entire house in order to maximize its benefits. This size of a humidifier also reduces the need to buy multiple humidifiers or repeatedly moving one humidifier to different parts of the house.
If there are more people in need of the humidifying benefits of this appliance, go for a whole house humidifier. They are better than buying multiple humidifiers and installing them in individual rooms.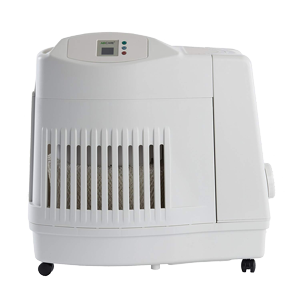 We like this because it doesn't require a central HVAC system in order to work. But although it is a stand-alone equipment it does a great job in providing the humidifying needs of a bigger home. In fact, it can accommodate spaces of up to 3600 square feet in size, so if you have a large home and you don't want to go to the extra trouble in installing it to an HVAC system, get this one instead. It is mobile and flexible enough to be installed in any room and powerful enough to humidify all parts of the house. For a humidifier with this capacity, it is also fairly affordable.
Sinus problems can cause a lot of discomfort. It can lead to recurring congestion, which makes it more difficult to breathe, especially when you sleep. One thing that can help is the use of a humidifier. The extra humidity in the air can clear up the airways. And because many humidifiers today also have air purifying benefits, they can get rid of the allergens that tend to irritate the sinus. It can be used as a tool for preventing sinus issues.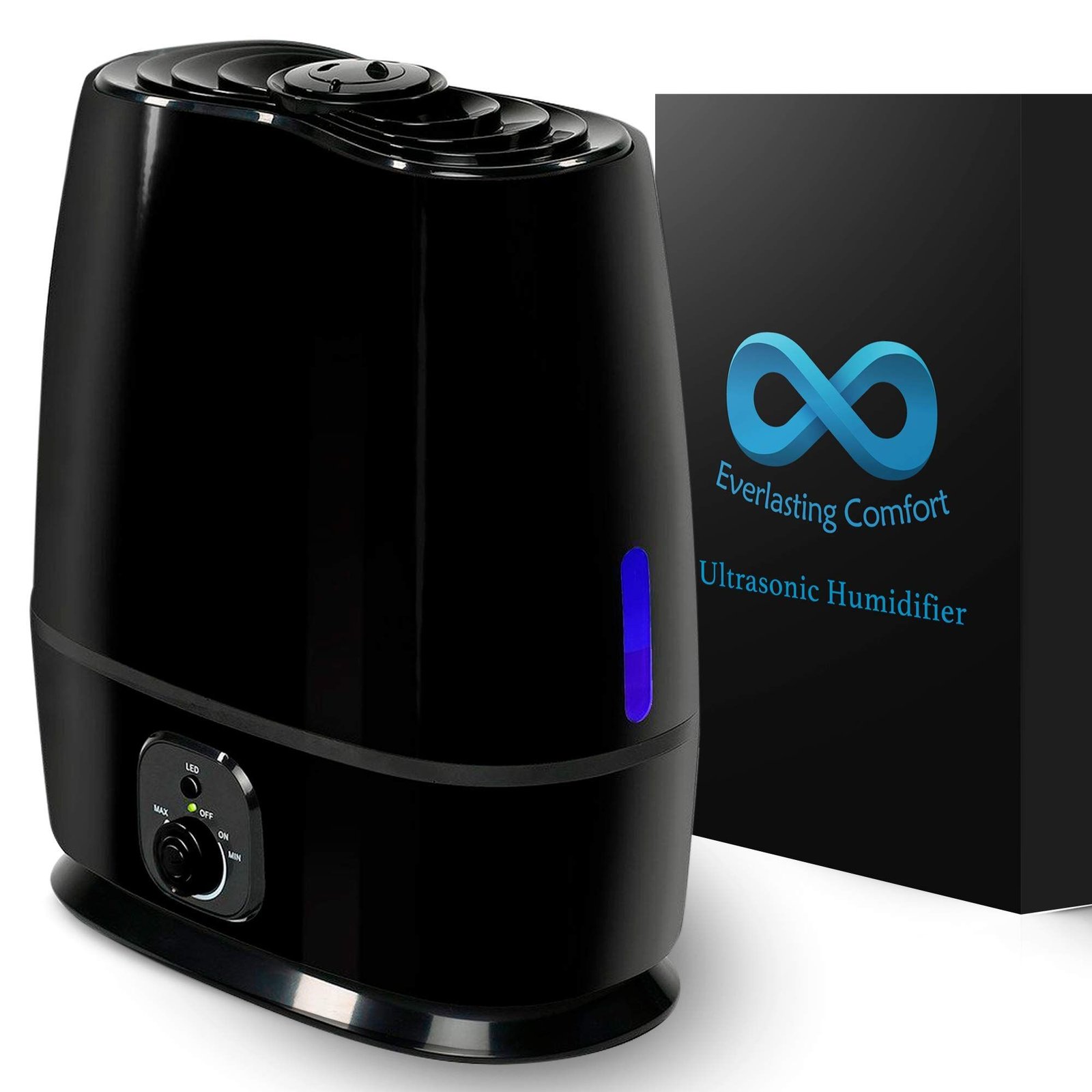 Cheap, compact and inexpensive. These are the things we love most about this humidifier. It is small enough to set on a bedside table or on an office desk but has a large enough water reservoir to provide spaces with sizes of up to 400 square feet of 50 hours of humidifying benefits. It also doubles as a diffuser. There is a tray you can fill up with your favorite essential oil.
We also like its 360-degree rotating nozzle. That means it can dispel moisture in different areas of the room for faster and more efficient humidifying benefits. We also like that it has a nice and modern design. It certainly won't be an eyesore in your home or office.
Need a humidifier to place on your bedside table or on your office desk? No worries. There are a lot of compact but high-performing humidifiers out there that won't take up a lot of space in your home or office. These are even small enough to be brought with you when traveling and can provide overnight relief from dry air. And because they are smaller, they are easier to use and easier to maintain. They also work more quietly as their motors are smaller. For those on a budget, get a small desk humidifier first. There are a lot of affordable options out there.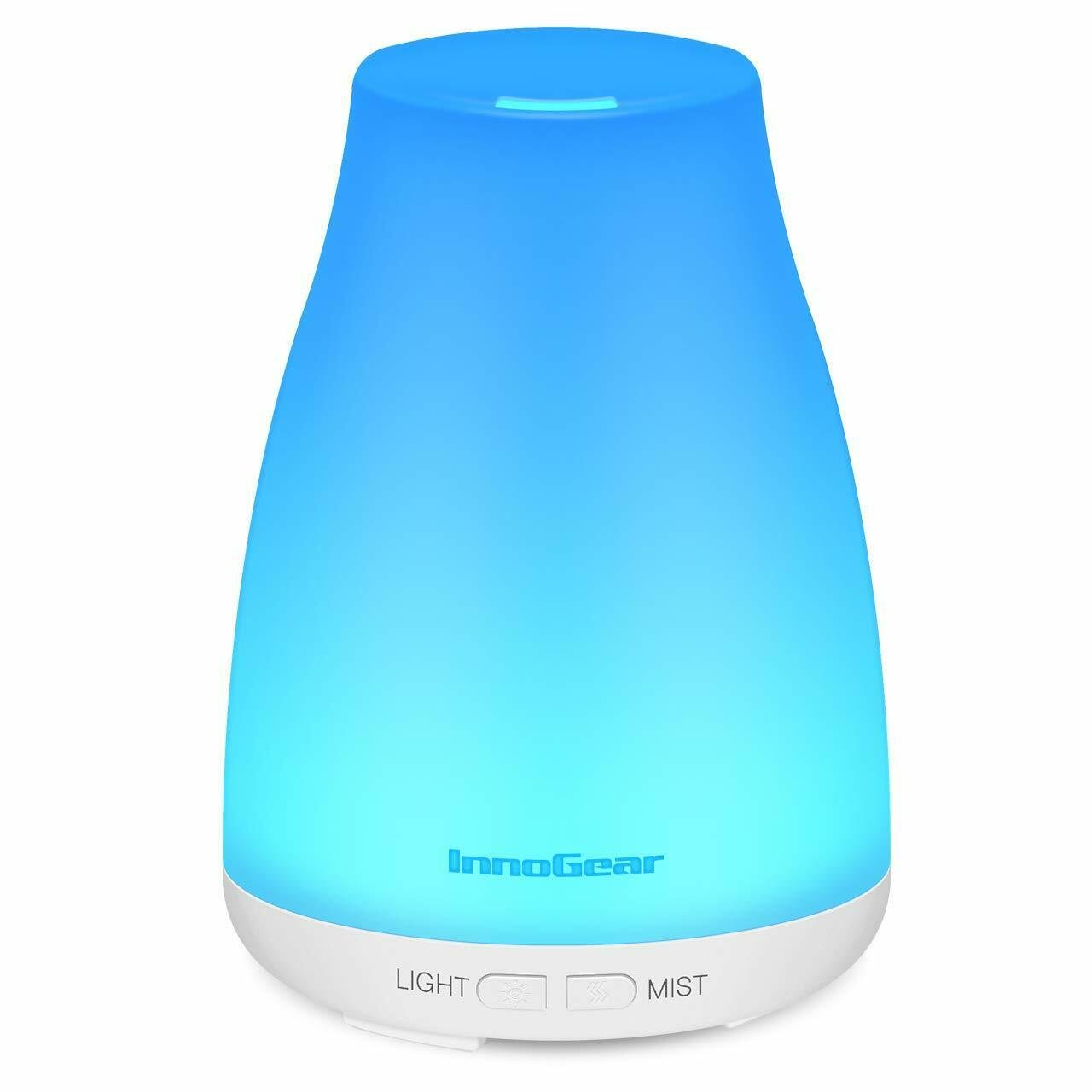 The portability of this humidifier and diffuser is what makes it a sterling choice. Fill it up with your favorite essential oil to relieve stress or to get rid of unwanted odors in the room. You can also use aromatherapy to enhance mood and productivity. Unlike other humidifiers, this one features Ultrasonic operation, which does not emit a lot of noise. This should be a great tool to use in the winter season when the air tends to be dry but can also provide relief in the summer season with its cool humidifying functions.
Dry skin exacerbates eczema. People with eczema experience flare-ups when their skin is dry. This can happen in the winter season when there isn't a lot of moisture in the air. A lot of eczema sufferers experience an attack in the winter due to the dryness of the air. Using a humidifier can help with that. Humidifiers add more moisture into the air and that moisture can penetrate in your skin. It can also help in preventing scaly and patchy skin.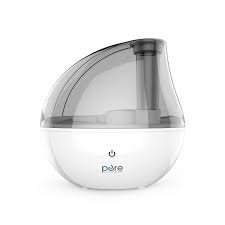 The reason why we chose this is because of its instantaneous benefits. It has a 360-degree mist nozzle that can dispel 4 ounces of mist every hour. That can help eczema sufferers who need immediate relief from their scaly, patchy and itchy skin without resorting to using steroidal creams.
This humidifier might be small and compact but it does a great job in humidifying bedrooms and even offices continuously for up to 25 hours. You will also find this one of the least expensive portable humidifiers out there. Take it anywhere you want, so you will never have to suffer from dry skin again.
We know a lot of people who would rather have colds than cough. Coughs can be embarrassing and bothersome. It disrupts your sleep and prevents you from working efficiently. It is also exhausting as the coughing motion tends to use up a lot of stomach muscles.
There are a lot of natural remedies you can turn to in order to naturally heal this condition. It should also go away on its own in a few days but if you want faster relief, you can use humidifiers. What humidifiers do is dispel more moisture into the air, so that your throat is less likely to become dry. It helps reduce the severity of the cough. Having one near your bed may also improve the quality of your sleep if you are suffering from a bout of cough.
We like ultrasonic humidifiers because they work so quietly. If you have a little one suffering from coughs who need to use a humidifier, an ultrasonic one with its low noise level could be a better option. This one from TaoTronics is a great candidate because of its affordable price tag and large tank capacity. You don't have to keep on refilling the tank as it can cover up to 322 feet of space for 10 continuous hours. The double rotatable mist also makes quick work of humidifying larger spaces for faster relief from coughs.
Aside from having a good indoor air quality, asthma sufferers can also benefit from having the right humidity levels in their home. If the air is too dry, asthma sufferers can have a hard time breathing. Many humidifiers today are also equipped with features that help kill harmful allergens and pollutants that trigger an asthma attack.
Since water can still contain particles, it is advisable to use only pure or distilled water for your humidifier. Keep it clean, so that your unit won't develop molds over time.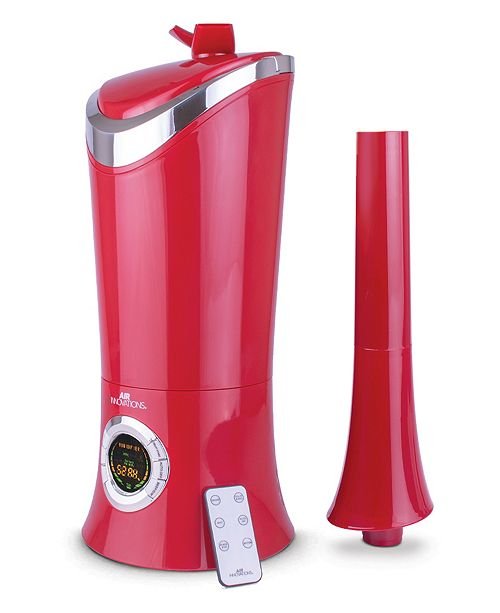 It's hard not to like this humidifier. It has a design that works in modern spaces and features that are lacking in average humidifiers. It might be compact but it can work in dehumidifying up to 600 square feet of space, so this should be a great choice if you have a big room. One full tank can last for up to 96 hours, allowing you to enjoy your humidifier without stopping every few hours or so to refill the tank.
We also recommend this for asthma sufferers because it has an anti-microbial tank. Those pesky microorganisms that trigger your asthma won't have a chance to grow in the tank.
Love the benefits of a humidifier but hate the maintenance that comes with it? Eliminate the added step of replacing or cleaning the filter of this device by just opting for a filterless humidifier. These humidifiers usually boast of antibacterial protection properties, so there is no need for a filter. Besides, you can also clean and purified water to avoid spewing metals or bacteria into the air you are breathing.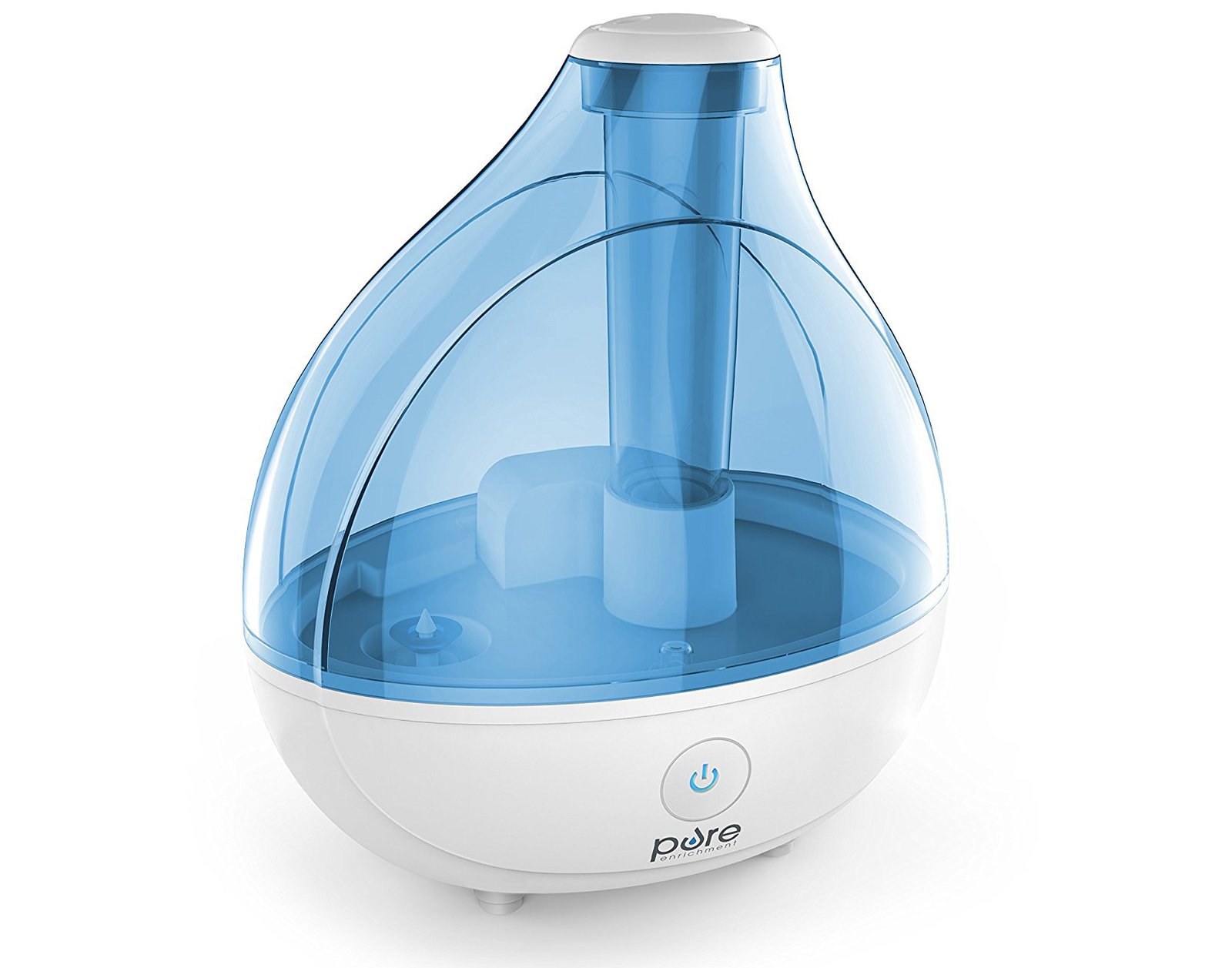 We highly recommend this one. For its affordable price, it does an efficient job in humidifying even bigger spaces. It is quite the portable humidifier and even has a long water tank to allow continuous humidifying benefits.
Install it anywhere in the house, even in kids' bedrooms. It won't be a nuisance, thanks to its quiet functionality. Even the touch panel that you can use to program your preferred settings doesn't emit a loud beep. All in all, this is a good humidifier that is easy to maintain and easy to use.
Dry skin is more than just a cosmetic problem. It can cause discomfort as it tightens the skin. People with dry skin are also more predisposed to itchiness, rashes and scaling.
Some people have severely dry skin that even the popular moisturizing products out there are no match for this skin issue. If you are struggling with dry skin, especially during the cold winter months and no product seems to work, try using a humidifier. It can inject more moisture in the air and this can make your skin feel and look more supple.
Get 40 hours of dry skin relief for every fill of its tank. This filter-free humidifier works well in keeping the air sufficiently moist. It makes use of Ultrasonic Technology, which means it can operate silently.
We also like the compact and simple design of this humidifier. It is unobtrusive and user-friendly. It should also be easy and inexpensive to maintain it, since you don't need to replace a filter.
You can save a lot of money by opting for a heater-humidifier combo. If your home doesn't come with a heater yet, you can choose this one instead. These are space heaters that also carefully check the room's humidity levels.
It is important to have good humidity levels in the winter because heaters can zap indoor air moisture, which can lead to dry skin, dry hair and static.
Our Best Recommendation: Dr. Infrared Heater DR998 Advanced Dual Heating System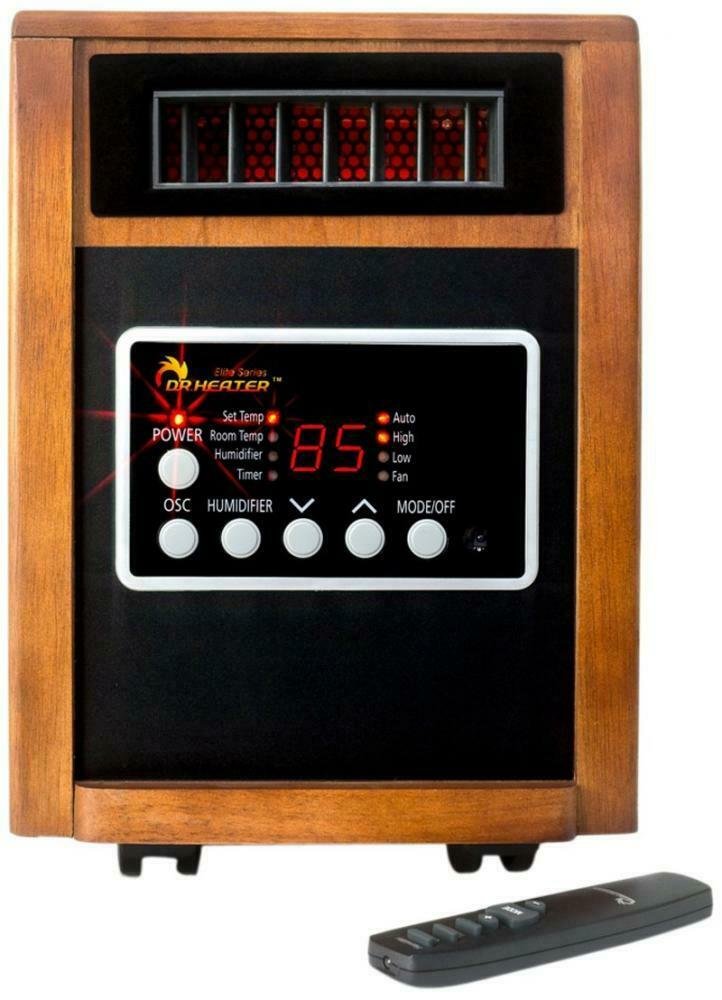 We like this heater-humidifier combo and highly recommend it to people who need to heat up a larger room. It can accommodate up to 1000 square feet of space.
The humidifier comes as an attachment and it can be used even when you are not using its heating function. That means you can still use its humidifier function even in the summer season. In the summer, simply switch to its fan setting and you are good to go. It has an oscillating fan that can quickly keep a room cool. This heater-humidifier combo is also easy to move from one place to another, thanks to its 4 casters. This product is safe to use as well, thanks to its tip-over protection system.
What's Next? 
Need more product reviews and suggestions and buying guides on humidifiers? We have everything you might need. Just head to our homepage to get our expert advice on comfortable home climate control!
You can also check out our latest humidifier buying guides: