Dehumidifiers can solve mold and mildew problems for homeowners with basements or poorly ventilated bathrooms, reducing maintenance costs and improving the quality of your air. They can also make living in a hot, humid climate a lot more bearable, by cutting down on that sweaty, swampy feeling. They're a simple way to make a big difference in the air quality of your home and the longevity of your furnishings!
With that said, these can also be some of the hardest machines to shop for. You need to find the best machine for your space, your lifestyle, and your budget. All the options can make that process overwhelming for the average consumer.
Plus, dehumidifiers are also some of the most temperamental appliances on the market. While a select few are dependable workhorses, many are inconvenient, unreliable, poorly-designed and badly-built boxes which give you more grief than relief.
We created this guide to take the hassle out of shopping for a dehumidifier. We've put our team of researchers to the task of finding the best models on the market today, no matter what your needs are!
To come up with our list of recommendations, we consulted a number of sources, to make sure we've got the most in-depth, comprehensive analysis on the market. We compared ratings and lab tests from experts at Good Housekeeping, Consumer Reports, and other periodicals with buyer feedback from people who had actually spent time living with these machines in the real world. In the end, we chose three models to recommend here.
In our comprehensive reviews, we'll run through everything you need to know about our recommendations, from their special features, to all the pertinent specs. We'll also bring you concise picture of what buyers said about these units. After our reviews, we've put together a handy guide to help you figure out which model is best for your needs!
Best Small Unit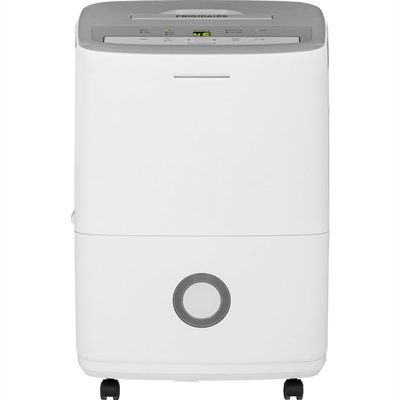 Frigidaire Energy Star Dehumidifier, 30 Pint
Our Rating: 4.4
Popularity: Low
Best Midsize Unit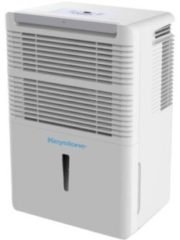 Keystone Energy Star Dehumidifier
Our Rating: 4.3
Popularity: High
Best Large-Scale Unit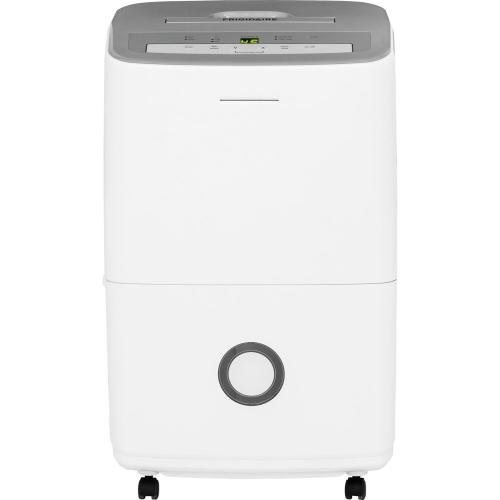 Frigidaire Energy Star Dehumidifier, 70 pint
Our Rating: 4.5
Popularity: High
Best Dehumidifier Reviews 2019
1. Frigidaire FFAD3033R1
Our top recommendation for a smaller dehumidifier comes from Frigidaire. It's a compact, quiet 30-pint unit that's ideal for smaller spaces up to 300 cubic feet with modest to moderate dampness.
While this is one of the smallest machines on the market, it has all the key features you expect from a full-size dehumidifier. There's digital humidity control, automatic shutoff and frost prevention, and alerts to tell you when you need to take care of maintenance tasks. If you're dehumidifying a smaller face, we think this is an excellent choice.
Pros:
It performs a lot better than its size would suggest. Unlike gimmicky tabletop models which don't make a significant difference in your air quality, the Frigidaire actually lives up to its specs.
Previous buyers said this one successfully brought musty laundry rooms back to health, and took basement apartments from 80% humidity right down to 50% with no struggles. Previous buyers said they had good results with spaces up to 600 square feet, which is very impressive for a small 30-pint unit!
Your results will depend on how the severity of your humidity problem, as well as how well-sealed your home is. Previous buyers who had severe humidity problems (80% or so) said they regularly emptied several gallons per day from this one.
It's compact. The Frigidaire is less than 2 feet tall, and just over 1 foot wide! Its small size makes it ideal for bathrooms, where there's not much extra space to spare. Previous buyers loved how unobtrusive it was. This one's a great choice for apartments and shared spaces where space is at a premium.
It's light. The whole unit weighs about 35 pounds, so it's easy to carry up stairs or load into vehicles. Older and smaller buyers in particular loved how easy this one was to lift.
It's very portable. This unit is mounted to a wheeled base, so it's easy to move from room to room, or out of the way as you clean the house. We also like that it's easy to move up and down stairs. There's a pull-out handle in the top of the unit, and recessed handles at either side of the machine to help you carry it easily.
It's efficient. This is an Energy Star-rated machine, so it's guaranteed to use less power than other 30-pint dehumidifiers. Previous buyers said they barely noticed any change in their electricity bill after beginning to run the Frigidaire. You'll definitely notice a drastic improvement over older units, if you're shopping for a replacement dehumidifier.
There's a simple, straightforward and accurate digital control panel. You can easily adjust humidity levels to precise percentages, and lock your settings into place with one button. This one also has alert lights which tell you when to empty the tank or clean the filter.
It has a reusable, washable air filter like you'd find in a clothes dryer. It's easy to clean by hand, using a credit card or a toothbrush. No need to wash it in the sink–you'll just have to clear the screen of dust.
It's quiet. The maximum noise rating for this machine is just 52 decibels, which is equivalent to low voices. Previous buyers said it was extremely quiet, even on the highest fan speed. They loved how unobtrusive it was in living spaces.
You can always adjust the fan speed with an easy button. That makes it easy to boost the machine's performance during the day, and turn it down for a quieter sleep.
You can use it continuously by attaching a hose to drain water into a floor drain, sump pump drain, or bathtub in a bathroom.
It alerts you when the tank is full. It'll beep quickly, then there's an unobtrusive indicator light which flashes until the tank is emptied. This one also shuts itself off automatically, to prevent overflows. If you set it up with the hose, you can essentially set it and forget it.
The tank is easy to empty. It's relatively small, at about 7.6 pints, and it has a carrying handle built into the center, so it's more ergonomic to use than other options. We also like that it has a splash guard to make sure water doesn't slop over the sides on its way to your drain. Previous buyers who were on the shorter side said this was refreshingly easy to carry, unlike the big, awkward tanks on the larger options.
It's equipped for colder climes. While many units aren't rated below 60 degrees, this one's safe to use down to 41 degrees F. It cycles in a special low-temperature mode to use the movement of your air to defrost the system. That saves you energy as well, since you don't have to worry about heating your basement or sunroom.
It's covered by a 1-year warranty, and additional coverage is available very cheaply. This one also has a better than average reliability rating from buyers. We didn't find any complaints about parts breaking or leaking, and the only issues were electronic.
Cons:
You'll probably need to empty the tank frequently. Previous buyers said they often had to make two trips to the drain in a day, if not three. If your humidity levels are particularly high, you may want to consider a larger unit which you'd empty less often.
Some buyers didn't like that the digital humidity controls work in intervals of 5 percentage points. It's not as precise as some more expensive units. However, most users probably don't need to adjust within single percentage points.
It has a mixed track record in terms of reliability. The majority of buyers didn't report issues, but a fair number of reviewers said that after a few months to a year of service, their machines started flashing an error message (FO), which the manufacturer says can't be resolved. If you're under warranty, the company does buy back the machines for the purchase price.
If you're out of warranty, though, as many buyers found themselves, you'll be out of luck. That's why we recommend using inexpensive add-on coverage for these units. You can get up to 3 years total coverage for less than $20, which is a smart financial decision in our book.
2. Keystone KSTAD 50B
Our favorite dehumidifier in the midsize category comes from Keystone. It's a 50-pint unit that can handle larger single rooms and smaller houses, all at a lower price than comparably-powered machines.
This one has many of the same features we love on the 30-pint Frigidaire, but in a larger and more powerful package. It's a good choice for people with living spaces up to 1000 square feet.
Pros:
It provides about three times the coverage of the Frigidaire 30-pint model. This one is rated up to 3000 square feet. We think that's pretty optimistic, but we'd safely recommend it for slight to moderately damp areas up to 1000 square feet, up to 1500 square feet for spaces that are humid, but with no serious dampness to deal with.
Previous buyers had great results within the 1000-1500 square foot range. They found that this was more than sufficient for larger basements, or entire homes on the smaller end of the spectrum. Its high dehumidification capacity compared to the 30-pint Frigidaire makes it a particularly good choice for older houses with lots of leaks, cracks, and drafts.
It has a lot of the same great features as the Frigidaire.
It's Energy Star-rated. This one was rated in 2014, and continues to be one of the best energy performers in its price class.
It has digital controls, including an LED panel with precise humidity readouts and adjustments. Like the Frigidaire, this one also has warning lights for both filter cleaning and water tank level, and a 24-hour timer, so you can program its duty cycles.
It's on caster wheels. Previous buyers said this one also rolled well on carpets and rugs, which is a nice plus over the Frigidaire.
It can be used continuously with a standard garden hose. The Keystone comes with an L-shaped adapter arm and socket for attaching to your hose, so the only additional part you'll need to purchase is the hose itself.
It has a cleanable, reusable air filter.
This one differs slightly from the Frigidaire in how its fan settings work. There are two standard settings, low and "turbo", then a third automatic defrost setting for cold-temperature operations.
While this one doesn't automatically adjust to colder temperatures, the automatic defrost setting is a good feature to be able to turn on to make sure the machine is ready for cold temps, rather than hoping it will sense temperature drops every time (as you would with the Frigidaire).
It's almost as compact as the Frigidaire. This one remains about 2 feet tall, and just over a foot in width. That's very impressive for a unit that's three times as powerful! The Keystone's compact footprint and powerful performance makes it a very popular choice for RVs and small apartments with serious moisture issues, as well as larger living spaces.
It's also nearly as light. This one weighs just a pound or so more than the smaller model.
The 10.4 pint bucket means you don't have to empty this one quite as often as the Frigidaire. However, if you're operating the machine in a particularly damp space, or in a larger home, you'll probably need to empty it at least twice daily.
Unlike the Frigidaire, this one has an automatic restart function which will cause the machine to restart at your programmed settings after power is restored to your home. That's a nice advantage, especially if you live in areas with frequent power outages.
It's one of the most affordable units in its power class. The Keystone costs about the same as the 30-pint Frigidaire. While it's not quite as reliable or refined, this one is still a major bargain, considering the price of other 50-pint units.
Cons:
Most previous buyers complained about the water tank design. They didn't like that the bottom wasn't flat, so the tank couldn't be set down without water spilling out. We also found that many buyers had trouble getting the tank in and out of the machine. It's definitely not as well thought-out as the Frigidaire.
While this one has an auto-restart in case of power outages, a few reviewers noted that when they went to reset the "clean filter" light, the computer lost their saved settings. That's clearly an oversight on the part of the designers, and it makes this one slightly less convenient to use long-term.
As with the Frigidaire, the Keystone has a fairly common (and fatal) computer error which causes the system to stop working. We found that nearly all reviews from buyers whose units broke down cited this error message as the culprit. Irreparable computer glitches tend to be the #1 cause of death for appliances like these, so we really do recommend after-market add-on coverage when you buy, so you're not stuck with a dead machine just out of warranty. With all that said, a fairly small percentage of reviewers reported the problem, so most buyers were fine.
There are some downsides to the Keystone's bargain price. It's not as well-designed or well-made as other 50-pint units. Some previous buyers had issues with leaks or faulty refrigerant. It puts out more heat than the Frigidaire.
It's also louder than other 50-pint models. It has a weakly-built hose connector. It isn't actually rated down to a specific cold temperature. With all of that said, previous buyers and Consumer Reports testers found that while the awkward design features make this a bit less refined than other options, it's just as reliable as other 50-pint models (and much more affordable).
Previous buyers had very mixed experiences dealing with Keystone customer service. This isn't as well-known a brand as Frigidaire, and some buyers had trouble getting ahold of the company, or getting helpful responses from the representatives they did reach. Again, it's best to get third-party coverage and avoid the whole thing.
3. Frigidaire 70-pint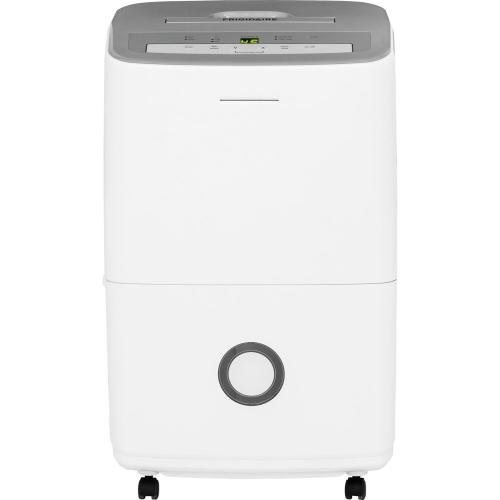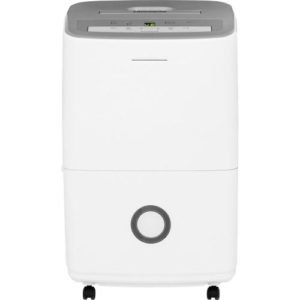 Our top recommendation for larger spaces and severe moisture problems is essentially a superpowered version of the 30-pint Frigidaire we've recommended for smaller spaces and smaller moisture problems. This one can pull up to 70 pints of water out of your living space in a given day!
It's ideal for older homes with severe moisture problems, or larger homes where one dehumidifier will have to handle the whole space. We generally recommend 70-pint units for spaces up to 1500 square feet.
The Frigidaire performs well even slightly beyond that. It's quiet, efficient operation, as well as its smaller footprint, make it the ultimate all-purpose dehumidifier. We recommend it to buyers who need something to handle a larger living space, or to people who simply want to tackle smaller spaces as smoothly and efficiently as possible.
Pros:
It's from the same lineup as the 30-pint Frigidaire we've reviewed above. So, it features:
Energy Star electricity ratings
alerts for cleaning the filter and emptying the tank
a connection for using a garden hose for draining water
Overall, previous buyers said it felt like a well-designed unit that did its job simply and reliably. They complimented the ergonomic water bucket, as well as the easy controls and low energy usage. More than anything, though, they were impressed by its strong performance!
It can handle by far the most moisture of our recommendations, and it's prepared to cover the most ground. With a 70-pint daily capacity, this unit is suitable for spaces up to 1500-2000 square feet, depending on the level of humidity and moisture you're trying to tackle.
It's especially good for severely damp spaces, where you need that extra power to stay on top of mildew and mold. Previous buyers said it can collect an astonishing amount of water, and easily brought their spaces out of mildewy conditions in just a few hours.
The 70-pint rating, combined with the larger water tank, make this unit ideal for any application. It works well in large spaces, up to whole houses. It's an excellent choice for people who want to dehumidify a whole home dehumidifier. In small spaces, it's simply a more convenient and reliable choice than a 30 or 50 pint unit. Just make sure you can easily carry and empty the water reservoir, which weighs just over 10 pounds when full!
Almost unbelievably, this one is nearly as compact as our other models! The 70-pint Frigidaire is just over two feet tall, and about 15" wide. We're very impressed with how small a footprint this machine has relative to its power and water tank.
Unlike a lot of units of this power class, it has a manageable water tank: just over 13 pints. Previous buyers said that while the tank is on the larger end of the spectrum, it's ergonomically designed to make it easier to get in and out of the machine, and to carry to your drain.
Since it's so big, using this machine in smaller spaces that are particularly damp can be a smarter decision than buying a 30-pint unit, since you'd only have to empty the 13 pint half as often as the ~7 pint bin in the smaller Frigidaire.
Like the smaller Frigidaire, it's very quiet (under 52 decibels). Previous buyers said this one was very unobtrusive, and barely made as much noise as their air conditioner or fans. Since it's so powerful, you can run it at lower fan speeds and still dehumidify your room as much as smaller units at full bore! Many reviewers said this was the quietest dehumidifier they'd ever used.
It's more reliable than our other recommendations, even if it doesn't have a perfect track record.
Cons:
It's the heaviest unit here, at close to 50 pounds. This one definitely isn't as easy to get up and down stairs, especially for older buyers.
It's the most expensive machine here. This one costs about $100 more than the 30-pint Frigidaire or the Keystone. While people with larger living spaces will have to stomach the price to get something that can handle their square footage, people looking for something for smaller applications might want to save money with one of our other recommendations.
As with our other recommendations (and all the other dehumidifiers on the market these days), it has iffy reliability. It has a better overall reliability rating than the smaller Frigidaire and the Keystone, but there are still some quality control issues and design flaws.
Most complaints were due to buyers' machines kicking the bucket with a flashing error message, just like the 30-pint model. Other buyers had issues with shoddy quality control, which meant their units didn't work quite right out of the box.
Again, it's best to buy an external/extended warranty add-on when you purchase. Frigidaire have also gotten much better about buying back dysfunctional machines and making things right with buyers in the past year or so.
What is the Best Dehumidifier for Your Home?
The 30-pint/day Frigidaire is a great choice for smaller apartments, condos, or basements that have a square footage under 300. We recommend it to people who need to dehumidify a specific area of their home, or people who have a compact living space to begin with.
We think it also makes a great choice for a damp bathroom or washroom without proper ventilation, since it's so compact. It's simply not a good choice for larger homes, due to its low power rating.
The Keystone is the best choice for people who need to dehumidify larger basements with severe dampness problems, or whole living spaces under 700 square feet. It's suitable for a small to average home, provided that you don't have any severe moisture problems. This is also our top value choice, since it provides the most dehumidification power for the price. However, it's the iffiest of our recommendations over the long term, and it may struggle with some leakier or damper homes.
Overall, our choice of the best dehumidifer is the Keystone Energy Star – a unit which is ideal for most users and which offers a high level of performance.
The 70-pint/day Frigidaire is our top overall quality pick, as well as the obvious choice for people who have larger houses or very severe moisture problems to deal with. It's the most expensive model here, and while it's probably overkill for the average basement or bathroom, it will allow you to deal with smaller spaces more efficiently and quietly than our other recommendations.
Plus, you won't have to empty the water reservoir as often. We recommend it to anyone who wants to dehumidify a whole house with one unit, as well as buyers with smaller space needs who simply want the best quality unit on the market right now.
How to Choose the Best Rated Dehumidifier
Consider efficiency:
In most cases, a dehumidifier is an appliance which you'll have running almost constantly, especially if you're installing it in a basement, bathroom, or other consistently damp space. Since it's going to be on most of the time, you'll want to be extra sure that you find a machine that won't run up your energy bill.
To help you save energy, look for smart features like timed operation, which allow you to run your unit only when you need to. Look for accurate, automatic humidity controls, so your dehumidifier can shut itself off when it's not needed.
Of course, the easiest way to determine if any appliance is an efficient choice is to look for the EPA's Energy Star rating (a blue label) on packaging and product listings. Energy Star products are tested and certified to use less energy than other appliances, so they're your best bet for saving on your power bill.
One added benefit, besides saving on your power bill, is that many rebate programs exist for Energy Star appliances, so you might be able to find some extra savings after you buy! Check with your local power authority or state environmental department.
Look for convenient maintenance features:
Depending on how damp your space is to begin with, you'll need to perform regular maintenance on your dehumidifier. Generally, you'll need to be on top of emptying the water reservoir, maintaining air filters, and making sure your unit is running appropriately to the conditions of your space.
To make the whole thing easier, there are a few key features we like to look for in dehumidifiers:
Easy-to-carry water bin or drainage hoses:
The most frequent maintenance task you'll need to perform is to empty your water tank as it fills up. Choose a unit with a water reservoir that's easy for you to carry, and easy to empty into a nearby drain.
You'll have to decide what's most convenient for you-a large bin you'll only have to empty once a day or even less, or a smaller bin that's lighter to carry, and easier to empty into a sink or more confined space. Choose the bin size that's best for your body strength and drain opening.
If you're installing your dehumidifier in a basement, or near a shower, one easy solution to this maintenance problem is to buy a model with a drainage hose, rather than a removable water reservoir. That will allow water to drain as it's collected, so you never have to make trips down to the basement, or lift a heavy bin.
Automatic restart:
Most dehumidifiers are "set it and forget it" appliances. So, the most effort you'll have to put in is getting it put together, and programming your dehumidification cycles, timers, and levels.
To make sure you don't have to go through all that hassle when the power goes out, or when you need to shut a breaker off, look for automatic restart features. They'll save all your preferences and programmed settings so that when the power comes back on, the dehumidifier will, too!
Timers:
Depending on your application, it might be helpful to have your dehumidifier running at certain times, and shut off at others. For instance, if you're using it near a bedroom, you may want the unit to run during daytime hours, and not at night.
Conversely, if you're running it near a home office, you might want it to run at night instead of during the day. Timers allow you to program the machine's duty cycles, so that it runs automatically each day without you having to turn it on and off.
Frost sensor/prevention:
If you live in a colder climate, you should consider looking for a machine with a frost prevention feature, or a frost-sensing shutoff. Frost can damage a dehumidifier's internal parts, and it can occur in some poorly-sealed basements or airy houses without consistent heating. If that's a concern in your area, look for specific frost features on your machine.
Washable filters:
Aside from emptying the water bin, the most frequent maintenance task you'll need to perform is changing the air filters on your unit. Nearly all dehumidifiers have some sort of air filter built in, whether it's a HEPA-grade allergen filter or a carbon filtration system for reducing odors.
These filters can be tricky to replace, and they can also get expensive, especially when you factor in how many you'll need over the course of the year. That's why we prefer washable, reusable filters. They make your unit much cheaper to maintain, and they're very simple to use.
Know the requirements of your space:
Before you start shopping, make sure you know how large a dehumidifier you'll need to handle your space and your humidity level. They're generally rated by water collection volume, measured in pints. The larger the pint rating, the more water a machine can pull out of the air over the course of a day.
So, a 30-pint dehumidifier can pull around 30 pints per day. Make sure you choose a pint rating that's appropriate for both the size of your space, and the specific conditions in the space, like leaks, mildew, or other concerns.
You can find recommendations specifically tailored to your specific needs in our niche buying guides:
Best Commercial Dehumidifiers (2019)
Best Desiccant Dehumidifiers (2019)
Best Crawlspace Dehumidifiers (2019)
Best Small Dehumidifiers (2019)
Best Whole-House Dehumidifiers (2019)
Best Quiet Dehumidifiers (2019)
Best Dehumidifiers With Pumps (2019)
Best Bathroom Dehumidifiers (2019)
Best Garage Dehumidifiers (2019)
Best 30-Pint Dehumidifiers (2019)
Best 50-Pint Dehumidifiers (2019)
Best 70-Pint Dehumidifiers (2019)
Best 95-Pint Dehumidifiers (2019)
Not sure how many pints per day you need your machine to handle?
Here's a rough guide to figuring out how powerful of a machine you should buy:
If your space is slight to moderately damp, with 50-70% humidity:
30 pints: handles up to 300 square feet
40-50 pints: handles up to 500-700 square feet
60-70 pints: handles between 1,000 and 1,500 square feet.
If your space is very damp or visibly wet, with 70-100% humidity:
30 pints: handles only very small closet spaces
40-50 pints: handles up to 300-500 square feet
60-70 pints: handles between 700 and 1,000 square feet.
90+ pints: required for spaces over 1,000 square feet
Be generous for the best results! Always round up 5-10 pints to accommodate for other conditions, such as a humid climate, a space with lots of doors and windows, or rooms with a washer and dryer. If you're dehumidifying a bathroom, you'll want the most powerful unit you can fit in the room.
What's Next?
If you're still shopping for a dehumidifier, check out all of Amazon's best-selling models here! You'll also want to be sure to visit our homepage for more of the best air quality advice online.