An air purifier with UV functions can help eliminate harmful pathogens and microorganisms that might have otherwise escaped from the filtration system of your air purifier. The UV light emitted by this air purifier mimics that of the sun's UV rays.  If you live in a particularly dirty neighborhood or you have family members with very sensitive health, you should consider looking for a UV air purifier. You don't even need to do a lot of rigorous researching because we did all the work for you. Check out below which UV air purifiers out there we recommend because of their purifying abilities, excellent modern features and user-friendly functions.
Best UV Air Purifier Reviews
Here are the air purifiers you would want to look for:
Get to know more about what these products can offer you:
1. SilverOnyx Air Purifier for Home
Never have to suffer from severe allergy attacks again no matter what the season is with this compact and lightweight air purifier from SilverOnyx. It has a nice cylindrical design that does not take up a lot of footprints, making this an ideal bedside air purifier. It boasts of a 5-stagee filtration system that effectively traps large particles and eliminates the smaller ones through its True HEPA H13 filter.  It even maintains a fresh-smelling house with its active carbon filter function.
The UV light can be relied on to eradicate everything that might have gone through the filters. It is particularly effective when it comes to getting rid of germs and molds. It is chock-full of reliable features including a 5-speed fan setting, a built-in ionizer, a PM 2.5 sensor and an auto mode.
Pros:
This is one of the most powerful air purifiers out there not just because of its brushless DC motor but also because of its 5-stage filtration system. With so many filtration steps, dirt and microorganism won't stand a chance. And even if they manage to get through the filters, the UV-C light will finish off the job.
It is built to last. It has a brushless DC motor, which means it doesn't wear out as much as the brushed ones when working.
It works effortlessly even in rooms as big as 500 square feet. The True HEPA H13 filter has 60% bigger area coverage compared to competing air purifiers out there.
The design is perfect for modern homes. It is also lightweight, so you will not have a hard time moving it from one space to another.
It works quietly. The highest speed setting gives off just the right level of noise. It's not very intrusive and works great as a white noise.
It comes with a Sleep Function, so you don't have to sleep with that glaring blue light from the air purifier.
A lot of people commented on how well this purifies the air. They said instances of coughing, sneezing and allergic reactions lessened because of this.
The auto setting has good sensors. It really does detect when there is a need for stronger fan speed setting.
Cons:
There were those not satisfied with its ability to filter out dust. They said they still had to deal with a fair amount of dust in their room.
2. Airthereal Pure Morning Air Purifier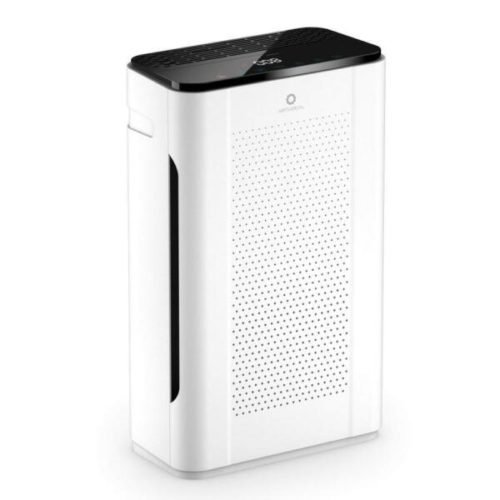 If you are living in an area where you often deal with extreme pollution or you deal with indoor smoke all the time, we recommend this to you. It features not just 5 but 7 filtration stages. The pre-filter gets rid of bigger particles. The True HEPA filter works in eliminating unwanted microorganisms. The Activated Carbon Filter is broken down into four different levels – the nano mineral filter, cold catalyst filter, photocatalyst filter and the molecular sieve to effectively get rid of mold spores, pollen, bacteria, germs, viruses, pet dander, VOCs and smoke.
You probably don't need the UV feature but that is also included in this. The UV-C light sanitizes the room, thereby successfully getting rid of viruses, germs and bacteria. Its negative ions also help in ensuring you only breathe clean air.
Pros:
We like the square shape and the utilitarian design of this air purifier. It blends well in its surroundings and has clean design features that prevent this from being an eyesore.
It has more filtration stages than most air purifiers out there and that does not even include the UV and the negative ion features it has. This really does a great job in improving indoor air quality.
It has a CADR rating of 152 CFM. This means it is capable of eliminating even the most stubborn air particulate matters such as tobacco smoke, dust and even pollens.
It has a wide coverage. With the normal setting, you can purify air of up to 355 square feet. In just 10 minutes, you will already feel the difference in the air.
The UV-C bulb has a long life span of 5 years.
It features a PM 2.5 light function and a real-time air quality indicator. If the purifier needs to have the HEPA filters replaced, the light will alert you.
You can also utilize its 3-speed fan setting. Choose the right setting suitable for your specific needs.
Cons:
Some said it is a bit noisy. Even on Sleep setting, it still emits a vibrating and humming noise that can be disruptive to some people.
3. GermGuardian 3-in-1 Desktop Air Purifier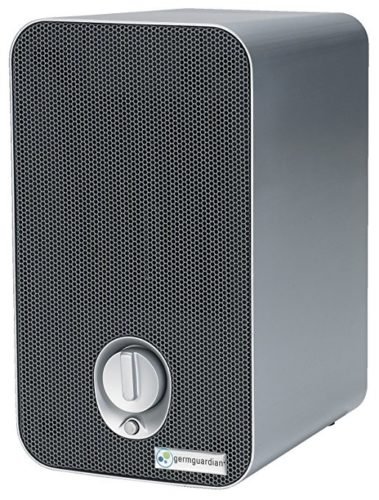 Get this one if you don't like to spend a lot of money. It is cheaper and should be a good choice for smaller rooms. It is most ideal for rooms as small as 78 square feet. The HEPA filter incorporated in this air purifier has the ability to get rid of 99.97% of allergens and dust in the air. It even has an optional UVC light technology. When used in conjunction with Titanium Dioxide, it does a great job in getting rid of mold spores, bacteria, germs and viruses.
With its 11 inches of height, it should not take up a lot of space. It shouldn't be too costly to maintain as well since you only need to replace one filter every now and then. The filter can even last for as long as 8 months depending on how dirty the surroundings are.
Pros:
This is an affordable choice that will allow you to save a lot of money.
We recommend this for smaller spaces. It is not very expensive and it only takes up a small footprint.
The UVC light technology is optional. It even works together with Titanium Dioxide in order to eliminate harmful mold spores, viruses and germs in the air.
It will tell you when you need to replace the filter. There is a filter indicator.
This product is backed by a 1-year limited warranty.
The design of this air purifier is stylish. Even if you display it on a table, it will not be an eyesore.
Cons:
Some said even with its size, it still emits a considerable amount of noise.
4. Pure Enrichment PureZone Elite Air Purifier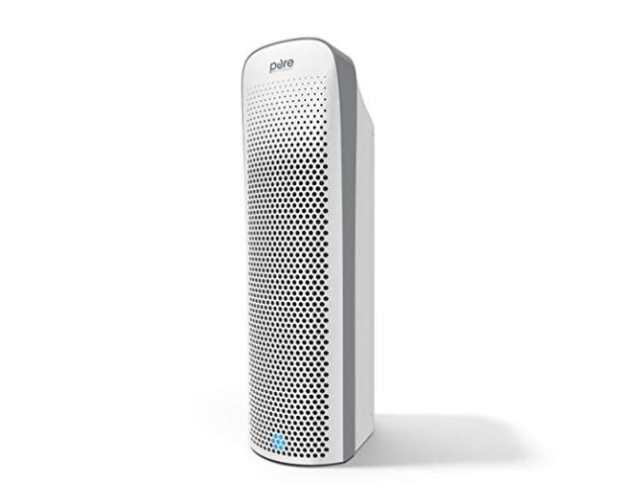 This tower air purifier features 4 stages of air purification. It has an activated carbon pre-filter that works in eliminating unwanted odors, a True HEPA filter that gets rid of microorganisms, a UV-C light filter that further gets rid of germs, bacteria and mold spores and an ionizer that takes care of the rest of the work.
You will like the Smart Air Quality monitor of this air purifier that helps in detecting air particles. It will automatically set the correct fan speed to address the needs of your home.
Pros:
The sleek and simply tower design of this UV air purifier makes this a great addition to any modern home. You can easily set it up in a corner of a room.
The control panel can be easily accessed at the top portion of the unit. The buttons are easy to press, and they light up when they are in use.
The 4 stage purification system really works. Many people said they slept better and did not suffer from allergic reactions.
It comes with a sleep mode. The unit automatically changes the unit to more ambient settings.
It has a function that will tell you when you need to replace the filter. You can replace the carbon pre-filter as well as the HEPA filter.
It has a portable design. You can transfer it to any room you want without having a hard time carrying it.
This product is backed by a 5-year warranty.
Cons:
There are those who said they have a hard time finding replacement filters.
Which UV Air Purifier Will Work Better for You
?
If You Have a Big Space: SilverOnyx Air Purifier for Home. If you need to purify the air of a bigger room, get this one. It is designed to work in bigger spaces. And with its multi-stage filtration system, you can be assured that harmful particulate matters will have no place in your home. The price tag is not too bad as well and makes for a good investment if you don't fancy replacing your air purifier any time soon.
Best Air Filtration System: Airthereal Pure Morning Air Purifier. It is hard to top the filtration benefits of this unit. Aside from the UV function, it goes through 7 different filtration stages, so virtually no particles will be left roaming in the air. All that is in its compact and attractive unit.  
Most Affordable Choice: GermGuardian 3-in-1 Desktop Air Purifier. This is the air purifier to look for if you are on a tight budget and you need a good air purifier with UV technology to work in a small space. The UV technology is optional and works well in eradicating harmful microorganisms and pathogens in the air.
Are UV Functions in Air Purifiers Really Beneficial
?
There is a debate as to whether UV functions are really necessary in air purifiers. There are actually benefits to having this feature in your air purifier. Here are some of them:
It has better air purification benefits.
If you are dealing with partially bad indoor air quality or there is an outbreak going on, a UV function definitely comes handy. It is what you can use to further eliminate the harmful particulate matters and microorganisms that are not successfully filtered out during the first few filtration steps. Think of the UV filter as the finishing action.
It prolongs the life of the air purifier.
Because it works in eradicating microorganisms, it prolongs the life of the parts of your air purifier. Fewer particles can get inside the mechanisms and components of the air purifier. It also prevents molds and bacteria from growing in the pre-filter.
It reduces the amount of maintenance work you have to do at home.
Since it has the ability to keep dust mites and molds at bay, you don't need to do a rigorous amount of cleaning. It makes maintenance of your home a lot easier.
If you are concerned about the effects of UV rays to the skin, especially when there are kids in your home, you can opt for the ones with an optional UV-C feature. They can be turned off when not needed and turned on when you need that extra sanitizing effect such as when there is an outbreak or during the spring or the summer season when bacteria might be at an all-time high.
Conclusion
Have you decided on which UV air purifier to get? You can see current prices, spec sheets, and warranty details for any of our recommendations by clicking on the links in our reviews. 
We also have plenty of other great resources for you. Aside from this guide, we have plenty of other air purifier reviews in our general buying guide. Get some tips and information , as well as our top picks for the best air purifiers for any application!