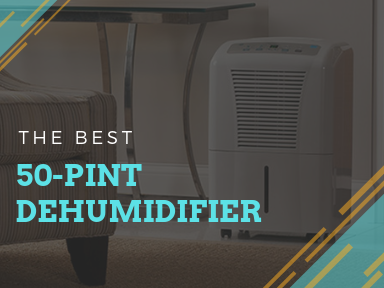 When it comes to dehumidifying capacity, the 50-pint dehumidifiers offer a good capacity suitable for medium to bigger-sized spaces. They could be considered the medium-sized product since they aren't as large as machines that hold 70 pints but aren't as small as products only capable of handling 30. If you are dealing with more molds issues or you want a dehumidifier that can work during those hot humid summer days, go for the 50-pint ones. They will serve you well and keep the humidity level manageable on your terms.
It's a good thing we aren't going to run out of good 50-pint dehumidifier options any time soon. After checking out the market, we found those that are truly capable of removing excess moisture from the air without consuming too much energy and those dehumidifiers with automatic functions for convenience and safety. Read on to find out which products we highly recommend.
Best 50 Pint Dehumidifier 2019 Reviews
1. Frigidaire 50 Pint Dehumidifier
Keep humidity at bay with this dehumidifier that can accommodate 50-pints of water per day. One of its strongest suits is its 51 dB of noise levels, that will allow you to operate this with minimal noise. It doesn't just operate quietly, it operates efficiently as well, so you don't have to worry about spending so much money on your next electricity bill. The Frigidaire 50 Pint Dehumidifier comes with electronic controls that are easy to use. You can use the 24-hour timer to keep it running continuously.
Pros:
This can be operated with a touch of a button. It is simple to use and has functions that are easy to understand.
You can still control how much moisture will be left in the air with its humidity control. Just key in your preferred humidity levels.

The Frigidaire 50 Pint Dehumidifier

boasts of a full tank alert system. Once it is near full capacity, it indicates a warning sign.
The water receptacle is found in front. It can be easily accessed. Emptying it out is easier and mess-free, thanks to its carry handle that also features a splash guard.
It has an automatic shut off feature. Once it reaches almost full capacity, it shuts off.
The filter is removable, and you can clean it with ease.

This is great since many dehumidifiers struggle to make the filter accessible, and it is one of the key components in any device since it is what keeps the vapor flowing and eliminates unwanted impurities.

It can operate even at low temperatures. It can work even in temperatures as low as 41-degrees Fahrenheit.

The Frigidaire 50 Pint Dehumidifier

is easy to install, and it has caster wheels to make transport from one room to another easier.
Cons:
Some users have issues with the noise it produces.

While the product isn't exceptionally loud, it creates just enough noise to be disruptive, especially to individuals who prefer their machinery to be unnoticeable. We would recommend the Frigidaire 50 Pint Dehumidifier be placed in an out of the way room such as the bathroom or basement instead of the living room.
2. Keystone KSTAD50B Energy Star 50 Pint Portable Dehumidifier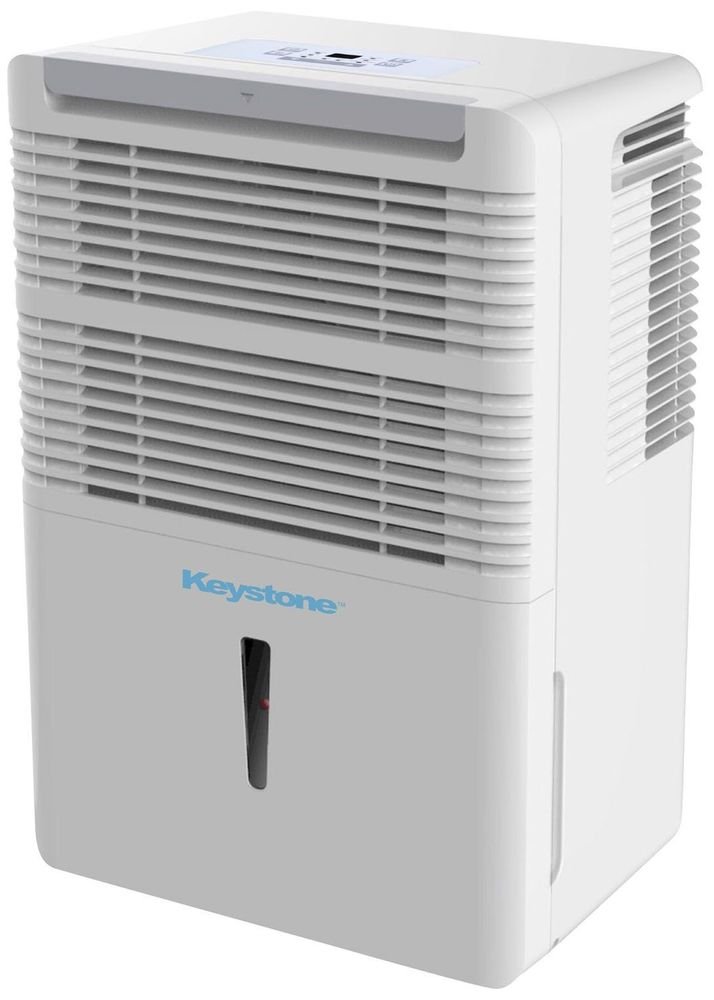 Install this in rooms with up to 3000 square feet in size and you shouldn't have any issues with extra moisture in the air. It comes with three different settings – Normal, Auto-Defrost and Turbo Setting. Use the Turbo setting to quickly dispel musty smell from the room. Use the Auto-Defrost function to remove frost from the coils. It comes complete with electronic controls that boast of an LED Display. Use that to operate your dehumidifier with ease. The filters are also easy to clean. Just remove the filter and then wash it. There is also a water level indicator that will tell you when the bucket is near full.
Pros:
This is one of the most affordable dehumidifiers out there.
This is a beautifully-designed dehumidifier. You won't be ashamed to display it in your home.
The operation is simple. You can read the screen easily, and it also performs quietly.
It doesn't freeze up easily, according to many customers.
This has a big water reservoir, so you can go for hours without this machine getting full easily.
It also runs cooler according to users. It doesn't emit heat as much as other brands of dehumidifiers.
It is spill and drip-proof.

and the unit can maintain a reasonable humidity level without becoming too dry.
Cons:
Some say they occasionally have a hard time removing the

reservoir.
3. Tosot 50 Pint Dehumidifier
Use this to keep your basement, bathroom or any part of the house comparatively dry. It has a nice and attractive design that will work effortlessly in a modern home setting. This machine boasts of energy star rating, so you can be assured that it won't take a toll on your energy consumption. And with its 52 dB of sound, you should be able to use this without being disturbed. Like the other Tosot dehumidifiers, this one also features an ergonomic drain bucket. You can remove the bucket without spilling its contents. You also have the option of using a drain hose.
Pros:
This has all the safety features you need to keep it running well. In case of a power outage, it has an automatic restart feature.
You can easily remove the filter for quick cleaning.
A lot of people said this did not have trouble keeping excess moisture away from the air. It does what it promised to do.
It works quietly as well.
Some said even when they used it in a space with higher ceilings, they did not have issues with it. It still managed to deliver.
Cons:
Some said the humidity readout could use a redesign because it is difficult to read.
4. Ivation 50 Pint Energy Star Dehumidifier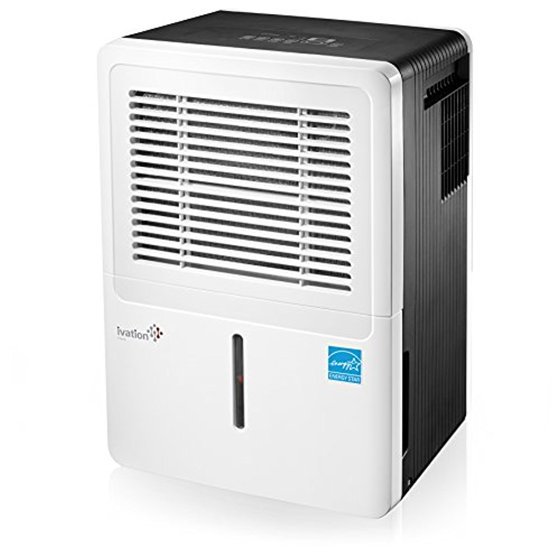 Here is another modern-looking dehumidifier that has a good place in your home. You can use this to beat allergens and dust at home and keep your home free from molds and mildew. You simply plug it in and it will work for you. With its 1.3 gallons of water tank, it will seamlessly collect excess moisture in the air. It is also comparatively low maintenance, so you shouldn't have issues keeping it in great shape. Enjoy its many settings such as a humidistat function, fan speed settings, filter alert function and timer.
Pros:
It works powerfully. It can keep even rooms as big as 3000 square feet dehumidified.
It comes with all the bells and whistles you might look for in a humidifier such as auto-shutoff feature, level indicator for the water reservoir and an easy-to-use LED interface. You can program it to work on your preferred settings.
It comes with casters for easier transport.
The cord is 6 feet in length, making this easier to plug.
Take advantage of its frost sensor in the winter.
Cons:
While it is easy to remove the

storage

reservoir, some people said putting it back in can be a bit tricky.
Benefits of Getting a 50 Pint Dehumidifier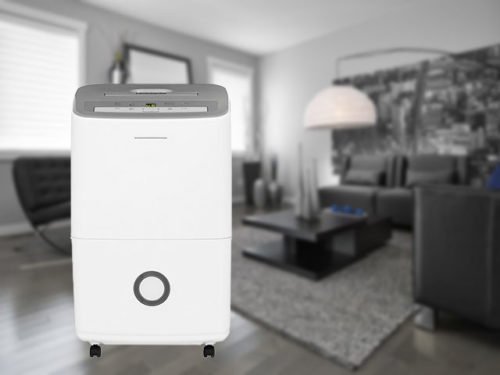 A dehumidifier is a sterling solution to excess humidity problems. If you have a room in your house that seems to be prone to molds formation or a musty smell, installing a dehumidifier can help prevent these problems from occurring. The machine improves the smell of the room and also makes breathing a lot easier as you no longer have to deal with mold spores.
Since these 50-pint dehumidifiers are portable, they don't need to be installed directly into a plumbing or electrical system. You can basically plug the machine into any available outlet with a similar voltage and then use it. Most of these are also small enough to fit in corners, so you don't need to worry about taking up a ton of space with a new device. They take up only a small area, so they don't get in the way of traffic flow.
And since the 50 point dehumidifier is bigger than their smallest counterpart, which is the 30 point dehumidifier, you don't have to keep on dumping out the contents of the water tank every few days. The tank fills up slower because it tends to have a bigger capacity. Of course, you also have the option of connecting the dehumidifier to a hose and then directly draining the contents, so you never have to worry about a full tank ever again. The dehumidifier will continuously work to siphon excess moisture from the air. You can basically forget about it if you go the extra mile and get this setup in your home. Most of these dehumidifiers also include a hose already, so all you need to do is hook them up.
So go ahead and consider getting a 50-pint dehumidifier if you need it for a bigger space like a bathroom, the kitchen, the garage or the basement.
We highly recommend purchasing a unit for the basement, as these rooms are the biggest sources of excess moisture, mold, and mildew in any home. Depending on the way the house is set up, it can also be possible to install the unit so that it drains into a regular waste water source so you don't need to manually empty it. Consider this option if you want to save some free time and make your home more valuable.
However, we know that most homes don't have a basement and that the biggest source of humidity and stress for lots of individuals is the bathroom. For this review, we heavily kept this room in mind because they are a constant source of running water, heat, and vapor. We recommend getting the following units to keep your bathroom free of excess moisture.
We recommend getting these dehumidifiers specifically for the bathroom here.
When it comes to 50-pint dehumidifiers, here are the units you can rely on:
Which One Is the Best Choice For You?
Great for Bigger Spaces:
Frigidaire 50 Pint Dehumidifier
Many people used this dehumidifier for their big house and they did not have issues with it. It does a great job in removing excess humidity even in a fairly large space.
Quiet Features:
Keystone KSTAD50B Energy Star 50 Pint Portable Dehumidifier.
Almost all who used this dehumidifier said this is the quietest dehumidifier they have ever used. It won't disturb your household with its noise when it is running all day. Get this if you have a relatively small home that tends to get disrupted by noises. And since it also has an affordable price tag and a full suite of features, you will enjoy using it to keep your home's indoor air quality in good condition.
Has Powerful Excess Moisture Removing Prowess:
Tosot 50 Pint Dehumidifier.
Not all dehumidifiers out there really do what they set out to do. Some have lackluster results when placed in a room with a taller ceiling. But this one is an exception. Get this if you have a relatively small home that tends to get disrupted by noises. And since it also has an affordable price tag and a full suite of features, you will enjoy using it to keep your home's indoor air quality in good condition. Get this if you have a relatively small home that tends to get disrupted by noises. And since it also has an affordable price tag and a full suite of features, you will enjoy using it to keep your home's indoor air quality in good condition.
Reliable Functions:
Ivation 50 Pint Energy Star Dehumidifier.
This one always gets the job done. All the functions seem to be working and there aren't a lot of negative reviews about it. It also comes from a reliable and recognizable company, so if you encounter problems with it, you can get a hold of the manufacturer.
Our number one pick for the title of best 50 pint dehumidifier is the Frigidaire model. It's affordable yet high performing. This dehumidifier can accommodate even bigger spaces without any issues.
Dos and Don'ts When Buying a 50 Pint Dehumidifier
Get the greatest 50-pint dehumidifier by taking the following dos and don'ts in mind:
1. Do find one with a big enough water reservoir for your needs.
One of the most important factors you should consider when buying a 50-pint dehumidifier is the capacity. Some of these products have a smaller tank, so although they may be advertised as 50-pint dehumidifiers, they might not truly accommodate that much water. Of course, capacity isn't an issue if you plan on hooking up a hose to it so that it drains continuously. But otherwise, compare unit tank capacity to ensure you are getting the best ones.Make sure the water tank can be removed with ease, so you can clean it without struggling to get it out.
2. Don't just buy one with a nice design.
While it's nice to get a dehumidifier that has a nice design, it's important to look beyond the design and in the functionality of the product. See to it that the controls are easy to access and that it comes with an LED display that you can easily read. The good news is that most dehumidifiers today have a nice and attractive design that will work seamlessly in most modern households. With these dehumidifiers, you won't have to worry about the appliance sticking out like a sore thumb. 50 point dehumidifiers are comparatively small as well, so they shouldn't take up a lot of space in a room. These dehumidifiers can be cleverly hidden in corners.
3. Do look for safety features.
Make sure each unit comes complete with safety features such as an automatic shut off option. This feature is important because once it detects that the water tank has reached full capacity, the device will shut off. This way, the machine won't continuously draw water out of the air even when it has already exceeded its capacity. This feature will make sure your home is not flooded with collected water. You also don't have to worry about remembering to turn off the dehumidifier and emptying out the contents of the water tank. While many people don't consider the automatic shut off before purchasing a product, this is perhaps the most important characteristic a machine can have since it can save you time, trouble, and money spent on energy bills and drying out the carpet following a leak.
Another safety feature you should look for is a frost sensor. This is important in the winter season when you install the dehumidifier in a cold room. The frost sensor detects when there is an unrecommended temperature in the room, typically below 40 degrees Fahrenheit. This can prevent the coils of your dehumidifier from freezing solid. Frozen dehumidifier coils are often a problem in the winter season and can prevent this appliance from running efficiently or can stop it from running completely. If you're considering buying a unit to go in an out of the way location like a basement or an attic, you definitely want the frost sensor. Such locations tend to be among the coldest and wettest in any home, especially in winter.
4. Don't forget portability.
Compare size and weight. This way, you can determine whether your intended purchase is a dehumidifier that can fit in the space you have allotted for it. Additionally, you would want to look for portable features such as wheels, so you can easily transport the dehumidifier to another room as needed. While 50-pint dehumidifiers are generally portable and compact, you still would want to know which of the ones out there are the most space-efficient, especially if you live in a small home like an apartment.
5. Do choose one from a good manufacturer.
Pick a dehumidifier from a good manufacturer who can offer a comprehensive warranty with your purchase. Make sure they back it up with quality service. That way, if you encounter something wrong with your dehumidifier, you can return it, and have it repaired or exchanged. The easiest way to tell if a product comes from a decent manufacturer is to check for a warranty, website, and good reviews of the company and its products. When checking the website, make sure there is an official name for the business and working contact information. Also see where the product is made, as some countries have low standards and might slip in hazardous materials.
6. Don't forget to read reviews.
Reading reviews can help you learn more about the product, whether it is truly a value for your money or not. Check out what other people are saying about the product and if they encountered issues with it. This can help you make a better buying decision.
7. Find out if it comes with a warranty.
Good dehumidifiers always come with a warranty. That is how you will know the manufacturer trusts their product enough. But make sure you also scrutinize what is included in the warranty. If it is a limited warranty, it might not include all the services you might need to have your dehumidifier repaired when needed.
Conclusion
Have you finally decided on which 50 point dehumidifier to get for your home? Great! Click on the links in our reviews to learn more about any of the models you see here.
If you're not sure whether a 50-pint unit is the best choice for your space, that's fine too! We've got you covered with reviews and recommendations for any size dehumidifier. You don't want to miss our more general buying guide, featuring lots more helpful advice and our top picks in all categories.