Air conditioners are some of the biggest energy hogs in the household. One way to lower down your energy consumption without sacrificing comfort is by opting for the best smart air conditioners equipped programmable settings and features that will keep the costs down while keeping the interior of the home cool and comfortable. We will make sure you get only the best smart air conditioner, so we perused all the options out there and chose the ones with the best and the most reliable features. Take a look at our recommendations below.
Best Smart Air Conditioner Reviews
You definitely should set your sights on the following smart air conditioners:
Now let's go find out what makes these smart air conditioners better than the others:
1. Frigidaire Cool Connect Smart Window Air Conditioner with WiFi Control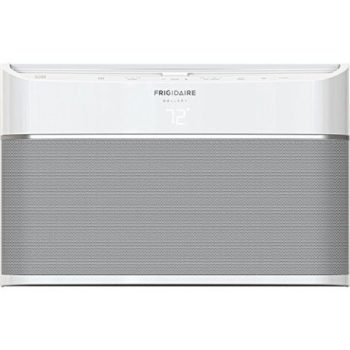 With the Cool Connect, keeping your house comfortably cool has never been easier. This mid-priced smart air conditioning unit comes with a WiFi control. You can connect it to your smartphone and control it anytime, anywhere. Through a smartphone app, you can control its different modes, set its temperature and change fan speed to match your exact needs. You can ante up its intelligence by hooking it up to your Amazon Alexa or Google Assistant as it is compatible with both.
As for its cooling function, it is different from others due to its slanted louvers. Rather than direct the airflow downwards, it propels the air upward and in a circular motion in order to maximize distribution of cool air. The inside comes with a mesh filter that can be taken out effortlessly through its magnetic closure.
Pros:
It has a sleek and unobtrusive design. It matches with the rest of the space, especially if you have a modern home design. The mesh grill does away with the usual front paneling you can see in most air conditioners. And to top it off, it also has LED lighting.
Connectivity is easy. Those who connected it with their smartphone didn't have issues with it. You shouldn't encounter any problems with connecting it to Alexa or Google Assistant either.
It runs pretty quietly, according to many users. This despite the fact that it is a 10,000 BTU unit and supposedly bigger and noisier. Thankfully, it doesn't. You can get a sound sleep at night without your air conditioning unit disrupting it with its loud noise.
The integrated controls are strategically placed. They are all digital and you can access them with ease.
The cooling capacity of this unit is better than most. It should be able to cool medium to large-sized rooms with no problems. It cools quickly as well, and every corner of the room gets cooled down.
The air gets distributed evenly. There is no annoying cold air blowing on your face, which is good as you can place furniture close to it.
Filter changes are easier. The app lets you know when you need to clean the filter already. It gives notifications. It is also easier to take out the filter because of its magnetic closure. You don't have to worry that you are going to damage some parts while taking it out.
Installation is fairly easy as well. It comes with an installation kit. Inside the kit are insulated side panels that help you seal the area around the air conditioning unit effectively, thereby reducing the loss of cold.
Cons:
Some said the app requires updating but for what it is now, it's still a good option.
2. Kenmore Smart Room Air Conditioner Works with Amazon Alexa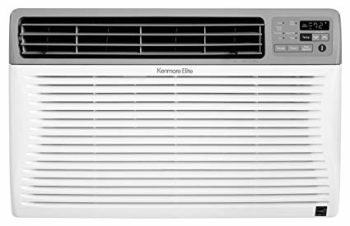 This smart room air conditioner can be connected to Kenmore's Smart AC app. Access your air conditioning unit remotely through this app. You will be able to do a variety of functions including turning it on and off, change the temperature settings, program or schedule it and then control its different modes and fan settings.
It has a capacity to keep rooms of up to 450 square feet cool. It also comes with a dry setting, which helps control the humidity in the room in order to prevent too much moisture in the air. Aside from its app function, it is also controllable through its responsive control panel and remote control. It is one of the most efficient smart air conditioning units you will get with its energy star certification, 12: 1 Energy Efficiency Ratio and 12.0 Combined Energy Efficiency Ratio.
Pros:
This is a window-type smart air conditioner that has a minimalist design. You should be able to place it install it in a wall and not worry that it will be an eyesore.
It has a good capacity. It works for medium to large-sized rooms.
Aside from Kenmore's app, this is also compatible with the Amazon Alexa. You can interact with it through voice controls.
You will hardly notice it running, so quiet its functions are. It is one of the quietest smart air conditioning units around.
There were no issues setting it up connecting it to WiFi settings and the app.
It has a fast cooling function.
This is one of those smart air conditioners with a fairly good price. If you are looking for one that has a lot of good features but without spending so much money, you should find this a great choice.
Many people said this is one of the more reliable smart air conditioners they have tried. It does what it is supposed to do without breaking down easily.
It is very convenient to use with its remote and app setting.
Cons:
Some said for rooms that have taller ceilings, this might not have a good up and down coverage.
3. LG Portable Air Conditioner with Wi-Fi Control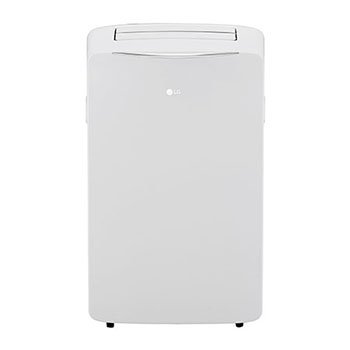 Portability doesn't have to mean less features and capability. This unit proves that with its 14,000 BTU of cooling capacity. Since it is a portable choice, you don't need to put a hole on your wall. Because of this, it is more ideal to be used in rooms of up to 500 square feet of size.
You can choose between the black or white color, whichever works with your home's design. It discharges cool air from its top and controls the airflow through auto swing louvers. The louvers are designed to get rid of hot spots. The oscillating vent makes sure it will work in cooling down the entire room.
Pros:
LG's SmartThinQ technology allows for effective remote access. You can use this app to set the temperature anywhere. This technology is also compatible with the Amazon Alexa and Google Assistant.
The casters make this easier to transfer from one place to another. This is a good option if you want to use it in different areas of the house. There are also handles on the side to make this easier to transport.
It really does a great job cooling a room. Some said even when they set it up to a comparatively lower temperature, the room still feels cooler.  
The fins are adjustable. It will adjust based on the fan speed, so you can get optimum results.
It doesn't require setting up. If you are not handy and you don't fancy installing an air conditioner to a wall, this should be a great option for you.  
Cons:
There were those who said this unit is a tad heavy. But since it comes with casters, that shouldn't be an issue.
4. Quirky + GE Aros Smart Window Air Conditioner
The Aros is a product from the Quirky + GE collaboration. Like many of their other products, this one offers stand-out features. It takes Smart features to the next level by learning from your preferred scheduling and cooling patterns. That way, it adjusts to your preferred settings even without you manually setting it. It also has a GPS setting that determines your location, so it will turn it on or off based on where you are.
This smart air conditioner is also riddled with a lot of advanced features including its upward airflow function that distributes cool air evenly and prevents it from blowing a gust of cold air into the direction of the people in the room.
Pros:
We like the futuristic and minimalistic design of this smart air conditioner. It features retractable wings and has touch display that blends in well with the rest of the unit. The sensors are touch-capacitive as well.
It is one of the smartest air conditioners out there as it keeps track of your behavior and habits and uses that information to ensure your home is comfortably cool when you are in it.
This has a great price as well.  It is more affordable than others, so you can save a lot of money if you choose this one.
It lets you track your usage as well and even tells you how much money you are spending on your electricity. That way, you can adjust the temperature settings and how long you are using it, so you can get more savings.
You can connect this to the WINK app, which is a great app that lets you program its settings, control how it functions and motors your usage of it.
It comes with everything you need for easier installation.
The filters are completely washable. They are easier to maintain as well.
Cons:
Compared to the others this has a smaller capacity. It may only work in cooling down rooms of up to 350 square feet.
5. Friedrich Kühl Series Room Air Conditioner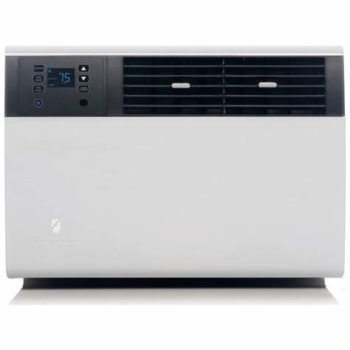 Made from 20-gauge steel, this is one of the toughest smart air conditioners around. It is recommended for commercial settings or anywhere there is a big demand for an air conditioner. In fact, it has functions that will allow you to control the temperature of an entire building.
The intuitive controls allow effortless changing of models and fan speed. With a simple touch of a button, you can also change its temperature. Its best smart feature is its 7-day energy management program that will allow you to manage how much energy it consumes in a week.
Pros:
This is great for commercial settings. You can use the FriedrichLink to operate it anywhere you are.
It is Smart Grid capable.
It is one of the most durable smart air conditioners around. Aside from the heavy-gauge steel cabinet, it also has durable aluminum grills and end plates that are resistant to corrosion.
This air conditioning unit does not lag behind when it comes to efficiency.
Despite its large size, it runs quietly.
Cons:
It is an expensive option.
The Verdict: Which One Should You Choose?
Quietest Option: Frigidaire Cool Connect Smart Window Air Conditioner with WiFi Control. This mid-priced smart air conditioner has all the bells and whistles you might be looking for in a Wi-Fi integrated unit. You can have it all. But perhaps its best advantage is that it runs quietly. Not all air conditioning units out there have this advantage. If you like something that will work quietly and will allow you to sleep soundly at night, this is a good choice.
Most Reliable: Kenmore Smart Room Air Conditioner Works with Amazon Alexa. This smart air conditioner has similar features as the previous one. But it has a good reputation because of its reliability. You can expect this to last for a long time. It will give you more hours of comfortable indoor temperature.
More Portable Choice: LG Portable Air Conditioner with Wi-Fi Control. We recommend this to people who don't want an air conditioner that they still have to install. It is portable, so it can be used anywhere in the room. Simply roll it through its caster and it will cool down the room. With its capacity, it can be used in bigger rooms.
Most Affordable Choice: Quirky + GE Aros Smart Window Air Conditioner. On a budget? Get this one then. It is a great choice for smaller rooms. Its smart function is one of the best as it allows you to monitor your usage of it and how much you are actually paying to run it.
Great for Commercial Purposes: Friedrich Kühl Series Room Air Conditioner. This is the air conditioner to look for if you have a bigger house or you need one for commercial purposes. It is built like a tank, so you can expect this to last for a long time.
Conclusion
If you want to make your home more comfortable without buying a smart device, get the scoop on which traditional air conditioners are the best choice for your space!