When buying a portable humidifier for your home, you have two basic options to choose from – the ultrasonic and evaporative options. While both of these types of humidifiers work well in humidifying a room, they have distinct differences when it comes to efficacy, operations and usage.
What makes an evaporative humidifier different from an ultrasonic one is the existence of a fan and a wick filter. The presence of these additional parts plays a big role when it comes to the operation of an evaporative humidifier. The cloth wick is what draws water from the reservoir.  The fan is used to evaporate the water and deliver the mist into the room.
Find out today what makes evaporative humidifiers and which of the ones sold today are the best ones. Check out today which of the products today are the best choices out there.
Evaporative versus Ultrasonic Humidifier – Which One is Better?
Which one you should choose will depend on the advantages you find the most ideal. Let's pit these humidifiers against each other in these various factors:
Price
The evaporative humidifier is typically more affordable. This is less costly to acquire compared to the ultrasonic humidifiers out there. But since it comes with filters, you need to replace the filters regularly. That can increase the costs of usage. Most ultrasonic humidifiers do not make use of a filter, so they are generally less expensive to use in the long run. But if you are concerned about upfront costs, the evaporative humidifier can be a good choice. There are also those evaporative humidifiers with permanent filters. No need to replace them. Just keep them clean.
Noise
A lot of people use their portable humidifier in their bedroom and keep it running at night. A humidifier that has a high noise level will surely be a disruption to your peace. The evaporative humidifier, having a fan, tends to be noisier than the ultrasonic ones. However, keep in mind that although they may be advertised as a low noise level humidifier, they may still emit some noise. They can't operate completely noise-less.
White Dust
White dust is a common problem with humidifiers that do not have filters. When using tap water, the minerals and metals in the water can turn into fine white dust. This can be a health issue because this white dust can be inhaled. With an evaporative humidifier, the problem with white dust can be eliminated or minimized. Since they use a filter, the hard metals and minerals in the water source can be removed from the water used to create mist. As a result, these humidifiers may be a healthier choice.
Condensation and Moisture
Ultrasonic humidifiers produce a fine mist, which tends to leave condensation and particles of water around. But with an evaporative humidifier, it is mist-free, so you don't have to worry about leakage or condensed water.
Make sure you put these things into consideration when choosing which humidifier is good for you.
Best Evaporative Humidifier Reviews
Make sure you include the following humidifiers in your list of choices:
Here are the pros and cons you should know about these products:
No need to worry about fog or mist settling on the surfaces of your home, thanks to this humidifier that promises mist-free and leak-proof functionality. It features a honeycomb design filtration system that effectively gets rid of mineral deposits and dirt, ensuring that the air being expelled in the room is the best kind. The fan is built-in and has low-pitch features, so it can work quietly. This is a modern device that you will be happy to use in your household over and over again.
Pros:
This unit has a nice design that will work in many households.
It has a cool moisture output that doesn't leave condensation or leaks everywhere.
It has a good amount of coverage. It can humidify an entire room fast.
You won't have issues operating this one. The LED display is easy to understand and is touch-sensitive.
It doesn't use up a lot of energy.
The filtration system works effectively in trapping dirt.
You can also easily tell if the filter needs cleaning.
Get this if you are looking for a large capacity humidifier.
Filling it with water is painless.
Operates quietly.
Cons:
You might need to clean the filter often or it will start to smell.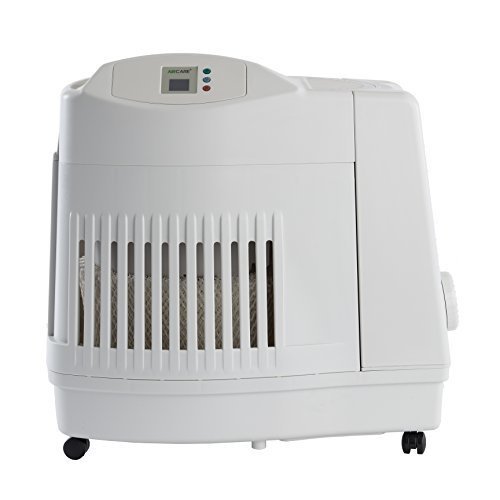 Get comfortable and soothing air no matter where you go in the house with the help of this whole house console evaporative humidifier. It works in humidifying a house of up to 3600 square feet of space. it comes with a digital humidistat that ensures the set humidity level is always achieved. Once that is achieved, it automatically shuts off. The auto shut off function is also triggered if it detects that the water tank is empty.
Pros:
It can humidify an entire house.
Once the desired humidity level is achieved, it automatically shuts off.
There are no additional parts that need to be cleaned.
One single refill of the tank can deliver up to 36 hours of continuous humidification.
It has energy-efficient functions.
It is easier to clean than other humidifiers out there.
It is portable and mobile. You can place it anywhere you like.
Cons:
A bit more on the expensive side. The filters might also be expensive.
A smaller home can benefit from this humidifier that also has a comparatively big capacity. It features high and low speed settings. The adjustable humidistat works in controlling humidity levels effectively. You can also set it to three settings. It has a big capacity that ensures 24 hours of long run time. It is easy to fill as well, and you never have to worry about leaks or spills again.
Pros:
This humidifier has a nice attractive design that won't be an eyesore in your space.
It has a coverage of up to 1,000 square feet. You can humidify a bigger room with this one.
It is more compact compared to other big-capacity humidifiers out there.
It has a lot of adjustable features, so you can set it to your ideal settings.
It works quickly, thanks to its Vortex Action feature that effectively humidifies a room.
This humidifier has a nice consistency to it.
It is a cinch to clean.
A lot of people have had this for years and they are still using it now. It is that durable.
The design is simple and easy to understand.
Cons:
This is quite an expensive humidifier.
Make any space cooler and more comfortable with the help of this compact humidifier. You can adjust it to 2 different speed settings. It even comes with a sound level setting. The wicking filter effective traps dirt and minerals from the water, thereby preventing white dust emission. The unit itself is resistant to damages because it has break-resistant properties. It is also what you need if you want something smaller and won't take up a big space in your home.
Pros:
This unit is 30% quieter than other humidifiers out there.
The tank is solid. It is built to resistant breaks.
It has a stylish and minimalist design.
It can run for as long as 18 hours.
The tank opening is big enough for easier clean-up.
You can also adjust the sound level in addition to the moisture output.
It comes with a 3-year warranty.
Cons:
Some said setting 2 is not as quiet as they would have preferred.
Which One Should You Get?
Large Capacity: OPOLAR Digital Evaporative Humidifier.
You will not be disappointed with the large tank capacity of this humidifier. It is capable of humidifying a big space. It can also effectively minimize the mist and leaks that will collect on surfaces.
Humidifies Entire House: Aircare MA1201 Whole House Console Style Evaporative Humidifier.
You don't have to worry about walking in a part of your home and not having the benefit of good humidity levels. This machine will take care of the humidification of your entire house. It has a big capacity that even if you are humidifying such a large space, it can still run continuously for hours. A lot of customers have commented on how capable it really is when it comes to producing comfortable air.
Can Last for Years: Vornado Evap40 4-Gallon Evaporative Humidifier.
This humidifier is what you need if you don't want to spend on a new one in the next years or so as it can last you for a long time. It is a durable machine that can be subjected to long hours of usage and not fall prey to damages.
Great for Small to Medium-Sized Rooms: Honeywell Cool Moisture Humidifier.
This is the most ideal option if you are dealing with a small to medium-sized room. Compared to other humidifiers, it doesn't produce as much noise. It also has a capable filtration system that can prevent white dust.
Factors to Consider When Choosing the Best Evaporative Humidifier
Finding a good evaporative humidifier that you can rely on for a long time doesn't have to be difficult. Just use the following factors as a guide in choosing:
1. Type of filtration system
What kind of filtration system is it using? Some evaporative humidifiers make use of a permanent filter while others are replaceable. A permanent filter may be more cost-effective, but it will require regular cleaning and maintenance. Also make sure the filtration system is capable of removing the common impurities found in water, so you can rely on its white dust-free functionality.
2. Capacity and capability
How big is its tank capacity? Most people need their humidifiers to run overnight. The one you are using should have a water tank capacity that will allow a continuous stream of mist for at least 10 hours. It should also be powerful enough to expel more mist in the air in an hour, so you can effectively humidify a room in a short period of time.
3. Ease of use
Look for knobs or LCD functions that make operating your evaporative humidifier a lot easier to use. It should come with features that allow you to set your desired mist level or time easily.
4. Maintenance
Determine how difficult it is to maintain. Can you remove and clean the water tank easily? Will you need to keep on replacing the filter or do you also have to clean it? If you don't have time to keep on cleaning your humidifier, one with simpler mechanisms that do not require too many parts to clean would be a better choice.
5. Size and weight
Think about the space you intend to put our evaporative humidifier. If you have a limited space, go for something a lot more compact or portable. It should not take up a lot of counter space. Also look for humidifiers with lightweight features. That way, you can carry them around the house with ease or change their location anywhere you want.
6. Price
Compare price. But don't just go for the cheapest one. Also make sure you are also getting your money's worth. Always make sure the price is just right for the features it can offer. For instance, if it is a unit that has a lot of reliable features, it might be worth spending a bit more money. If it comes with a warranty, all the better.
7. Noise level
Because of the fan of these humidifiers, they might produce a low noise level. Look for those that are quieter and won't disrupt your sleep, even when you install it in a small room.
If you keep these factors in mind when buying, you will eventually buy an evaporative humidifier that will work for your needs.
What to Do Next?
Now that you know all these, make sure you get the right humidifier that has all the features you are looking for. You can also visit our homepage for more information on different humidifiers out there.