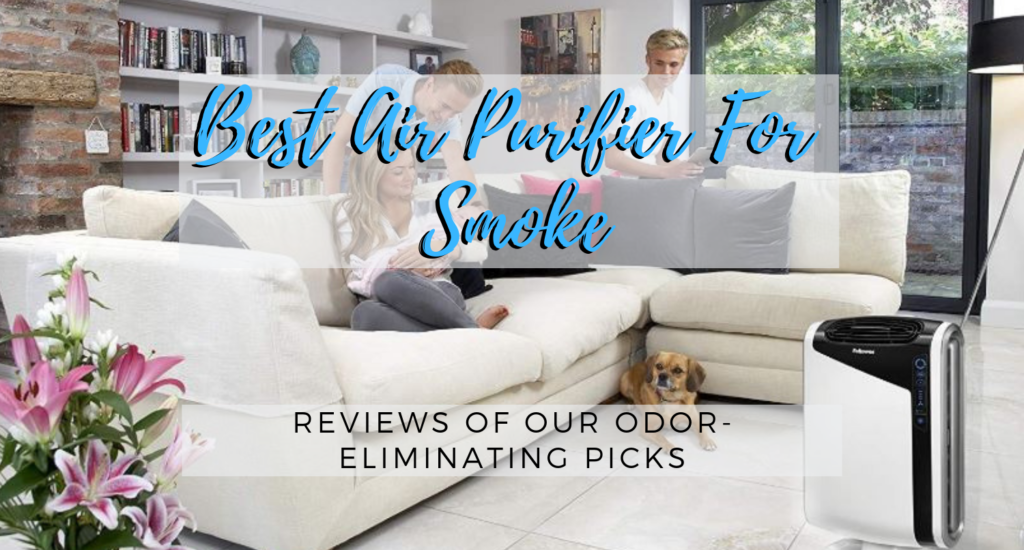 If you have been suffering from respiratory problems and you can't find relief no matter what you try and what you do, it might be time to get your home an air purifier. The truth is, many people deal with bad indoor air quality and not even realize it. That difficulty breathing, chronic sinus pain, or respiratory illness could actually be brought about by bad indoor air quality.
Installing a good air purifier for smoke is one way of improving indoor air quality. These are reasonably-priced gadgets that you can easily install in your home and run continuously. You can see a stark difference in the way your house smells and how you breathe in with this gadget in tow.
Once you are ready to get yourself an air purifier, check out all our great recommendations below. We have a lot of good recommendations when it comes to durable, effective and efficient air purifiers.
Bad Effects of Poor Indoor Air Quality
Did you know that many households have more significant issues on poor indoor air pollution than outdoors? That is because smoke gets trapped inside the house. Without proper ventilation, the smoke produced in your home and gets in your home from pollutants outside can get trapped in there.
When you are exposed to bad indoor air all the time, here are the things that can happen to you:
1. You could end with health problems.
Are you getting headaches more often than normal? Do you often feel tired and sluggish? Are there days when you feel lethargic and unable to concentrate? Do you often experience allergy-like symptoms? It could be due to exposure to bad indoor air. Since you inhale it on a regular basis, your health eventually suffers. Not only are you susceptible to the bad effects of trapped smoke, but you could also be inhaling harmful chemical emissions, especially if you use products with VOCs such as air fresheners.
2. Indoor moisture levels are not good.
Aside from the presence of harmful substances, contaminants and chemicals in the air, bad indoor air quality also results in a drop in moisture levels in the air. That can lead to skin dryness, chapped lips, exacerbated eczema and psoriasis, dryness of the nasal passages and even itchy throat.
3. Your HVAC system could become wonky.
Bad indoor air quality does not just have a bad effect to your health. It also has a bad effect to the health of your appliances such as your heater or air conditioner. The dirt and dust from smoke and other particles in the air can get trapped in your HVAC system and wreak havoc in there. In addition to shortening the lifespan of your HVAC units, you could also end up with a problem on your utility bills. It reduces the efficiency of your heating and air conditioning systems.
You can greatly avoid these problems by improving indoor air quality through an air purifier.
Best Air Purifier for Smoke
Our thorough research led us to the following best air purifiers in the market today:
Now take a closer look at what these air purifiers have to offer:
1. Pure Enrichment PureZone Elite Air Filter
With almost a decade of experience in creating premium home products, you can be assured that this Pure Enrichment air filter is the recipient of stringent and expert engineering and manufacturing methods. The PureZone Elite is a striking choice, with its minimalist and modern design and small footprint that works in contemporary settings and those with tight spaces. It boasts of a 4-stage purification system that can keep indoor air quality safe and comfortable.
Pros:
It has a nice and compact design that will allow you to just prop it in a corner of a room and virtually forget about it. It's hard not to notice it though, so beautifully designed it is. The design also makes way for convenient usage. It has an intuitive control panel found at the top for easier use. The control panel allows you to check air quality, set its timer functions up, control the fan speed, check the filter, go on UV-C light mode and opt for Ion release function.
It completely eliminates most of the harmful allergens and compounds in the home such as pollen, pet dander, dust mites, some and mold spores. This is a wonderful ally in improving you and your children's health. It also maintains good indoor air smell as it gets rid of common household odors.
This works wonderfully in bigger rooms. It has a maximum coverage area of up to 190 square feet.
It is quite compact and lightweight. With only 9.3 lbs. of weight, you should have no problems transferring it from one space to another.
It works so quietly that you won't even notice it running.
This unit is backed by a 5-year warranty.
You can easily choose between the UV light or the ionizer, whichever suits your needs. Not all air purifiers out there have this function.
Cons:
Some said it has an initial plastic odor to it. That quickly dissipates after a few days of usage.
2. GermGuardian 3-in-1 Full Room Air Purifier
Got allergies? Are there smokers in your home? Get this air purifier. It features a 3-stage filtration system that includes a HEPA filter. This filter effectively removes 99.7% of allergens and dust in the air. It also has a charcoal filter that gets rid of odors. If you have pets or there is a smoker in your house and your home tends to smell musty, this should be a good option for you. An included UV-C light helps in eliminating more stubborn microorganisms such as germs and molds.
Pros:
More dirt, dust, microorganisms and molds are removed through its 3-stage filtration system. The HEPA, Charcoal and UV-C filtration steps work in removing bacteria and many other spores and particles in the air.
It has a wide coverage of up to 167 square feet. In fact, it works faster than others when it comes to circulating and purifying the air. It removes unwanted particles and improves circulation 4 times more effective in just one hour compared to other air purifiers.
It is an efficient unit. It boasts of energy star rating and it is a carb compliant.
This unit is quite compact. It also has a big control panel that you can easily access. You can just place it right beside your living room chair.
It runs quietly. Even on high-speed setting, you won't notice its presence that much. It is also lightweight and quite easy to transport.
This unit is also a cheap option.
Cons:
Some said it gets louder after every use.
3. LEVOIT LV-PUR131 Air Purifier for Home with True HEPA Filter
Designed and made in California, this air filter is the eco-friendliest air purifier you will ever get. It is completely free from ozone as it does not make use of ions and UV. Even without these features, it is still capable of purifying the air. It has a 3-stage filtration system comprised of a pre-filter, TRUE HEPA filter and an activated carbon filter. You can be assured that this can effectively eliminate smoke residues, odor, pollens, dust, spores and pet dander in the air.
Pros:
This unit is completely ozone-free. It is safer for the environment to use as it does not emit harmful components that can be bad for Mother Earth.
You can run this unit efficiently. It has an energy star certification and approved by FCC and CE.
It has a broader coverage of 322 square feet – larger than the previous unit. You can use it in bigger spaces such as your living room.
It comes with a lot of nifty advanced features such as a sleep mode that reduces noise in order to help you sleep better, an auto-off timer function and an optional LED display function.
This is backed by a 1-year buyer assurance and lifetime support.
Cons:
You will need to replace the filter every 6 months in order to keep it running efficiently.
4. AeraMax 300 Large Room Air Purifier
Ideal for bigger rooms, this air purifier can accommodate square footage of 300 to 600. Through its 4-stage filtration system, it can get rid of 99.995 percent of particles in the air such as smoke from cigarettes, pollens, viruses, germs and mold spores. It even has a high-performance mode that can be used during a flu or a cold outbreak.
Pros:
This has a nice and compact design that will fit in any space. It has a stable base, so it is in no danger of toppling over. You can also match with your modern appliances.
The 4-stage filtration system is very helpful in purifying the air you are breathing. It gets rid of nearly all contaminants in the air. It even has a Special High Performance Mode that comes handy during flu and allergy seasons.
The AeraSmart feature automatically checks if there are contaminants in the air.
No bacteria, molds or mildew will grow on the unit itself because it has AreaSafe feature, which gives it built-in protection against these harmful organisms.
The filter life is quite long. The TRUE HEPA filter can last for as long as 12 months and the Carbon one can last for as long as 3 months.
Cons:
Some said they had issues with whining sound coming out of the purifier.
Which One Should You Get?
Has More Filtration Stages: Pure Enrichment PureZone Elite Air Filter. Compared to others that only have a 3-stage filtration system, this one goes through 4 stages of filtration. That means more particles, dirt, pathogens and microorganisms are removed.
For the Budget-Conscious: GermGuardian 3-in-1 Full Room Air Purifier. If you don't have a lot of money to spend on a new air purifier, get this one. It is more affordable, but it isn't lacking in performance and quality.
Better for the Environment: LEVOIT LV-PUR131 Air Purifier for Home with True HEPA Filter. Get this unit if you want something that is more ideal for the environment. It does not make use of UV or ions, so you can be assured that it won't harm mother nature.
Has a Wider Coverage: AeraMax 300 Large Room Air Purifier. Got a bigger space to purify? Get this one. It has a wider coverage, so it will work better in bigger rooms.
Tips in Buying an Air Purifier for Smoke
Equip your home with the best air purifier for smoke. Here are some buying tips you should keep in mind:
1. Look for an air purifier with a multi-stage purification system.
The more stages it goes through, the cleaner the air that will come out of it will become. Ideally, you would want to look for at least 4 stages of air purification. The air purifiers out there usually differ in the types of purification systems they use.
2. Make sure it can automatically detect air quality.
There are smart air purifiers today that have been integrated with the ability to monitor indoor air quality. Once it detects that the indoor air quality is getting bad, it then makes changes to the settings such as adjust the fan speed setting to correspond to the needs of the specific size of the space.
3. It should have adjustable settings.
You should be able to tweak the settings to your preferred one. Multi-level fan speed setting is a nifty feature because it allows you to set it up to a high, medium or low setting to correspond to your specific needs.
4. Look for a unit that will tell you when you need to replace the filter.
Most air purifiers today come with a reusable filter. Rather than guess when you need to replace the filter, look for a unit that will tell you when exactly you need to do that.
5. Find out more about its capacity.
You would want the air purifier to have the ability to purify the intended space. If you have a bigger house, you need something that has a bigger capacity.
Keep these tips in mind in order to find the air purifier that will really work for your needs.
Conclusion
Now that you've read this far, you should have a clear idea of what you need from your new air purifier. Click on the links in our reviews to find out more about the models we've suggested above. 
Make sure you check out our general buying guide for our reviews of the best air purifiers if you're not sure whether any of the models here is the best choice for you. We've got you covered with lots more recommendations and tips for choosing the right solution for your space.