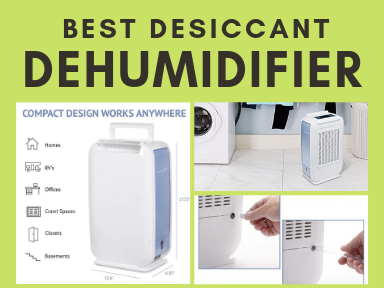 Excess moisture or humidity in the air is the culprit when it comes to the formation of molds and mildew in a space. When there is more moisture in the air due to flooding or due to high humidity levels, molds and mildew can grow. It can also make a space smell musty.
To combat this, you need a dehumidifier. There are many types of dehumidifiers out there, but this article will focus on the desiccant dehumidifiers. We looked for those units with this technology and those that offer good performance in removing moisture from the air. Check out our recommendations below.
Best Desiccant Dehumidifier Reviews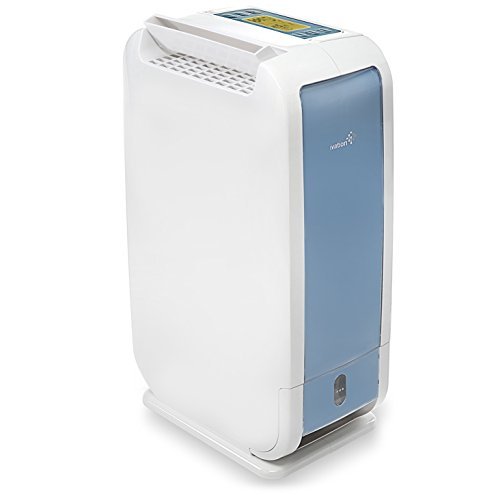 This affordable dehumidifier can accommodate up to 13 pints of excess moisture in the air using a desiccant rotor. It is capable of getting rid of musty odor and moldy smell in the room even during cold seasons, thanks to its ability to produce warming air. You will like how quietly this operates in getting rid of excess moisture. It can effectively dehumidify spaces of up to 270 square footage.
This dehumidifier has an LCD display that is easy to see and use. You can use this interface to turn the unit on and off and adjust the humidity to your desired settings. You can also change the fad speed this way or switch it to vent swing mode.
Pros:
This is a dehumidifier that is compact enough to fit in small spaces. It can get rid of excess moisture in small to medium-sized rooms.
It works quietly. You don't have to worry about it disrupting your household while it is working.
The desiccant rotor works effectively in removing excess moisture in the air.
The LCD display is user-friendly. It is easy to operate and set-up as well.
It offers different drainage options. You can use the water reservoir or hook it up to a drain connection hose to continuously drain the excess moisture.
You can rely on this dehumidifier no matter what the temperature is.
It comes with a carry handle for easier transport.
The filter is washable. You can keep it clean easily.
This unit is cheaper than other desiccant dehumidifiers out there.
It features an anti-tilt shutoff feature. In case it accidentally gets knocked over, it will automatically shut down.
It comes with a 1-year limited warranty.
Cons:
A customer said the tank still filled up even though a hose has already been connected.
This dehumidifier is designed to work in small spaces such as the laundry room or a small basement. Despite its compact size, it is fully capable of getting rid of molds and mildew. It can minimize or completely eliminate condensation in a small space.
Be able to save more energy with this dehumidifier that has a rotor humidistat level to check whether you have achieved your desired humidity level. It also features a tilt protection system, an automatic shutdown feature if it detects that the tank has been filled up completely and a heat temperature shut off feature. The water tank can be removed from the side, to reduce spillage and to make it easier to access.
Pros:
This works in keeping laundry spaces fresh-smelling and free from molds.
It can effectively draw out excess moisture from the air.
The side tank is a nice feature. You can access it easily and empty it out without the risks of spilling.
It has a turbo function that quickly removes the musty odor in a jiffy.
It runs quietly.
The tilt protection feature prevents this from running if it is not secured on a flat surface.
It comes with a top handle for easier transport.
It is small and light in weight.
Cons:
Some said they did not like how it blew hot air.
This dehumidifier that makes use of rotary desiccant technology works in removing excess moisture from the air without the emission of harmful gasses. It works using low maintenance methods and has a high capacity that catches more moisture in the air. This unit works even in rooms of up to 4000 cubic feet in size.
Use this in your bedroom or closet to keep your clothes protected in the summer humidity. It is also a good dehumidifier to use in small recreational vehicles like an RV or a boat. It works inconspicuously with just 34 dB of noise level. Choose between low and high fan speed setting to dispel musty smell from the room.
Pros:
It comes with an 8-hour timer for more convenience.
You can choose from 2 different fan settings. Set it up to a high fan speed setting if you want to quickly dispel moldy or musty smell from a room.
The filter has a silver coating that effectively annihilates bacteria as they get in contact with it.
It can work in medium to large spaces.
It is easy to use and install.
It comes with a 1-year warranty.
Cons
Some said they had a difficulty finding a compatible drain hose to go with it.
Get rid of as much as 21 pints of excess moisture in the air with the help of this dehumidifier. It functions even in colder environments, thanks to its lack of a compressor that tends to freeze up in the winter. It has a rotary humidistat that automatically shuts off the system once the level of humidity is achieved. This can help prevent too much energy usage.
Replete with safety features, you can use this dehumidifier with ease. It has an automatic shut off feature once the water tank fills up to capacity. It also features a tilt over stop protection technology and an auto restart feature in case of a power outage.
Pros:
This unit comes with a 7.4-pint water tank. It can hold a lot of water drawn out from the air.
It has an ergonomic water tank technology that makes it easier to remove the contents of the tank without spilling.
It works even in colder temperatures.
You can rely on its built-in humidistat to control humidity levels in the room.
This unit is lightweight. It only weighs 18.7 lbs.
It comes with a 2-year limited warranty.
Cons:
Some had issues with the drain tub not included in the package.
Desiccant versus Compressor Dehumidifiers – Which is a Better Choice?
When you are searching for the best dehumidifiers, you will come across compressor or refrigerant dehumidifiers and their desiccant counterparts. The latter is different in the way that they extract moisture or water from the air. Rather than use refrigerator coils, these units use a desiccant wheel instead. This is the one responsible for soaking up moisture in the air. There is a heater integrated in the machine that allows the desiccant wheel to be reused.
There are a lot of benefits to using desiccant dehumidifiers compared to their compressor counterparts. For one thing, these units are quieter. They don't run using a compressor, hence they don't emit unnecessary noise to work. If you are also looking for a lighter dehumidifier, consider a desiccant dehumidifier. The lack of compressor material makes this a lightweight choice. Some refrigerant dehumidifiers can weight more than 13 kg, which makes it a struggle to transport them without their casters.
It is also interesting to note that desiccant dehumidifiers are better when it comes to cooler weather conditions. With refrigerant models, there is a chance that the coils inside will succumb to freezing. When the coils freeze, you could have a dehumidifier that won't work unless the coils are defrosted. Some refrigerant dehumidifiers have an anti-frost technology but even then, it might still not work completely in getting rid of frozen coils.
In desiccant dehumidifiers, you don't have to worry about such a problem. It can work no matter what the temperature conditions are. If you need to dehumidify a room that gets cold easily in the winter, go for this kind of dehumidifier.
The drawback to this kind of dehumidifier is that it is not as powerful as a refrigerant type of dehumidifier when it comes to getting rid of excess moisture. That means it typically consumes more energy to keep up with the power of a refrigerant type of dehumidifier. On the other hand, it does have a heating effect. Since it emits heat, you might need to turn your thermostat up to achieve a heated room.
At the end of the day, it boils down to your personal choices. If the advantages of a desiccant dehumidifier work for your routine, this should be a good choice for you.
The Verdict
Cheaper Choice: Ivation 13-Pint Small-Area Desiccant Dehumidifier. If you are looking for something a bit more affordable, consider getting this one. It is less expensive than its competitors, but it definitely brings all the things you need in a dehumidifier to the table.
When you need to find the best dessicant dehumidifier, you can rely on our recommendation of the Ivation 13 pint model. It's compact, user-friendly and effective.
Compact and Lightweight: EcoSeb DD122EA-Simple Desiccant Dehumidifier. This is the dehumidifier to look for if you want something that is compact and lightweight but is still a workhorse when it comes to getting rid of excess moisture in the air.
Works in Larger Spaces: Eva-Dry EDV 4000 Dehumidifier. For those in need of a dehumidifier that works even in larger paces, try this one. It is powerful enough to extract moisture in bigger spaces.
Gets the Job Done: EcoSeb DD322EA-Simple Desiccant Dehumidifier. This might not have all the spiffy features in the world, but it does its job. It works in getting rid of excess moisture without increasing your energy consumption.
Tips on Buying the Best Desiccant Dehumidifier
It's not that difficult to identify the best desiccant dehumidifier if you know what exactly to look for. That said, here are a few pointers to consider to help you identify the best dehumidifier fitting for your needs:
1. Check the capacity.
To understand just how big a desiccant dehumidifier to get, assess your excess moisture problem first. If you have a room in your house that suffers from low to moderate moisture problem, one with a small to medium-sized tank capacity will also suffice. Find out how much square footage that dehumidifier can dehumidify.
2. Compare energy consumption.
It's a good idea to compare how much energy these machines consume. Don't just compare the energy rating. Also compare how long it usually takes for the machine to lower down humidity levels. Even if it is a unit that has a good energy rating, if it takes the entire day to lower down humidity levels, you still might consume more energy.
3. Read reviews.
One way to tell if you are getting a good product is by learning more about the experiences of other people. Try reading the reviews of those who have used the dehumidifier and find out if they have encountered issues with it such as poor ability to suck moisture from the air, leaky issues or too much energy consumption. You can also learn more about the quality of after sales service that the manufacturer provides based on the experiences of previous customers.
4. Compare size and weight.
You would want to make sure that you compare the size and the weight of the products you are thinking of getting. Make sure it is not too heavy, especially if you are the only one who will install it. If it is too heavy, it might be more difficult to carry it on stairs. Also check the dimensions to make sure it fits in the space you have allotted for it.
5. Check drain options.
What drain options does it offer? Aside from a water reservoir, make sure it also offers the ability to connect a drain hose for continuous drainage of excess moisture.
Keep these tips in mind when deciding which desiccant dehumidifier to get.
Conclusion
After checking out what the market has to offer, here are the desiccant dehumidifiers that have the best features:
By now, you should already have a desiccant dehumidifier in mind. If you're not sure whether this is the right approach for your needs, you can also  see the best dehumidifiers available and find our reviews in lots of other categories.