Asthma is a kind of chronic illness that affects the airways. It causes inflammation in the air passages that prevents air from seamlessly passing through. As a result, asthma sufferers experience difficulties in breathing, wheezing, coughing and chest tightness whenever they experience a bout of this illness.
The presence of allergens in the air can trigger an asthma episode. This is why it is important for people suffering from this condition to keep their house clean. Getting rid of dust mites, pollens and pet dander can help reduce episodes of asthma.
Keeping indoor air quality good is also important to improve the quality of life of asthma sufferers. One way to do that is by getting a trusty humidifier. A humidifier works in expelling mist in the air that alleviates congestion and alleviates the symptoms of asthma. There are also humidifiers today that work in minimizing the life span of allergens and other microorganisms.
It is a good idea to look for the best humidifier for asthma. This article will show you just how you can do that. We did all the work for you and searched the market for the most reliable ones out there. Find out below which humidifiers we highly recommend based from their anti-microbial properties and their efficacy in delivering mist even in bigger spaces.
How to Make Sure Your Humidifier Works in Keeping Asthma at Bay
A humidifier can only do so much in keeping asthma symptoms at bay. You should also do your part when it comes to ensuring that your humidifier is working properly. Here are some tips that will help your humidifier produce the best results in keeping symptoms of asthma at bay:
1. Use only distilled water.
Never use tap water as they contain hard metals, minerals and even harmful pathogens and microorganisms that can still cause illnesses when they become airborne. This is why you should only use distilled water. If you are using a humidifier that has a filter cartridge, you can use tap water as long as the filter is capable of removing pathogens, minerals and metals in the water. The cartridge or filter should also be replaced as recommended or more often than that depending on how hard your water source is.
2. Change the water regularly.
If there is still some water left after last night's use, throw it out. You don't want the water to sit in the water tank for a long time as this can still encourage the growth of microorganisms.
3. Make it a habit to clean your humidifier.
It is ideal to clean your humidifier every 3 days. Make sure you clean the water tank and every part that passes water. You can use a disinfectant such as hydrogen peroxide solution or any kind of cleaner recommended for humidifiers. You should also clean the water tank after every use. Many humidifiers today come with a cleaning brush. Take advantage of these tools to keep your humidifier in the best conditions.
4. Also clean the area around the humidifier.
You don't want to place the humidifier on a dirty and dusty shelf as the dirt and dust can still get in there. Also, when storing your humidifier, make sure you keep it in a safe and clean place.
Best Humidifier for Asthma Reviews
Set your sights on the following humidifiers for asthma:
Check out what these humidifiers have to offer:
1. Air Innovations Cool Mist Digital Humidifier with Aroma Tray
We recommend this for people who have multiple asthma sufferers in their home. If you have kids who suffer from this condition, get this humidifier that is capable of humidifying a bigger space. It has an anti-microbial tank and base that will ensure the water that passes through will remain bacteria and allergen-free. To top that off, it also comes with a permanent ceramic filter. It can keep sediments and impurities out without the burden of having to replace the filter. With its 5 mist settings, you can be assured that this will provide you with the humidifying properties that you need for your home.
Pros:
This is powerful enough to work in a bigger room.
It operates for a long time. Just one tank can deliver mist of up to 96 hours.
It also doubles as an aromatherapy device. It comes with aroma pads that you can use for your essential oils.
It ensures clean and allergen-free mist because of its antimicrobial base and tank. It even has a permanent ceramic filter that won't require replacement.
The extension nozzle can be removed for easier clean-up.
This comes with 5 different mist settings, perfect for different spaces.
No need to stand up to change the setting because it comes with a remote control.
It features an automatic shut off function.
Cons:
There was a customer who said the humidifier reading is not accurate.
2. KOIOs Upgrade Top Fill Humidifier
This unique-looking humidifier is what you need for a more comfortable, asthma attack-free home. What makes this different from others is its top fill design. The water tank can be filled directly from the top. It has 4L of tank capacity that will allow up to 20 hours of run time. This humidifier boasts of ultrasonic technology which allows you full control over your humidifier even with just a touch of a finger. Choose from low, medium and high mist mode. It also has a built-in sensor to check the humidity levels and determine the best humidity setting to relieve you of your cough or asthma symptoms. It works quietly with its less than 35 dB of noise level.
Pros:
This has a good design that allows you to fill it up with water at the top with ease.
This has a built-in humidifier sensor. It can detect the level of humidity indoors. That will make it easier for you to set the humidity mode.
Has a low-noise function.
It comes with a large tank capacity. It will for as long as 20 hours.
The touch buttons are quite sensitive and are easy to use.
Inexpensive for the features you can get.
Doesn't take up a lot of counter space.
This has a nice and attractive design.
It comes with a multi-filtration system to keep allergens and microorganisms away from the water.
It has a sleep mode as well.
Cons:
Some people have a hard time finding a repair service center for this.
3. Homedics Cool & Warm Mist Tower Ultrasonic Humidifier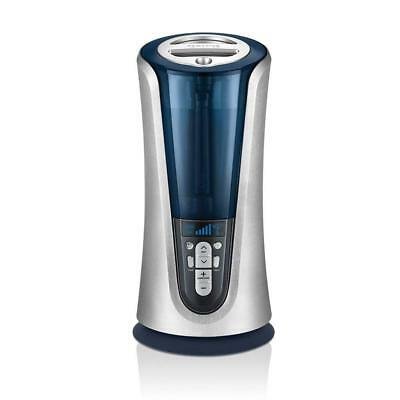 This humidifier comes with a cool and warm misting function. If you want to keep your house cool in the summer season, use its cooling function. If you want to increase the temperature in the winter, the warming function can help. It has an LCD display that will let you see the different temperature levels as well as set the intensity of the output of mist. The 1.5-gallon tank can effectively hold water that will produce steam by as long as 65 hours. You can also rely on its ultrasonic high-frequency technology to allow millions of particles to be dispersed into the air, allowing you to humidify a bigger room faster.
Pros:
This has a long run time. You don't have to keep on replenishing it with water.
The Clean Mist technology is good. It has anti-microbial technology that prevents molds and mildew from growing in the tank. It even come with a cartridge that prevents the build-up of limescale and hard water deposits.
It is easy to use.
You can clean the tank every 2-3 weeks as opposed to every 3 days.
It comes with a one-year limited warranty.
Cons:
Some said they have issues with its warm mist functions. It is also quite expensive.
4. Homasy Humidifiers with Anti Bacterial Stone
People with a sensitive respiratory system can benefit from this humidifier that features a stone filter. What this does is add an additional filtration system to already purified water to ensure that the mist output is healthy. The filter itself is made from a material that can resist bacteria and prevent molds and other microorganisms from growing. It can hold 2 liters of water, which should be enough for 10 hours of humidifying time. Here is an automatic shut off feature that shuts it down when it detects the water has run out.
Pros:
It effectively gets rid of bacteria and other microorganisms.
It runs quietly with only 28 dB of operating noise level.
Cleaning and refilling are a cinch. It has a top refiling design. The transparent design lo makes it easier to see if there are sediments and dirt in there.
Has controls that are easy to use. You can choose from 3 different mist levels.
It comes with a sleep mode.
The stone filter truly gets rid of bacteria.
Cons:
The ultrasonic motor in it makes a whirring sound.
Which One Should You Get?
Great for Big Rooms: Air Innovations Cool Mist Digital Humidifier with Aroma Tray. If you want to humidify a bigger room, choose this one. It has a big receptacle for water that will also enable this to work seamlessly and continuously. You can rely on it to clear up the air in a bigger room without emitting a loud noise or consuming too much energy.
Easiest to Fill: KOIOs Upgrade Top Fill Humidifier. If you don't something too complicated, get this one. It has an easy top fill design. Refilling isn't tedious and difficult. The touch button controls are also easy to manipulate.
Versatile Choice: Homedics Cool & Warm Mist Tower Ultrasonic Humidifier. If you can't decide between a cool and warm mist function, get this one instead as it can offer you both. It has a large water tank and features antimicrobial properties that prevent microorganisms from thriving in the tank.
Great for Small Rooms: Homasy Humidifiers with Anti Bacterial Stone. This is ideal for bedrooms. It has a big capacity and has a powerful filtering system that will keep harmful microorganisms at bay.
Factors to Consider When Buying a Humidifier for Asthma
When buying a humidifier for asthma, make sure you keep the following factors into consideration first:
Antimicrobial Properties. Since you will use it to control asthma attacks, it is vital that you choose one with anti-microbial properties. It should be able to prevent microorganisms from taking up residence in the water tank or other parts of the humidifier that gets in contact with water. If it has a multi-filtration system, you can also consider it as this will get rid of the microorganisms that could be in the water you are using.
Ability to Disperse Mist. Does it come with different mist settings? If you want to humidify a bigger space, you need to make sure the humidifier is capable of expelling mist in a large space and making that space more comfortable fast. If the humidifier has poor mist capabilities, it might take hours before you can experience results in the air. This is why you should make sure it comes with various controls to get the best mist level.
Aromatherapy Function. This might come handy if you suffer from asthma. You can use an aromatherapy pad to disperse essential oils that work in treating the symptoms of asthma such as congestion and constricted airways. This might also help in treating a variety of respiratory ailments.
Quiet Operations. You still would want to make sure it runs quietly. You don't want the humidifier to produce an annoying sound that can disrupt your sleep at night.
Run Time. Find out how big the water tank is as this will tell you how long it will run. You should also consider getting those with a timer function that will allow you to set how long the humidifier will run.
Easy to Clean. In order to keep your humidifier working effectively and efficiently, make sure it has parts that are easy to clean. You don't want something that is difficult to take off as that will mean you might not be able to disinfect the parts effectively.
Now keep these factors in mind and you should be able to find the best humidifier that can help you combat asthma.
What to Do Next?
Now that you've read through this buying guide, you're well on your way to keeping your asthma symptoms at bay. You can also check out our general buying guide to learn more tips about buying a good humidifier, as well as to see the best humidifiers on the market  in all shapes and sizes!