Whole-house dehumidifiers have the power to pull moisture from all your home's indoor air, fitting into your central air system to manage your whole house's humidity.
The best part:
They'll save you money on your air conditioning costs by making you more comfortable at higher temperatures with lower humidity!
They're also convenient, since you can pipe them to a drain, so you never have to empty out a tray. Best of all, they'll substantially reduce your operating costs over portable options
However:
At $1,000 or more, these are BIG purchases that you have to research carefully. This guide will walk you through the different options for dehumidifying your entire home. We'll look at ducted and non-ducted models, as well as solutions for folks who don't have integrated central air to work with.
But after painstaking research, we highly recommend you check out the Aprilaire 800 which is affordable, compact, and comes with a 3-year warranty.
Let's jump right in with a glance at all our favorite models:
Best Whole House Dehumidifier Reviews
Product
Details

1. Aprilaire 800

Covers up to 6,200 sq. ft.

Star Rating: 4.3
Highlight: High Output
Price: $$$

Check Price

2. Aprilaire 1870F XL Basement Pro

Built to Last

Star Rating: 4.7
Highlight: No Messy Water Tray
Price: $$$$$+

Check Price

3. Aprilaire 1850 Whole Home Pro Dehumidifier, 95 Pint

Set it and Forget it

Star Rating: 4.9
Highlight: Energy Star Rated
Price: $$$$$

Check Price

4. Honeywell

Quality Unit | Long Life

Star Rating: 4.3
Highlight: Mixes in Fresh Air
Price: $$$$$+

Check Price

5. AlorAir Basement/Crawl space Dehumidifiers

More Reliable

Star Rating: 4.7
Highlight: Industrial Quality
Price: $$$

Check Price

6. Frigidaire 70 Pint Portable

Largest Portable Unit

Star Rating: 4.7
Highlight: Continuous Operation is Possbile
Price: $$

Check Price

7. Vremi Energy Star Rated Dehumidifier

Rids Moisture Issues Under 24 Hours

Star Rating: 4.8
Highlight: Quick Filter Change
Price: $$

Check Price

8. Homelabs HME020031N Dehumidifier

Modern & Minimalist Looking

Star Rating: 4.6
Highlight: Straightforward Installation
Price: $$

Check Price

9. Ivation 70 Pint Energy Star Dehumidifier

Complicated Setup

Star Rating: 4.2
Highlight: Auto-defrost & Auto Restart
Price: $$

Check Price
Our least expensive recommendation for a whole-house dehumidifier comes from Aprilaire, one of the leading manufacturers on the market right now. It's ideal for smaller houses that are reasonably well-sealed, as well as condos and larger apartments.
Pros:
It can work either as a free-standing or ducted unit. While it doesn't come with a grille or ductwork, you can easily integrate this with your HVAC system to dehumidify air in all your rooms. It'll also work as an industrial-quality solution for larger basements or for homes with open floor plans where air can circulate easily.
In short, it's a near-universal solution for homes under 3,000 square feet! The Aprilaire will pull up to 65 pints per day, which is on par with the largest portable units. Plus, since it's using your central air, you can be sure it does a better job of spreading the dry air around! It's good for most smaller homes, provided that they have decent sealing, and either a central HVAC system or an open floor plan.
It's compact and unobtrusive. In terms of size, this Aprilaire is just 12.5W x 14.5H x 22″ long. That's a lot smaller than most portable units, and it's on the smaller side of HVAC models as well.
It has a simple adjustment knob for you to set humidity levels. While many other models have complicated computer controls that are tricky to figure out, this one is designed for folks who like to keep things old-school. It's very easy to get up and running with the simple on-off switch, and the humidity knob couldn't be more straightforward to use.
It drains automatically. This one is designed to be installed in the basement where your main ductwork originates, so you can simply run it to a floor drain.
It's one of the least expensive models on the market, at less than $1200. This one's very affordable for condo owners or for folks in a small house who are sick of replacing $300 portables but don't want to spend a fortune upgrading their central air.
It has replaceable and reusable filters. You can just vacuum out the pre filter, and the main filters are replaceable so you can get a longer working life out of your machine.
It's available with extended coverage for up to 3 years. That's a huge advantage for this model, since whole-house dehumidifiers are notoriously unreliable. The extended coverage will protect your investment for the long haul.
Previous buyers said it was very effective for its size. They wrote that water started running out of the hose both steadily and immediately after turning it on.
Cons:
You can't set an exact percentage of humidity. The knob just has settings from 1 to 10, so you'll need to use your machine with an external humidistat to gauge the correct level for your needs.
This model has a good record for reliability. However, Aprilaire as a company don't have a great track record for long-term durability and reliability. We'd definitely recommend going with the extended coverage for this one.
It's not powerful enough to tackle larger homes. Anything under 3000 square feet is fair game, but larger places will need one of our more expensive recommendation.
We're actually recommending two versions of the Aprilaire 1850, because we think it's a great choice for most buyers, and it comes in both a non-ducted and ducted format. This review is for the non-ducted 1850 F: our choice for small and midsize homes with no central air ducting.
This model is an excellent choice for homes up to 5000 square feet that don't have central air, but do have a good seal on them. If your home isn't spray-foam insulated or otherwise airtight, you might want to assume that it will handle 4000 square feet or less.
Pros:
It's slightly more powerful than the Aprilaire we've just looked at. This one's good for homes up to 5000 square feet, which is a solid boost of 2000 square feet in terms of capacity! It also has a higher pint-per-day rating, clocking in at 95.
It has a wide front grille to help it maximize coverage without relying on your ductwork. Portable models have just a small fan grille, but the 1850 F's whole front face is used to circulate air, which makes it much more effective than any traditional portable model.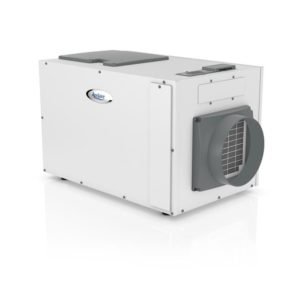 There are caster wheels on the base, and carrying handles built into the sides, making this easy to move around your home.
You can set an actual humidity level to maintain, without guessing on a dial. Unlike the smaller Aprilaire we just looked at, this one has exact percentage settings to help you get more precise control, eliminating the need for an external humidistat.
It has an automatic shutoff for very cold temperatures. Running into cold temps is always an issue for non-ducted models, since they probably won't be located in a completely sealed basement that stays very warm. You don't have to worry about the Aprilaire 1850 F frosting up or developing issues in the cold.
It's good for people who have HVAC systems that draw from the basement, since you can install this in the basement to affect your entire supply. It's a way to get the same effect as a ducted model without having to install it in-line. And, of course, you can use it as a freestanding model if that works better for you.
It runs automatically to a drain, just like an in-line unit.
It's available with up to 3-year extended warranty coverage. This updated version of the 1850 F also comes with a standard 5-year warranty out of the factory, so you're covered for a very long time.
It's built solidly. Previous buyers were extremely impressed by the rugged metal components as well as the general fit and finish.
Cons:
It has mixed reliability ratings. Previous buyers found that while warranty coverage was decent, they only got about 2 years out of each unit. That's a short operating life for a machine this expensive. Sadly, it's also par for the course with whole-house dehumidifiers. As with the first Aprilaire we looked at, we'd recommend going with the extended coverage plan.
Some people didn't find it as effective as advertised. However, they were using it in unfinished living space. Again, these machines are designed to be used in homes with reasonably well-sealed walls, and tight insulation. If you don't have that, no humidity control system will work well for you.
You'll need to have it professionally installed to qualify for the 5-year factory warranty. That can be somewhat costly, and you can find details below in our "how to" section.
We've just looked at the Aprilaire 1850F, which is the non-ducted/standalone version of the 1850 series. This model, the 1850, is the ducted version which sits in your HVAC line. It's essentially the same as the standalone model, with the exception that it works with your central air instead of operating under its own fan power. We recommend it for homes up to 5000 square feet with central air.
Pros:
It's essentially the same as the non-ducted model:
It's rated to pull up to 95 pints per day, which easily bests the most powerful portable dehumidifiers.
As with the 1950F, you can set precise humidity levels, rather than guessing with a simple dial.
As long as it's installed by professionals, it's covered by a 5-year warranty. The same protection plans are available for up to 3 extra years.
The ducted model is different in that it sits inside your HVAC system. It'll dehumidify air as it leaves your basement, which creates a more even dry air distribution than you can get with the standalone model.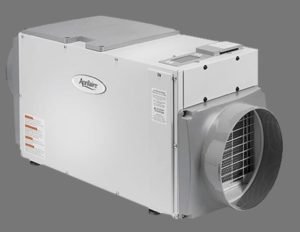 It has an automatic control board which can be paired with an external thermostat, or left as-is. If you don't use an external thermostat, it'll simply pull air for 3 minutes each hour to check humidity levels. An external thermostat will save you some power, since the machine won't have to check air and use its fans. However,, either way, you can set it or forget it! Like the 1850F, it also comes with an automatic shutoff to protect the coils in colder temps.
It's also more compact than the non-ducted model. This one is about twice the weight of the smaller Aprilaire ducted model above, but it occupies close to the same small footprint! It's super unobtrusive.
It can sense when air conditioning is running in your home. When your whole air system is cranking, it'll help out by dehumidifying. When you're not using your air conditioning, it can focus on targeted dehumidifying for your basement or crawlspace.
It's Energy Star-rated. This is actually one of very few whole-house dehumidifiers to qualify, and we think that's one of the major selling points. In-line dehumidifiers are much cheaper to operate than portable units, and this one does even better than the rest of the pack!
Cons:
Even though it's also covered by a 5-year factory warranty, this version of the 1850 has the same lackluster reliability ratings as the non-ducted model. A fair number of buyers found that their units conked out before the 2-year mark. That's covered by the warranty, but it's still quite disappointing to have to keep replacing such an expensive and elaborate machine. Fingers crossed that the next generations of these whole-house dehumidifiers will be a bit more durable! With all that said, the Aprilaire is actually one of the best-rated of these machines over time.
It's slightly more expensive than the non-ducted model. Expect to pay above $1300 for this one.
It can be a bit loud. Of course, if you're operating it in your basement, you probably won't hear more than a hum. However, some buyers noted that it produced a decent amount of noise and heat when running.
It won't work for anything above 5000 square feet. And as with our other recommendations, some buyers weren't thrilled with the results they saw. Again, we'd caution that buyers use the 5000 square foot rating only for well-insulated/sealed homes. The draftier your home is, the less effective any climate control system will be!
This Honeywell unit isn't the most powerful HVAC model we've reviewed, but according our research it's more reliable over the long term than the Aprilaire models we've recommended above. It's good for anything within the 3000-4000 square foot range. We suggest it to people who can afford to invest a bit more for a quality unit.
Pros: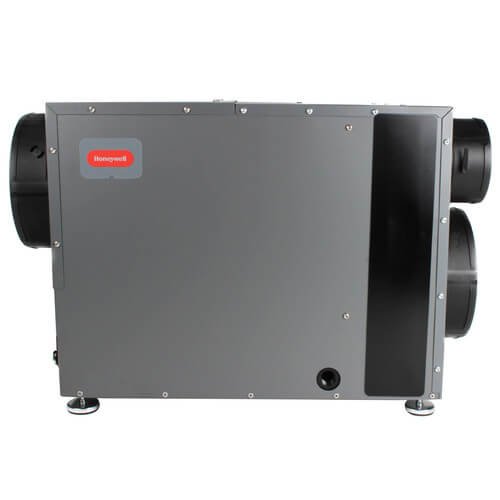 It has a lot of the same functions as the Aprilaire's:
a wide grille with cleanable filters
in-line HVAC capability
It's more compact than the equivalent Aprilaire. This one shaves off a few inches in every direction, which makes it even more unobtrusive.
It's Energy Star-certified, to the latest 3.0 standards. That's especially impressive when you consider that it has a higher power-to-size ratio than the Aprilaire model.
It's corrosion resistant. While the Aprilaire range all seem to develop internal issues within a few years, the Honeywell is built more smartly, for better long-term reliability. Previous buyers didn't report any durability issues over the long term!
It mixes in fresh air, while most other units just recycle air from your basement. That's better for keeping you healthy, since you're not just breathing the same stale air, which can be an issue with modern, sealed homes using HVAC systems.
It has better reliability ratings, and is recommended by more professional HVAC installers than the Aprilaire's.
Cons:
The added quality and reliability comes at a price: this one will cost several hundred dollars more than the comparable Aprilaire. It's about a $300 difference.
As with the Aprilaire's, you definitely need to have the Honeywell installed by pros in order for the warranty to apply. One other downside: this model isn't available with extended coverage.
You'll need an external humidistat, since this one doesn't have controls onboard.
With many older homes, humidity problems originating in the crawl space can be the source of mold, mildew, and warping problems from the floorboards up. If you live in an older home with a crawlspace underneath, a carefully-placed industrial dehumidifier can sometimes clear up your problems in all the living spaces above the crawlspace. This Ebac unit is our recommendation to people who live in older places with damp crawlspaces.
Pros: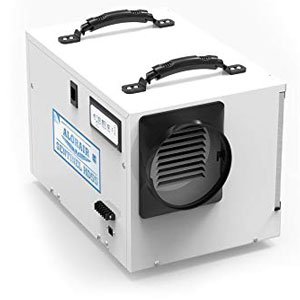 It's truly industrial quality! This one's made from heavy-gauge steel casing, and it's designed to handle anything from constructions sites to pipe galleries: it can handle your crawl space with no problems whatsoever.
It's the only one we've found so far that will really last for years of reliable operation. These are designed for industrial use, so it's no surprise that buyers wrote that they'd been using theirs for years with no issues. Of course, it's not a true "whole house" dehumidifier, but in a lot of older homes, it'll do the same trick.
It's portable. You can easily set this up anywhere in your crawlspace, and move it around as you need to do humidity maintenance.
It can cover any space up to 1000 square feet/3000 cubic feet. That'll cover most crawlspaces, since they were usually built into smaller square homes to begin with. We're only recommending it for crawlspace applications, so that lower coverage rating doesn't matter too much.
It comes with a remote control and alerts, so you can easily maintain it without venturing into your crawlspace. It also has a built in humidistat, so you can set it and forget it like our other, more domestic recommendations.
It can keep itself running in colder temps. That's super important for older homes, where the crawlspace can get much colder than the average basement. The Ebac has a hot gas feature which keeps the grilles and coils clear of frost.
It comes with wall mounts as well, so you can set it up however you like.
Cons:
Even though it's rated to provide far less coverage than our other choices, it still costs as much as the cheapest Aprilaire. You'll easily spend $1000+ for this model. On the upside, it provides much better long-term value than any of the Aprilaire's.
It's not good for newer homes with central air. We're exclusively recommending this for older homes with crawlspaces, where excess moisture below the house is causing problems. If your house is sealed or has central air circulation, this definitely isn't the right choice to handle your humidity issues.
While it's true that most buyers will be looking for a whole-house dehumidifier as an alternative to a large portable unit like this, we think this Frigidaire is a worthy alternative for people who don't have central air, and live in homes with relatively open planning. It can pull up to 70 pints per day from the air, and if you rig it to a hose to drain, it can operate nearly as effortlessly as a central air system. If you're tight for cash and need to cover lots of ground, you might find that you can make do with this unit.
Pros:
It's one of the largest portable units on the market. We're recommending this 70-pint unit as a reasonable whole-house solution for smaller, open-plan homes which don't have central air. It's a good choice for older houses where central air wasn't provided for in the original floor plan, but humidity is still an issue. We think this is the only consumer-grade portable dehumidifier capable of handling a whole house or condo.
It's Energy Star-rated. One of the biggest incentives to upgrade to a whole-house dehumidifier over a portable unit is usually the energy savings. However, this one is much more efficient than comparable machines, so it won't cost you nearly as much as your average portable dehumidifier.
It has a big capacity. The Frigidaire can pull up to 70 pints per day, which is enough to cover the average small home or large condo.
It has an appropriately large reservoir, so you don't have to keep emptying it constantly. Most buyers found they could get through a whole day on just one tank.
It can also be attached to a hose for continuous operation. This is a great choice for people who can run it to their shower drain, or down basement steps to a cellar-level drain.
It's automatic. Like the best of our in-line recommendations, the Frigidaire will maintain a set humidity level, so you can just set it and forget it. It has digital humidity readouts and filter alerts to keep you up to speed on what's happening.
It has caster wheels so that you can easily move it around your house. That helps to compensate for the fact that it'll be operating from one location, rather than using it via air ducts all around your home. You can run it for a few days in a living room, and then alternate with running it from your bathroom to keep all areas under control.
It costs a fraction of the price of a central air-integrated system. This Frigidaire costs well under $300 which is a pittance compared to the $1000+ options. It may also be a less risky purchase, since even the most expensive integrated central air systems are quite unreliable.
It's available with extended warranty protection. This model is one of the only portable units that comes with optional 3-year coverage, and given how unreliable these machines can be, we think it's an extremely smart choice.
Cons:
It's bulky. One of the reasons we really like in-line whole-house dehumidifiers is the fact that they fit neatly in your ductwork, and out of the way in your basement. If you're planning to use this for your entire home, you'll need to make some space for it.
You'll have to empty it for most applications. While you can attach this one to a drain hose, that setup isn't always convenient outside the basement. We'd recommend using it with the bucket in a living room, but some people with central, well-ventilated bathrooms may be able to run it to the shower drain.
It won't work as consistently as a machine that fits in your central air system. Since this unit operates under its own air flow, it'll do a better job on the room it's in than the room furthest away. You'll also need a fairly open floor plan for this to do a good job on more than a single room.
Like our other recommendations, this one has a pretty poor track record for reliability. A number of buyers found that their units died within the first year, and Frigidaire customer service is very poor.
Designed to accommodate small to medium-sized spaces, this dehumidifier can take care of your moisture problems at home without being too intrusive. With its small footprint and classic design, you will be happy to have one running in your home.
Pros:
This dehumidifier is capable of removing up to 50 points of moisture from the air in a day. It is just right for up to 4,500 square feet of space, so if you have a small to medium-sized home that needs dehumidifying, this is a good choice for you.
It doesn't require difficult and rigorous installation. Once you set it up, you can pretty much forget about it. You can connect it to a drain through a hose or let it run for 24 hours and empty the tank when it is full.
It can work instantaneously. It has a turbo function that works harder to dispel moisture in the air and get rid of the musty odor in your home.
Filter change is quick and painless and does not require other rigorous maintenance steps like many dehumidifiers out there. You can also change its location easily since it can be rolled around through its casters.
Cons:
It's a good thing this dehumidifier is best used in basements because it can emit a loud sound, especially when set at its highest speed.
This modern-looking dehumidifier can quietly work in a corner in your home and you won't even notice it. Get the 50-pint version and you should be able to effortlessly dehumidifier up to 4,500 square foot of space.
Pros:
We like the minimalist look. Even if we decide to put it in the living room or anywhere where it is more visible, it still won't be an eyesore because of how well-designed it is.
We had no issues with installation. It is a fairly straightforward process. Even the drain hose attaches easily. There were no problems with leaks.
The control panel is easy to use. You can read key information without having to consult your manual.
It makes an immediate difference in air quality. You can immediately tell that is working.
It is quieter than many dehumidifiers out there. You can run it all day and all night without worrying that it will disrupt your sleep.
Cons:
It doesn't automatically shut off once it has achieved the set humidity level. It is also devoid of a pump, so if you want to drain it using a hose, you need to use gravity to help it get rid of collected water.
With its capability in removing up to 70 pints of moisture, you can rely on this dehumidifier to provide the best dehumidifying benefits. It takes care of common problems at home such as allergens, mildew, molds and dust, so you can breathe better.
Pros:
It gets rid of more moisture in the air compared to similar models. It doesn't take up too much space either and doesn't require a complicated set up.
It already comes with an integrated pump. You can be assured that water will continuously drain, so you don't have to worry about using gravity to coax the moisture out.
The LED display is bright and can be easily seen at night. You can clearly see pertinent information such as humidity level, fan speed, alert on filter change and timer.
You can use this in the winter. It has an auto defrost and an auto restart function, so the coils will not succumb to freezing when the temperatures dip.
Although it is powerful, it has a compact build. It doesn't look clunky and can be integrated in tight spaces.
Cons:
You need to clean the filter regularly to make sure it is running effectively.
CHECK CURRENT PRICE
Conclusion
So, which of these machines should you buy for your home?
If you have a smaller home with central air, the first Aprilaire model in this article is your best bet. It'll handle any homes up to 3000 square feet, and it's very affordable. It's energy-efficient, and has better reliability than other Aprilaires. While it can work as a standalone unit, we just recommend it for HVAC usage. Don't expect it to work in larger homes, either, as it's simply not powerful enough.
If you have a medium to large home with central air, you'll want to spring for the Aprilaire 1850. It has the extra pint-pulling capacity and coverage ratings to take care of homes up to 5000 square feet. There aren't really any downsides to this model besides reliability: just get yourself the extra warranty coverage, pay a pro to install it, and you'll be good as gold. With that said, it's quite expensive, and we wouldn't rely on it to work for more than 2 years. That's where that extra coverage will really come in handy.
If you have a medium to large home without central air, the ductless version of the 1850, the 1850 F, will be a better option for you.
If you need to find the best whole house dehumidifier to reduce moisture in your home, we suggest you try the Aprilaire 1850F which is ideal even for homes with no air conditioning. It provides the same coverage and power specs in a standalone format. On the downside, it does use a bit more power than any HVAC-integrated unit. And since it has to provide its own fan power, it doesn't circulate through the whole house quite as well as a central air unit. However, we think it's the best you can do for a non-HVAC dehumidifier.
If you're looking for superior quality for your central air system, have a smaller home, and can afford to spend a bit more money, the Honeywell provides a nice upgrade over the Aprilaires. You should know that you'll need an external humidistat, though, and this one won't work for homes larger than 3000 square feet.
If you have a smaller, older house with a crawlspace, you may find that the Ebac unit can solve your humidity problems. It does very well in crawlspaces that are causing warping or mold issues, and it's pretty much indestructible! We only wish they made something like this to install in home HVAC systems. The only real disadvantage of the Ebac is that it's not a solution for anything larger than a crawlspace, and it won't help much in a newer home that's sealed and insulated well.
If you have a tight budget and an open floor plan, you may be able to get by dehumidifying your whole house using the Frigidaire 70-pint portable dehumidifier. It's very effective, although you'll probably have to empty the water reservoir regularly. It also won't work well in homes that don't have great air flow, since it'll be operating from one location. However, for folks who can't afford a full-scale unit like our other recommendations, we offer this as a solution with two caveats: it won't last forever, and it'll never work as well as a true "whole-house" dehumidifier.
The Vremi Energy Star Rated Dehumidifier is a great choice for anyone looking for portability and reliability in a dehumidifier. It can accommodate medium-sized spaces and is capable of getting rid of your moisture issues in just under 24 hours.
A great modern-looking dehumidifier that can work in small to medium-sized homes is the Homelabs HME020031N Dehumidifier. It has a sleek look that many people want in their home, so if you have a humidity issue in an area in your house that is frequented by people, this is a good choice.
Get the Ivation 70 Pint Energy Star Dehumidifier if you are looking for something more compact but has more dehumidifying capacity. It is perfect for smaller spaces but still works in getting rid of excess moisture in the air.
Why you need a whole-house dehumidifier:
For many folks in the Midwest and Southern US, high indoor humidity has been a fact of life for years. Excess moisture inside your home can cause damp, dank odors, mold growth, and increased bacteria presence, spreading sickness and draining your overall health. It can be a problem from the basement to the bedroom, leaving mildew in your books, and keeping you awake at night with clammy sleeping conditions.
The only solution up to now was to use portable dehumidifiers, which are underpowered to handle an entire home's moisture issues. Now, you can buy a whole-house dehumidifier to solve the problem once and for all!
If you have a relatively sealed home with central air systems, and still see high humidity during the summer months, chances are you have excess moisture. For any whole homes with readings consistently above 55% humidity, we recommend a whole-house dehumidifier!
Buying Guide:
Choose an integrated model or a standalone dehumidifier
The first key decision to make is to choose between an HVAC-integrated dehumidifier which works inside your central air system, or a standalone dehumidifier which creates its own circulation with internal fans.
If you have an HVAC system in your home, it really makes sense to use it. There's no downside to using your pre-installed central air. It'll save you power, and it'll provide better circulation of dry air throughout your home. If you don't have a central air system, you'll need a standalone model. It's that simple.
Know your space requirements:
The biggest factor in determining which whole-house dehumidifier will suit your needs is the square footage of your house. You'll need to figure out how many square feet you need to dehumidify, being aware that standard 8-foot ceilings are used to rate these machines. If your ceilings are lower or higher than standard, you'll want to round up or down accordingly when you're calculating your coverage needs. The same goes for the relative seal on your house. If you have a newer house with spray-foam insulation and other modern sealants, you can go with the rated coverage on your dehumidifier. If you're in a draftier, older home, you'll want to round up on your coverage requirements to be sure your new machine can handle your home.
If you're going to be installing a dehumidifier in your central air/HVAC system, make sure you take into account every room with ventilation. If you're buying a standalone unit, you'll want to think about which rooms actually circulate air with the room where the dehumidifier will be stationed. Be aware that no standalone model will provide quite as thorough circulation as a central air system. However, if you place it as centrally as possible, and keep doors open between rooms, you can get a lot of use out of a standalone machine.
Know what you'll be spending:
Whole-house dehumidifiers cost $1000+, and some can cost close to $2000. They're big purchases, and there aren't any shortcuts when you're buying. These machines are rarely discounted, and you shouldn't expect anything under $1000 to work well in a whole house.
However, the big thing to know with these machines is that the purchase price won't actually be the total amount you spend. You'll also need to think about installation costs and the price of extended warranty coverage.
Installation should always be done by a professional. You'll end up with a more effective air system, and you'll keep your warranty intact. Most brands will consider their warranties void if you install your dehumidifier yourself. That's never a good call, considering how unreliable these machines can be. Plan to spend as much as $500 for a professional to install your unit and get the duct-work set up.
We recommend purchasing add-on or extended warranty coverage for the same reason. Whole-house dehumidifiers are very unreliable on the whole, and it's worth spending the extra dollars up front to make sure you don't end up with a dead machine just outside the factory warranty. These plans can cost as much as $100 for an extra 3 years of coverage.
Always buy Energy Star-certified models when possible:
As with any appliance you buy for your house, you should try to minimize your operating costs by going energy efficient. Look for Energy Star certification to tell you that your new air system won't be costing you more on your electricity bill than strictly necessary.
Protect yourself for the long term:
Dehumidifiers are fickle, unreliable machines, and whole-house models are no exception to that rule. They regularly break within the first year or two, and many of them are computerized to the point that it's hard to get them up and running again. In many cases, they'll be disposable within 2 years of installation.
When you pair that with the fact that a whole-house dehumidifier will cost at least $1000, you're looking at a big, risky purchase.
Always make sure you're covered by a substantial factory warranty of at least 3-5 years, and always purchase additional coverage when available. Considering the cost of these machines, and the fact that they're hard to repair, you want to minimize the chances of you having to pay the full replacement cost.
What's Next:
We hope this guide has sorted out all your questions about whole-house dehumidifiers. If you have any unresolved queries, simply let us know! We're glad to help out.
If you've got a good idea of what you're looking for, but haven't seen your ideal model here, don't give up hope! There are plenty of whole-house dehumidifiers that didn't make our final cut. Check out Amazon's best-selling models to see more options.
For more humidity control advice, along with reviews of the best dehumidifiers, humidifiers, and climate control devices for all needs, head over to our homepage,click on https://toohumid.com/