Humidifiers can be one of the most beneficial appliance purchases you make. If you live in a home with drier air, especially in the winter, you'll find that a whole-house humidifier can make a big difference in your health and overall quality of life.
Humidifiers can reduce airborne allergens or microbes, reduce your allergy symptoms, and ease sore throats and other respiratory problems in the winter. They can also protect your furniture finishes from cracking under dry air, and even lower your heating bill! Many users also find that adding a slight amount of humidity to their air makes cooler temperatures more tolerable, which means you'll end up using less fuel for your heating in the winter.
However, humidifiers can be notoriously unreliable, so it's essential to get a model you can count on. A faulty humidifier can leak or cause mold in your home, and that's not beneficial to anyone!
Plus, it can be hard to sort through all the health-related marketing claims on humidifier packaging. And when you actually own your humidifier, you want to be sure it's easy to use, maintain, and sanitize.
Most importantly, you need to pay careful attention to the size and power of the humidifier you buy. Too strong a humidifier, and you could cause mold and mildew as a result of condensation.
We've put this guide together to help you find the absolute best whole-house humidifiers on the market today. We've compared dozens of options, from ultrasonic models to evaporative machines and everything else you can find out there.
We looked at features, price, value, and durability, as well as user-friendliness. We compared professional test results from the experts at Consumer Reports with feedback from buyers who had spent time with these machines.
For this guide, we selected three great options, to suit a range of home sizes. In our comprehensive reviews, we'll discuss all the features we think set our recommendations above the competition. We've also put together a quick section about how to figure out exactly which whole-house humidifier is best for you.
Best for Smaller Spaces
Vornado Evap40
Our Rating: 4.4
Popularity: Low
Best for Larger Homes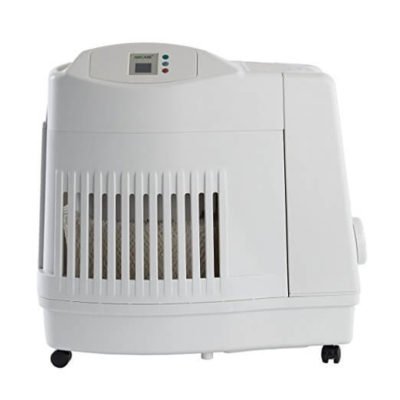 AIRCARE MA1201
Best for Homes w/ Central Air Systems
Aprilaire 500 Humidifier
Our Rating: 4.4
Popularity: Low
Best Whole House Humidifier Reviews 2019
Read our detailed review below about each product.
1. Vornado Evap40
Our top choice for smaller living spaces is this Vornado model. It comes recommended by Consumer Reports, and it's ideal for studio-apartments, cabins, or condos which have a smaller amount of air to humidify. A simple evaporative model, it's easy to use, easy to maintain, and does an excellent job of reducing airborne bacteria.
Previous buyers loved the Tornado's simple, effective design. Reviewers said it worked well even over its 1000 square foot rating! We think it's a great choice for people who live in smaller homes, and want a solid, low-cost humidification system.
Pros:
It's an evaporative humidifier. We like evaporative units because they're extremely low maintenance, and low-cost. They also do the best job at reducing airborne bacteria in lab testing. Consumer Reports found that all the evaporative models they tested, including this unit, produced no airborne bacteria.
That's not the case for many ultrasonic and heated humidifiers. They work by a simple trick of physics: dry air is drawn into the unit above a water reservoir, and is then recirculated with added water molecules.
These might not be the most technologically advanced units on the market, but they're dead simple, with few breakable parts and no fancy computer panel to glitch out on you. This model in particular is a great example of a simple, but effective evaporative humidifier.
It's deceptively powerful. The special vortex fan design creates a wider humidification range than other compact console units. It creates a corkscrew pattern of circulation, which is much more effective than the anemic flow created by other units of this size.
That's why the Vornado has an inordinately large coverage area, up to 1000 square feet. This unit also uses deeply-pitched fan blades, which draw in more air at a faster rate than other units.
Previous buyers said they had very good results with this one in spaces up to 1500 square feet, including in condos, city apartments, and smaller homes in the country. Most found that they had no troubles reaching their intended humidity levels, though they did caution that it can take some time to humidify a space from dry if you're using your machine for the first time in a winter.
Even though it's one of the smallest console units out there, it has all the basic features you need. There's an onboard automatic humidistat, which keeps the unit running until your set humidity level is achieved.
There are also three fan speeds to choose from: you can use the high setting to get humidified in a hurry, or to tackle larger spaces. The low setting is ideal for sleeping time, and the medium setting is a good choice for most daily use. There are removable water tanks, and a simple light to indicate when the unit is powered on.
The machine puts out up to 4 gallons of water into your air in the course of an average 24 hours, so the most frequently you'd need to refill the tanks would be on a daily basis. That's pretty convenient, given that most units that take up the same space would need to be topped up at least twice per day.
There are two smaller water tanks, instead of one larger reservoir. That makes filling and cleaning much easier for you. You'll only have to carry ~16 pounds at a time, as opposed to twice that. Each tank holds 2 gallons, for a total capacity of 4 gallons. The twin water tanks are leak-free, spill-proof, and easy to fill, since they're so compact.
The fan will keep running when the water bin runs out, so long as your space isn't at your set humidity level. Not having an automatic shutoff for the water level is actually a good thing in this case, since having the fan run on empty helps the wick dry out. That reduces bacterial growth inside the wick, and helps the whole unit air out. It's an important maintenance step which doesn't require you to lift a finger!
It's super compact, taking up less than 2 cubic feet. One of the main reasons we love this machine so much is the fact that it fits nearly anywhere, and has a high power-to-size ratio. This is easy to fit on a table, in a corner, or by the sofa–wherever is most convenient for you. You'll want to make sure you choose somewhere central.
It's also very manageable to carry. The whole thing weighs less than 9 pounds (without water).
Previous buyers said it's very quiet. They said that the lowest fan setting is barely audible, and the medium setting also fades nicely into the background during the course of the day. The only noticeable sound was some intermittent gurgling as the water tanks emptied.
The filters are inexpensive and simple to replace. Reviewers found that they were very easy to keep clean by the addition of some vinegar to the water, or by periodic cleaning with bleach or another anti-bacterial substance.
If you clean the unit and the filters properly, allowing the wicks to dry out between cycles, the manufacturer recommends only buying replacements once per season. Previous buyers agreed, although they stressed that without proper bacterial cleaning with vinegar or other cleaning solutions, wicks could need changing on a monthly basis.
It's covered by a 5-year warranty. These are also assembled in the USA, so they have a better reputation for quality control than models from some other brands. Some previous buyers reported using their units for longer than a decade with no issues!
Cons:
On the high speed setting, this makes quite a bit of noise. Evaporative humidifiers are, sadly, some of the loudest out there. Some buyers said that their fans started to make louder fan noises, including rattling, over extended use. That seems to be a problem that develops over time, as fans get off-kilter. Of course, any issues in the first 5 years of use are covered by the warranty.
Some buyers didn't like the water tank design. They said that the multi-piece design of the unit came apart too easily. Other buyers thought the mouths on the water jugs were too small to fill easily. We'd recommend using a thinner stream of water, so you have less spillage, and less of an issue with water bubbling up.
Overall, several reviewers commented that they weren't impressed by the light plastic build quality on this unit, especially for the price. It certainly doesn't feel as premium as it might, although we didn't see any reports of serious breakages. And, again, there's the warranty just in case. With that said, you probably want to install this somewhere it won't get knocked frequently.
With a 1000 square foot rating, it's not designed to handle larger houses. This is a better choice for apartments, condos, and studios.
The humidistat controls are a simple dial, from least to most humid. It's easy enough to figure out, and there are approximate ratings for each dial setting in the manual. However, this one doesn't have an exact digital control panel, so it's less precise than other consoles.
Not all reviewers were impressed by their results. While the vast majority of buyers said the Vornado made a significant difference in their air quality, some buyers found it only adjusted their humidity by a few percentage points.
There's no auto-restart in case of power outages. You'll also have to reset the humidity level manually each time you restart the machine.
2. Essick Aircare MA 1201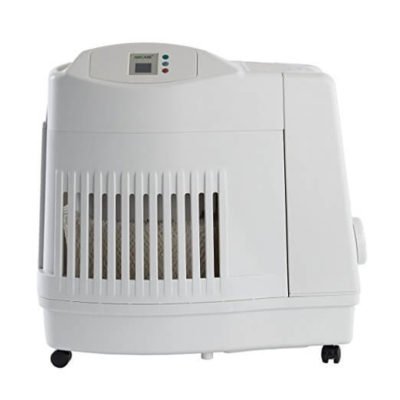 The Essick Aircare is an excellent choice for whole-home humidification if you don't have a central HVAC air system. It can handle up to 3600 square feet, and it's easy to install anywhere in your home, thanks to the wheeled base. While it's overkill for condos, apartments, and smaller living spaces, it's a very affordable choice for whole homes in need of a standalone unit.
It's recommended by Consumer Reports, and it has a great reputation as a no-frills but high-powered machine for homes. This is our top pick for houses, large apartments, and condos with high ceilings which don't have an air system.
Pros:
It shares a lot of the same features we like on the Vornado. It's an evaporative humidifier, with a central water reservoir and powerful fans circulating your air through the unit.
There are three fan speeds to choose from, and the control console has automatic humidity control. There are filters built in, as well as a washable wick–all of which are easy to clean and replace. In short, this one ticks all our main boxes for an evaporative unit.
It has triple the coverage as the Vornado. The Vornado is certified to work in spaces up to 1000 square feet, and reviewers said it could be pushed close to 1500. The Aircare can handle more than double that air space. It's rated to work on up to 3600 square feet.
That's enough for most homes, and it's ample power for larger apartments if you want something that can run on a lower (quieter) setting. Previous buyers said they had good results out to about 3000 square feet, and could make the machine work for 3600 ft, if only at the highest fan levels and with frequent refills.
It can put out a lot of humidity. Previous buyers said the Essick could easily go through 1 if not 2 tanks per day, which means that it's capable of dispersing twice as much water as the Vornado in most conditions.
Vornado users said they sometimes had issues getting their machines to make a substantive difference above +/-5% in humidity. That's not a problem with the Essick. It can keep you at 40% or more all winter with no problem.
It's actually cheaper than the Vornado! It's not as sleek or refined, but the Aircare's sheer power and USA build quality make it a real bargain at less than $100.
It has nearly as large a reservoir as the Vornado, at 3.9 gallons. The manufacturer says there's an up to 36 hour runtime from one single tank.
Previous buyers said that at low settings in homes which were humidified regularly, they sometimes got to 72 hours, running at a low setting. Of course, if you're using this one for closer to the 3600 square foot mark, you'll probably get a bit less mileage.
It has a digital humidistat for more precise control. If you'll remember, the Vornado has just a dial, with no precise numerical markings. This one allows you to set a specific humidity percentage to maintain.
We also like that this unit separates the humidistat from the humidity gauge, for better accuracy. The gauge is located away from the machine on the power cord, so it's more accurate than it would be if located on the machine itself. Previous buyers said the controls were extremely easy to use and navigate.
There's an automatic feature which shuts of the fans when the humidifier runs out of water. Now, we know–we listed the lack of an auto-shutoff as a Pro for the Vornado. What's up with that? Well, the auto-shutoff saves you energy usage when the humidifier isn't actually working. That's a Pro for us. However, there are downsides to this feature, which we'll get to in the Cons below.
It's on casters. That makes it way more portable than the Vornado! This one is easy to move between rooms, or out of the way when you're vacuuming. The Vornado is technically portable, but it's a bit awkward to lift, disassemble, and set up again on a regular basis. The Essick wheels easily to wherever you want it, whether it's full or empty.
While it's not particularly premium or sophisticated, it can do its job for years with no issues. Previous buyers wrote in their reviews that they had been using their machines for upwards of 5 years with no issues! The most common issue, a misaligned fill-line sensor, is easy to address yourself without having to use warranty coverage.
It's covered by a 2-year warranty.
Cons:
It's bulkier than the Vornado. This one definitely takes up some space in your home, and you'll have to make sure you give it some clearance as well. The Vornado projects air out the top of the machine, but the Essick has its output vent on the side, so you need to make sure to aim it away from a wall to prevent any excess moisture buildup.
You also have to contend with a single water tank. It's twice as heavy to carry as one of the Vornado's tanks, and it's harder to fit in a sink. You may have to fill it using the sprayer on your faucet, or use a tub.
Like the Vornado, this one is fairly loud. Previous buyers said it makes a real racket at the highest setting, so they didn't like to use that setting when they were home. That makes it a bit harder to use the Essick to its full potential, since the 3600 square foot rating was likely calculated at the highest fan setting. We'd recommend that you plan to use it for about 3000 square feet, unless you can find somewhere to put it where the noise won't bother you as much.
It's also made cheaply. This one uses the same sort of light plastic parts as the Vornado, even though it's made in the USA. Thankfully, we found that previous buyers didn't actually have any problems with leaks or cracks. It's less of a problem than a feeling that a problem could be just around the corner.
Previous buyers said that the onboard humidistat was inaccurate. They said that while it does work consistently, it could be as many as 10 percentage points off. You'd be well advised to use a separate humidity gauge to judge how quirky your machine is, and how best to set it to achieve your ideal "actual" humidity.
As we mentioned in the Pros section, there's an automatic shutoff feature which kicks in when the water reservoir is empty. That's a convenient touch, and it does save some electricity.
However, what it also does is prevent the machine from aerating its wick in between humidification cycles. That means the wicks on this model don't last as long, and they need to be cleaned very frequently to prevent mold and decay. Previous buyers recommended frequent cleaning. They also said that the wicks last a lot longer if you modify a wire clothes hanger to make a frame for them.
The automatic shutoff feature can also be a bit temperamental. It works via a float at the top of the water reservoir, and you'll need to be careful to make sure the float assembly stays lined up, or your machine might decide it's empty even when there's water in the tank. Thankfully, the issue is pretty easy to address.
3. Aprilaire 500
This Aprilaire model is our top recommendation for folks who have homes with pre-installed HVAC systems. If you've got an air system running in your home, you can pop this compact unit in your air duct next to the furnace, and humidify the air supply to the entire house from one location, out of sight and out of mind. It's low-cost, almost effortless to use, and very unobtrusive.
Pros:
It sits right in your HVAC line, supplementing the air in your house without requiring a bulky extra appliance or loud fan. How's it work? You essentially pop it in the vent duct, where the Aprilaire humidifies your hot air as it leaves the furnace and makes its way into the rooms of your house.
Air passes through a square screen, which has a grid of evaporative wires that channel water continuously. So, water molecules evaporate naturally at a very precise rate, which the machine's console adjusts based on its humidity gauges. It'll work simply and easily with any home 3,000 square feet and under.
It's out of sight and mind, but it's always aware of your humidity. The Aprilaire has two humidity gauges, which you can install remotely. One stays in the house with the control unit, to keep track of your indoor air humidity. The other stays outside, so the machine can make adjustments based on the weather conditions on a given day.
It's incredibly convenient, because the whole unit stays on your air duct in the basement, instead of taking up space in your living quarters. Previous buyers loved the "set it and forget it" nature of this unit, and said the convenience was the biggest selling point for them.
It's requires almost no maintenance or adjustments. Since it's hooked up to a water feed and programmed automatically, you shouldn't have to touch this console more than once or twice during a season. You don't need to refill the water. You don't need to clean or replace wicks every month or so. You don't have to keep tweaking the settings when the temperature changes.
None of that. Instead, you'll just have to train the computer for the first season, and replace the evaporative grid each year. You'll need to set your unit, and tinker a few times your first heating season, but the computer remembers your own settings, and makes adjustments if the weather is significantly warmer or cooler than the previous setting.
Previous buyers said this one was very, very accurate in terms of actual humidity level in their home. After the first heating season, you can simply turn it on when the weather gets cold, install a new evaporative grid, and you're good to go!
It keeps itself supplied with water. Rather than filling a reservoir periodically, you'll simply hook this up to a water pipe, and it'll draw water as it requires. It draws about 3.0 gallons per hour, and evaporates .5 gallons per hour.
Over the course of the day, that's exponentially more effective than similarly priced portable units. Plus, you never have to refill the tank!
It never gets backed up, thanks to a built-in, automatic drain function. All the excess water from the humidification cycle runs through the included drain line to your basement drain, or other outlet from your house. If you have an above-ground furnace, it'd be ideal to run into a rain barrel between the furnace and the drain, for watering plants and other such uses.
It's very compact. This whole unit is less than 1 cubic foot, and since you're basically plugging it into a heating duct, it barely takes up any space on its own. The control panel and sensors are even more compact.
Previous buyers said the finished installation looked very neat and tidy. They loved not having another bulky appliance in the house. Best of all, it's installed in your basement, so you won't hear or even see it working!
It's relatively easy to install. Previous buyers said that it took their contractors a couple of hours at most to get this up and running. You'll just need an accessible air duct near your furnace, a power source, and a drain location nearby.
It doesn't need to be serviced nearly as often as portable units. Mold doesn't build up in this unit, because it's completely isolated from any organic matter which could provide foot for bacteria to grow. Plus, the evaporative grid is coated with an antimicrobial material. Unlike wick and filter portable units, you only have to replace the evaporative mesh once per year. That means you'll have 1/6 the upkeep costs!
It's very inexpensive. This unit costs will cost the average homeowner about $150 plus $200-$250 in installation costs. Considering how convenient and effective it is, we think that's a bargain.
Provided that you have it installed by a certified HVAC professional, it's covered by a 5-year warranty.
Cons:
It won't work for homes that don't already have a central air system.
You'll need to pay to have it installed. That can add a fair chunk of change to the cost of the system (~$200-$250 for many people). Some previous buyers were annoyed to find that the warranty is voided if the unit is installed by someone who's not a certified technician.
Others complained because it wasn't very easy to figure out how to install it with the included instructions. Our advice: skip the hassle, save the warranty. Get it installed professionally.
We did see a few instances of quality control problems in buyer reviews. Some buyers' units didn't work properly out of the box. However, any factory issues should be covered by the warranty. Additionally, most of the problem reviews we found were from buyers who had disregarded the warranty and done the installation themselves.
The controls are located on the panel on your air duct, which will likely be in your basement. Some buyers didn't like having it tucked away. However, we think the hidden-away nature of this machine is the whole appeal.
It wastes a lot of water. As you can see from the specs, this one uses 3 gallons per hour, and about 1/6 of that water goes into your air. So, you'll be sending 2.5 gallons per hour down the drain. If you can find a productive use for that water, or find a way to cycle it back into your system, it might be less of an issue. With that said, this isn't a good choice for people who have high water bills or tight water restrictions in their area.
It can't humidify overly large houses. It's rated up to 3,000 square feet, or slightly more if you have a newer/more tightly built home. If you have a home on the larger end of the spectrum, check out the Aprilaire 700: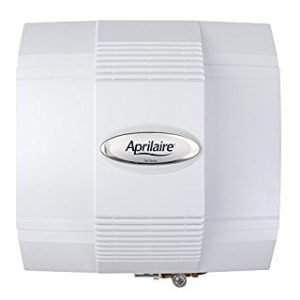 Aprilaire 700
4. AIRCARE 831000 Space-Saver Evaporative Humidifier
Keep your family safe and comfortable with this evaporative humidifier with a strong power and capability more suitable for an entire house. It has a bigger reservoir for longer hours of usage. You can rely on this humidifier no matter where you are in the house as it features casters for easier transport.
Pros:
This humidifier makes use of evaporative technology that allows you to reach indoor humidity levels of 43% or even higher. With this kind of humidity level, you can reduce the power of airborne viruses by as much as 86%. Not only are you improving the comfort of your family members, but you are protecting them as well from all sorts of illnesses brought about by viruses with this unit.
Be able to save more energy with the help of this humidifier that maintains a comfortable temperature in your house. You can set back your thermostat by up to 3 degrees to get more energy savings.
One full water reservoir lasts for as long as 70 hours, which means you can just leave it running without needing to refill it with water. Once it uses up all 6 gallons of water, it automatically shuts off. The automatic shut off feature also kick starts when it has already reached desired humidity levels.
The Trapmax Filter technology is a nifty feature that separates sediments from the water and ensures only clean mist is expelled by this machine. It also features a check filter system to easily determine when you need to replace or clean the filter. There is also a water refill indicator that will tell you when it is close to empty.
Cons:
When set to medium and high settings, the fan gets a bit loud. And because you are not paying premium for this product, you are also not getting premium parts.
5. Geargo Ultrasonic Cool Mist Humidifier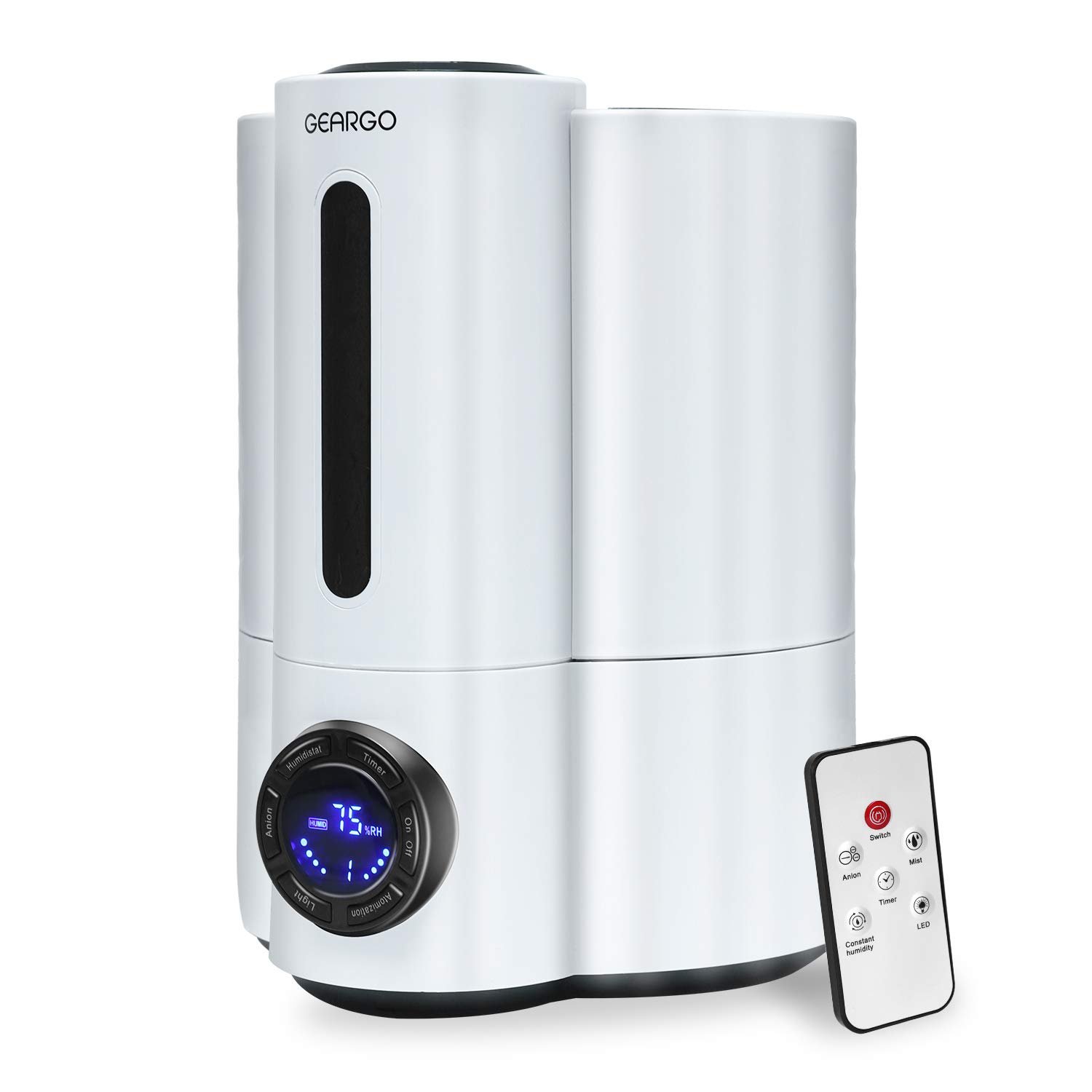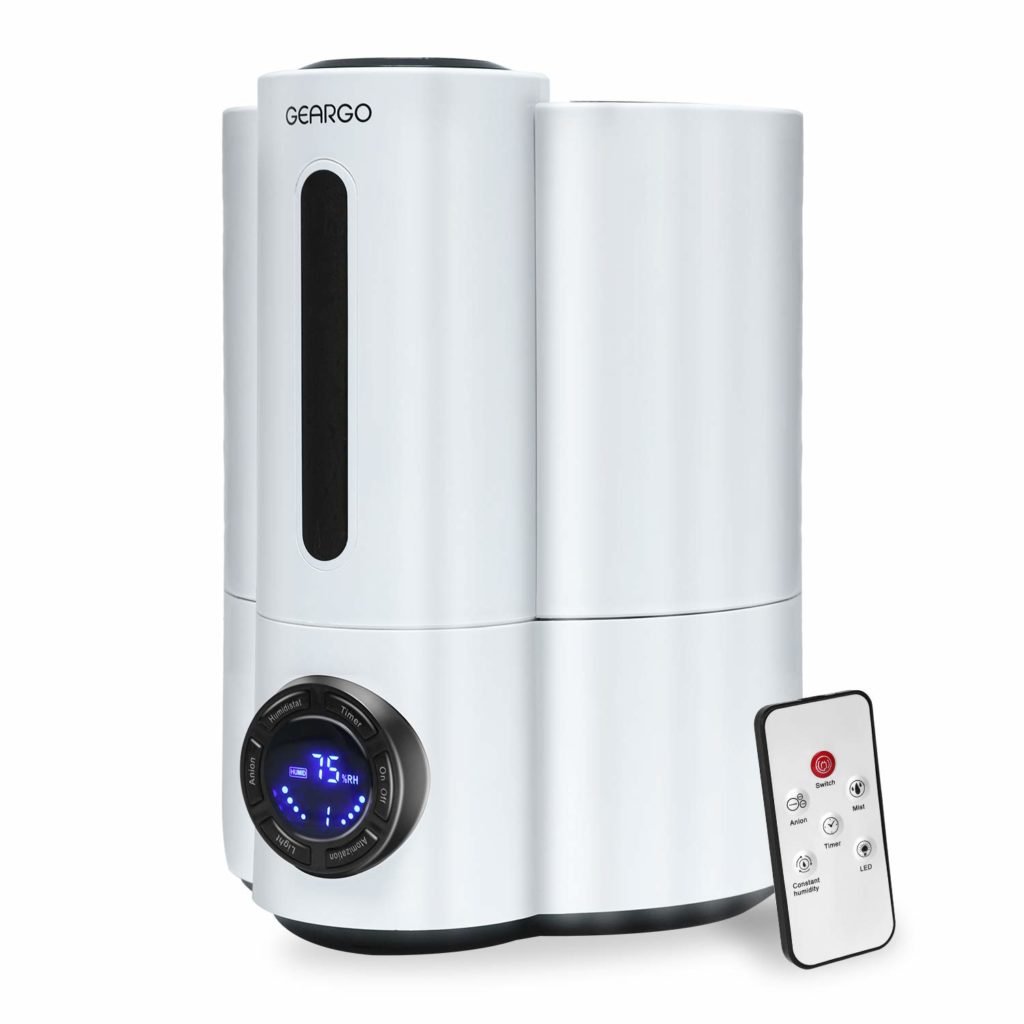 With a 4L water tank capacity, this should be capable of humidifying a smaller house for as long as 18 hours. It is a nice and modern machine that works seamlessly in more modern houses.
Pros:
We like that it comes with a big water reservoir. That dispenses the need to keep on refilling this unit with water. You can use it for as long as 18 hours in between refills. It works in bigger rooms or an entire small house. In fact, it can cover houses as big as 500 square feet.
You are getting two control options with this unit. You can also use the remote for ultimate convenience. The built-in humidistat controls the humidity levels in the house effectively.
It is a unit that works quietly. Through its Whisper-Quiet Night Mode, this whole house humidifier can be relied on without being too annoying in the house. It does not produce noise of more than 35 dB of noise level.
The LED display is easy to read and easy to see.
This is also one of the least expensive humidifiers out there that has an entire house of coverage.
Cons:
Cleaning this unit might be a bit challenging. The LED light also can't be turned off, so if you are using it at night in your bedroom, that night light can be a bit annoying.
6. Honeywell HE360A Whole House Powered Humidifier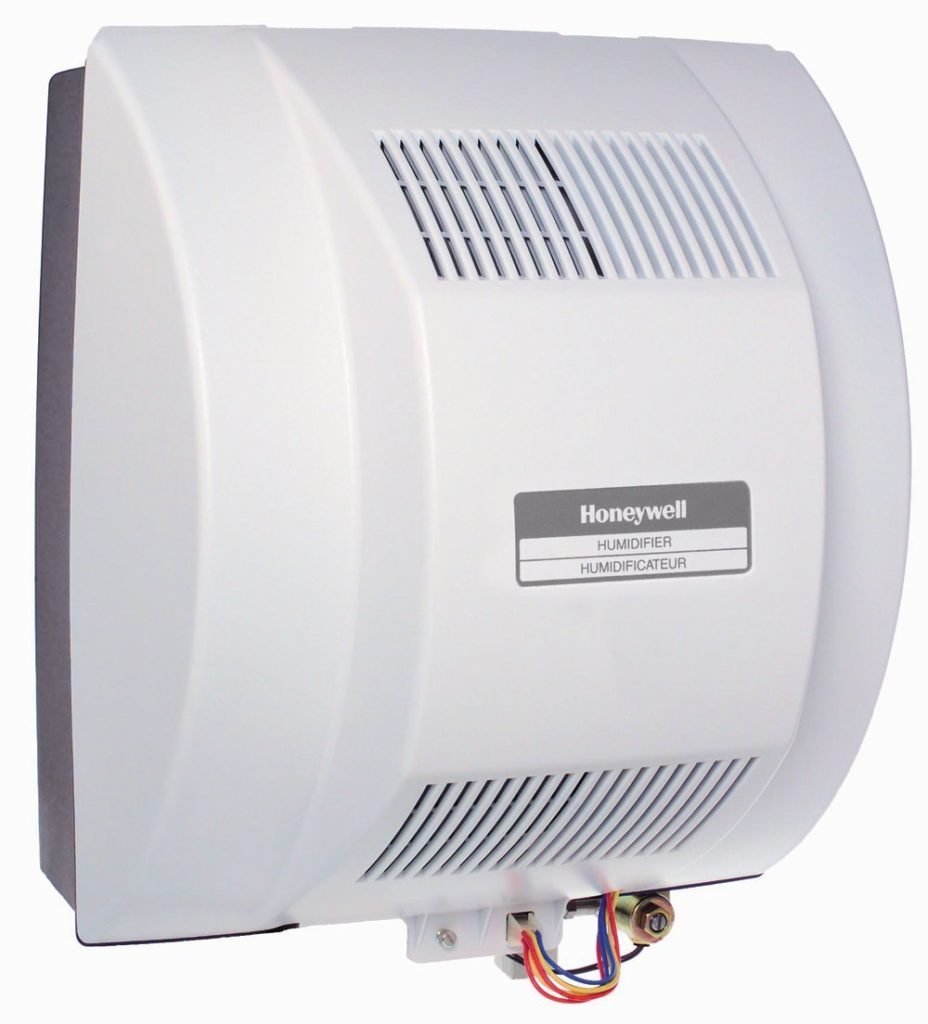 This is the perfect choice if you want to humidify the entire house because of its mechanisms that features a flow-thru powered by a fan. We recommend getting this low-maintenance humidifier that will surely keep the house comfortable and free from all sorts of viruses and allergens.
Pros:
The fan-powered flow-thru allows this humidifier to circulate air better in your home and humidity all areas of the home effectively. Even with low maintenance, this can still work seamlessly.
It is quite compact. You can install it in any part of your house without it being too obstructive. A lot of customers can also attest to the fact that it is easy to install even without professional help.
It is capable of humidifying spaces of up to 4200 square feet. That is enough for most households.
It also comes with all the features needed in a humidifier such as low water usage and effective water distribution tray.
Cons:
The pressure switch is made from cheap materials that can break down easily.
Which is the Best Whole Home Humidifier for You?
If you live in a smaller house, a condo, or apartment, the Vornado is the perfect machine for you. It's compact, efficient, and more reliable than other small console units. This one's also incredibly affordable!
Previous buyers had good success with this in living spaces upwards of 1,000 square feet, and the two-tank design makes it easier to refill than other console units. It's recommended by Consumer Reports, and has a great track record for reliability.
However, it doesn't have as precise of humidity control as some other units, and it can't handle medium to larger homes. This one's also a bit tricky to move, since it doesn't have wheels.
The Essick is the best choice for medium-sized and larger homes which don't have an HVAC central air system installed. It can handle triple the area of the Vornado, and it costs even less to buy!
You get the precision of digital humidity control, and the portability of a wheeled frame. If you're humidifying a whole house, and want something simple but effective, we highly recommend this one.
On the other hand, it's not quite as finessed as the Vornado in several regards. It has a bulkier (single) water tank, a bigger frame, and a louder fan. This one also needs to be used with an independent humidity gauge for the best results. Previous buyers and professional testers agreed that despite its flaws, it's the best console option on the market for larger spaces.
For small to medium sized homes with HVAC systems built in, the Aprilaire is our top choice for both convenience and effectiveness. It's super simple to use, since you can essentially set it and forget it as each heating season rolls around. It's one of the least expensive in-line humidifier systems, and it's covered by a very long warranty. The only downsides to this one are the fact that you'll have to pay for installation, its high water usage, and the fact that it doesn't work in homes without central air systems.
The AIRCARE 831000 Space-Saver Evaporative Humidifier is a value for your money. It is not too cheap but not too expensive either. It does its job well when it comes to humidifying the air without being too complicated to use.
You can get a whole house humidifier without spending too much money with the Geargo Ultrasonic Cool Mist Humidifier. It is inexpensive but still does a great job in keeping the house comfortable.
The more built-in features and functionality of the Honeywell HE360A Whole House Powered Humidifier makes this an ideal choice for bigger homes.
After weighing up the pros and cons of all the models we've recommended, we think the best whole house humidifier is the Aircare MA1201 thanks to its impressive capacity.
How to Choose the Best House Humidifier for You
Choose an evaporative, cold unit:
There are a few different options for whole-house humidifications. Whether you're searching for an HVAC or portable unit, you'll find that most models are sorted into a few specific groups. Let's walk through the options, so you can see why we specifically recommend evaporative, cold mist humidifiers:
First, you'll have to choose between warm or cool mist humidifiers. Warm mist units can be anything from a Vick's medical vaporizer to a steam-powered whole-house humidifier. They're powerful, quiet and effective, but we don't recommend them for a number of reasons.
First, they're energy hogs. These will drive your power bill up in a real hurry. Second, they pose a serious burn risk, so they're not safe for homes with children or pets. Finally, they're not effective in warmer climes, where you want to add cool humidity to your air, rather than warming things up further. We recommend cool mist humidifiers because they use less energy, work more safely, and work in warm climates as well as cool, dry areas.
Cool mist humidifiers come in two types: evaporative or ultrasonic.
Let's take ultrasonic machines first. These are a great new innovation, and they're very popular on the market right now. They use a small disc to spray a fine water mist into your air, mixing it with air particles on the way. They're very quiet, and very energy efficient.
However, they're not great for large spaces. These units also have one major flaw: they tend to produce and circulate airborne bacteria, and they need lots of cleaning to keep that problem at bay.
Consumer Reports found that these models produced by far the most bacteria of the humidifiers they analyzed. So, while we think that ultrasonic machines are an exciting new development, they have a few too many issues for us to recommend them just yet.
Evaporative humidifiers work simply, but effectively. They have water tanks which drain gradually into a central reservoir. It's equipped with a "wick", usually made of a sort of papery fiber. The wick helps draw water molecules upward, to make them evaporate efficiently. Then, powerful fans draw air through the machine, through the wick, and out another vent. In the process, water molecules evaporate into your air, by a which is circulated steadily until your home reaches your desired humidity level.
Evaporative models are the most affordable to buy, the simplest to maintain, and the best at keeping bacteria out of your air. They're also the most versatile. You can easily find options ranging from room-size evaporative models for a bedroom, all the way to in-duct systems for HVAC central air.
They're not perfect, though–evaporative units are loud, bulky, and they do need to be cleaned regularly. However, we think they're the safest and most effective choice for most applications.
Know your size requirements:
The single biggest piece of information to nail down before you start shopping is the square footage of the space you need to humidify. All humidifiers are rated to humidify a given square footage, whether they're console units or HVAC inserts. Measure your space, and get a unit that's rated to slightly above your total square footage.
It's best to give yourself some safety margin, to make sure your unit can keep your home humidified in exceptionally low temperatures. It's also better to have a machine running just under capacity, so you're not working it too hard.
If you don't know your home's exact dimensions, don't take a guess! It's super important to get those measurements right. Too weak a humidifier, and you could burn out the fan motor, and miss out on the health benefits of humidification.
Too powerful a unit, and you could crank out too much moisture into your house. That can cause condensation on windows, and on fabrics, leading to mildew and mold.
Keep in mind that when most manufacturers rate the coverage capabilities of their machines, they're using a standard ceiling height of 8 feet. If you have cathedral ceilings, rooms with sloped ceilings, or other abnormal spaces in your home, make sure you round up or down as appropriate to make sure your unit can meet the requirements of your space.
As you're looking for machines that suit the size of your home, we always recommend being slightly generous. A more powerful humidifier than you actually need can be a good purchase, if used correctly. It'll be able to handle your space at a lower fan setting than a unit that's rated up to your exact square footage.
That means quieter operation, and shorter running cycles for you to have to deal with. With that said, make sure that if you're buying a more powerful model, you can turn it down to prevent extra condensation in your house. That can lead to the sort of mold and mildew issues we've discussed above.
Decide on your budget:
Whole house humidifiers can cost anywhere from ~$75 to ~$250. For smaller homes, plan on spending at least $100 for something reliable and effective. For larger homes or HVAC integration, you'll be looking at a minimum of $150 or so.
Keep in mind that many HVAC units also carry a high installation cost, since they have to be installed by professional contractors. Plan to spend $200-$250 on top of the sticker price to get your in-duct humidifier up and running.
Humidifiers are mainly priced by size, so expect to pay more for a unit that can handle a larger area. You'll also find that more expensive units have extra conveniences, like split water reservoirs, digital controllers, and more automatic features.
Unlike some other appliances, we've found that price isn't necessarily indicative of quality where humidifiers are concerned. You're better off finding something that's durable, affordable, and suitable for your space, rather than focusing on price class.
Choose between portable or HVAC units:
Whole-house humidification can be done in one of two ways: with a standalone "console" unit, which circulates humidified air all around your house by itself, or with an integrated unit which sits in your central air system to humidify the air that's already circulating from your furnace to the rest of your house.
The decision process is typically pretty simple: if you have central air, an HVAC-integrated humidifier probably makes sense. It'll be quieter, it won't take up any additional space in your home, and it will involve less maintenance.
On the other hand, HVAC systems can be pretty expensive, since they need to be installed professionally. A console humidifier might be a more affordable choice, even if you already use central air. If you don't have a central air system in your home, your choice is simple: you need a portable console-style humidifier.
Consider durability:
Humidifiers can be dependable and robust, but more than a few are temperamental, rickety, and flawed in design. Even the best humidifiers have their quirks, and they can have mixed longevity. To get the most out of your purchase, make sure you're choosing a humidifier that's as durable and reliable as it is effective.
Look for solid plastic construction, with as few seams as possible. Look for strong warranty coverage, and a track record for quality control. Keep in mind that even our top-rated humidifiers do have some quality control issues, so you should be very mindful of your return window when you purchase.
One of the smartest decisions we think you can make as a humidifier buyer is to supplement the manufacturer's warranty with an aftermarket policy, from an organization like SquareTrade. These policies can add years to your coverage, which means you're guaranteed to get a longer working life from your appliance.
The biggest benefit isn't the length of the coverage, though. It's that you get to deal with SquareTrade, not the manufacturer. Humidifier makers have very mixed customer service, and they can be frustrating to deal with when you're trying to have your warranty honored. Using SquareTrade is a simple way to avoid dealing with company representatives, and get your replacement machines or parts as quickly and easily as possible.
On a final note, while we're on the subject of warranty coverage, it's always best to have an HVAC humidifier installed by professionals. Most manufacturers have clauses in their warranties which require that the system be installed and serviced by a professional, so cavalier DIYers will find themselves high and dry if something goes wrong. Install HVAC units professionally and preserve your coverage.
What's Next?
If you need something slightly different than the models we've recommended, check out all the top-selling models on Amazon or our reviews of the best humidifiers  in all categories!