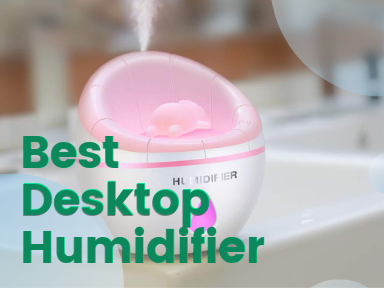 It's always nice to have a humidifier with you wherever you go. With its ability to correct the humidity levels in the room, the air you are breathing has enough moisture to relieve throat itchiness, nasal congestion and skin dryness.  It just improves the quality of your life.
While there are definitely bigger humidifiers out there with a big tank capacity for continuous usage, you might also want to get yourself a desk humidifier. A smaller desk humidifier is more portable, so you can place it anywhere you like – your bedside table, your baby's bedroom, your living room center table and many more. You can also bring it with you on your travels or set it up in your office space.
We checked out all the various desk humidifiers out there and singled out the ones with the best features. Keep on reading to find out which desk humidifiers are worth buying.
Best Desktop Humidifier Reviews
1. InnoGear 2nd Version Aromatherapy Essential Oil Diffuser Ultrasonic Diffuser
Never deal with stuffy air, congested nose, itchy skin and chronic cough again with the help of this humidifier that features Ultrasonic Operation. It operates so quietly that you won't even notice it's there. Since it does not emit heat, it is safe to install even in the kids' bedroom.  It has an auto-off function that detects when the tank is empty. It also comes with 3 mist settings. It features continuous, intermittent and working time mist modes. You can easily pick the one that works with your specific needs.
You can relax after a long and tiring day with this humidifier that also has a diffusing function. Diffuse your favorite essential oil. The 7 different LED lights also help create a more calming environment.
Pros:
This is a portable desk humidifier that can be easily taken anywhere.
It features three mist settings, so you can easily set it up to your desired level.
You can breathe easier with the help of this humidifier that injects more mist into the air.
The night light looks so relaxing. It creates a more tranquil environment.
The automatic shut off safety function is triggered when it detects no water in the reservoir.
This has a comparatively good 100ml tank capacity.
It operates quietly. You won't be disrupted by it.
It comes with 45 days money back guarantee and 12 months of warranty.
Cons:
Some said it stopped producing mist after a few months of usage.
2. Asakuki 500ml Premium Essential Oil Diffuser Humidifier
Achieving good humidity levels is now easier thanks to this desk humidifier with the best humidity density sensor. It has been integrated with a 2.4MHz vibrating plate that works in breaking up the molecules of water in order to dispel more mist in the air and achieve 50% humidity in a 270 to 320 square foot of space. It has a maximum mist output of 50 ML/H, which ensures a long run time of 16 hours.
It keeps the skin soft and relieves congestion and stress. It also works as an essential oil diffuser. With this tool, you can beat common illnesses such as colds and flu.
Pros:
This product has a good tank capacity. The 500ml tan capacity is capable of producing mist continuously for as long as 16 hours.
It has a nice and large footprint and a shorter height. That means you won't accidentally knock it out of your desk.
It comes with 2 different levels of mist function. You can choose the one that works well for your needs.
You can set its timer function up.
The LED colors are soothing to the eyes.
It has a reliable diffusing function. You can use your favorite essential oil to provide relief to common illnesses.
The water tank is big, so you won't have any issues keeping it clean.
Cons:
There were those who said this is noisier than the ones they have tried before.
3. COTREE Small Cool Mist Sofa Humidifier
Why go for all those boring humidifier styles when you can get this adorable and quirky one? This "sofa" humidifier features a sofa shape with a cute teddy bear sleeping on top. It comes in 3 different adorable colors. You will love to put it on your desk. Babies and children will also love this design.
This humidifier is made from ABS plastic and Silicone materials for durability. The tank has 350 ml of capacity to dispel more mist. You can rotate it to adjust it to your preferred direction. With only 123x120mm in size, this humidifier should not take up too much space.
Pros:
This is such a cute humidifier. Kids will love having it in their room, but you can also display it on your table.
It has a run time of up to 20 hours. Fill it up with water and it will do all the work for you.
You can charge it with a USB cable, making this such a portable unit to bring with you everywhere.
This humidifier is backed by a 12-month warranty.
This unit has two mist options. You can choose between periodical and continuous functions.
It is lightweight. With only 238 grams of weight, this should be easer to bring with you anywhere
Cons:
Some said it stopped producing mist after a few months of usage.
4. AmuseNd USB Cool Mist Humidifier
This is a DC-operated humidifier that features an adorable design. You can choose from the pink rabbit, white reindeer or the cactus designs. It will surely make a statement in your room or office table. When not in use, nobody would even suspect that it is a humidifier.
It is cute but it also packs a punch when it comes to useful features. Its 220ml volume is just enough to humidify a space. It also features 50 ml/h of spray volume, so you can be assured that this will produce enough mist to make your room comfortable.
Pros:
This is a unique-looking humidifier. It also doubles as a desk décor.
It is small and compact enough to be carried and displayed anywhere you fancy.
It has an ultrasonic quiet operation that will not disrupt you while working. It can humidify any space effectively and alleviate dry skin, chapped lips and respiratory illnesses.
This unit is quite easy to use. Just plug it and it's ready to be used.
It comes with seven different night light options.
You can simply plug it in your computer, and it is ready to work. You can work comfortably all day with this in tow.
Cons:
Some said the mist falls down on the desk and leaves water residues everywhere.
Benefits of a Desk Humidifier
Why should you get yourself a desk humidifier? Why not just get a whole house humidifier or a bigger one with a larger tank capacity? Here are the benefits you can get:
1. It fits in smaller spaces.
Because it is smaller, a desk humidifier can be installed virtually anywhere. Some are even small and compact enough to fit in cars. There are those that you can operate through batteries. The batteries can be recharged with its USB functions. If you have a smaller room to humidify or you only need a humidifier for occasional usage, this should be a great choice.
For humidifiers that it in smaller spaces like a crawl space, check them out here.
2. It should be just right for a few hours of usage.
It doesn't have a big tank capacity but that doesn't mean it will compromise on ideal benefits. Many desk humidifiers still operate for as short as 8 hours. That should be enough to give you a good quality of sleep at night. You can refill it the next day when you need it again.
3. It should be easier to transport.
Since it is smaller, it is easier to bring with you anywhere. You can place it in a box or bag and take it with you for your travels or even place it on your office desk. Many of these desk humidifiers are made from durable materials. They can withstand common wear and tear.
4. Maintenance and cleaning are more manageable.
These desk humidifiers are easier to maintain and clean because the water tank is smaller. They even come with a cleaning brush that you can use to get rid of debris.
5. It is not as noisy as the bigger ones.
A smaller humidifier has quieter functionality. You can be assured that it will not disrupt your sleep.
6. It is less expensive.
These humidifiers are usually two times less expensive than their full-sized counterparts. If you are on a tight budget, you might want to go for these humidifiers as they have prices that are more accessible.
Which One Should You Get?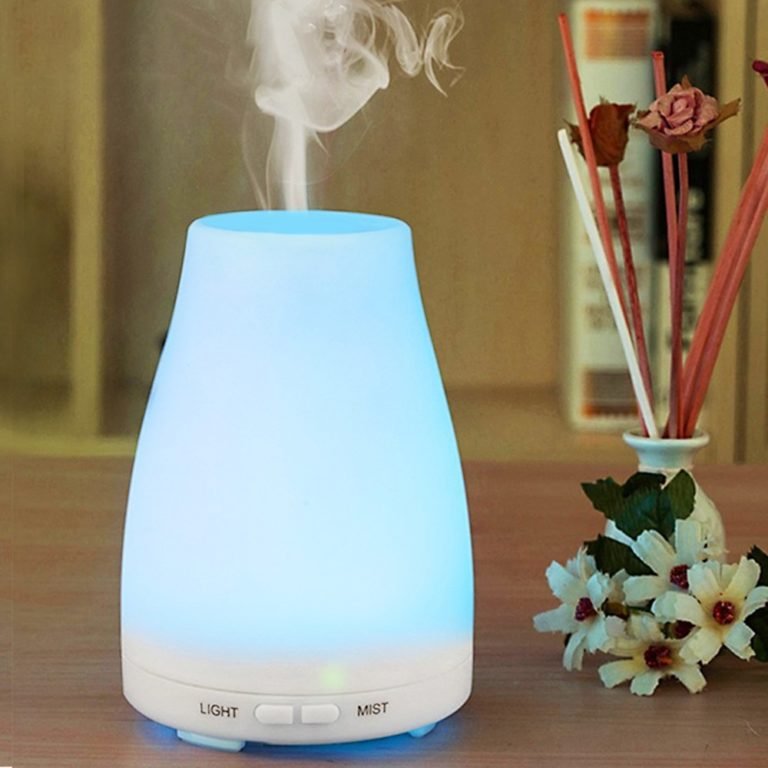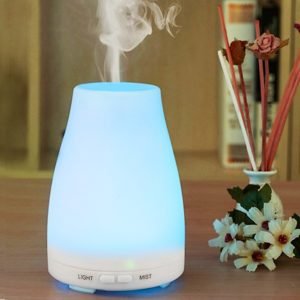 Long Hours of Usage: InnoGear 2nd Version Aromatherapy Essential Oil Diffuser Ultrasonic Diffuser. For its size, this desk humidifier packs a punch. It still has a considerably-sized water reservoir that can accommodate up to 9 hours of usage.
Easy to Clean: Asakuki 500ml Premium Essential Oil Diffuser Humidifier. Because this humidifier has a bigger tank, it is easier to clean. It also has a bigger water reservoir, which means you can get a longer hour of continuous mist production.
Great for Kids' Bedroom: COTREE Small Cool Mist Sofa Humidifier. Kids and adults alike will love this desk humidifier. It has a cute design that kids will definitely love. Its long run time is also ideal for continuous usage.
Great for Office Space: AmuseNd USB Cool Mist Humidifier. We recommend getting this desk humidifier if you need something to put on your desk. It can be plugged easily to your computer. It is also adorable enough to work as an office desk décor. When not using it, you can simply display it on your desk.
Tips in Buying the Best Desk Humidifier
When it comes to buying the best desk humidifier, here are some of the tips you need to keep in mind:
1. Look for ultrasonic technology.
Ultrasonic humidifiers do not make use of a compressor, which means these humidifiers can be operated quietly. Since you are putting it on a desk right next to your bed or your office work desk, it is important that the humidifier isn't disrupting.
2. It should be durable.
If you plan on taking your desk humidifier with you anywhere, make sure it is made from materials that are virtually unbreakable. You don't want the humidifier to break or crack because you accidentally dropped your bag, or your luggage has been mishandled.
3. Learn more about its power source and usage.
How will you operate it? If it can be plugged in, what is its maximum voltage capacity? Can it run on batteries? If so, is the battery rechargeable? Pick the one with operations that make it easier to run your humidifier even when you are in the office or you are traveling.
4. It should have a leak-proof and fairly big tank capacity.
Compare tank capacity and go for the one that will provide you with the hours of run time that you prefer. If you plan on using it at night, it should provide continuous mist for at least 8 hours before you need to refill it with water.
5. Consider those with diffusing features.
You can find humidifiers that also function as a diffuser. These units are versatile as you can use aromatic essential oils to treat different illnesses.
6. Make sure it comes with safety functions.
It should have an auto shut off function that automatically turns the desk humidifier off if the water tank is empty.
Conclusion
Here are the desk humidifiers you would want to look for:
There are so many options out there when it comes to humidifiers and dehumidifiers. Make sure you are making the right buying decision. If you're not sure whether one of the humidifiers on this page is the best choice for you, check out our general buying guide to get our essential advice and find the one that will truly work for your specific needs and preferences.