Are you suspecting a mold infestation in your home? Molds like to grow in damp places. When indoor humidity level is above 60%, this is when molds start appearing. Before you call an expert to get rid of the molds, do a home mold test first using a mold test kit.
There are a lot of mold test kits out there but we can help you find the one that is easy to use in your home. This guide will review the most reliable mold test kits out there and take a closer look at their features, so you can decide better which of the best mold test kit out there has the features that work best for your specific needs.
Comparison Chart for the Mold Test Kit
Best Mold Test Kit Reviews Reviews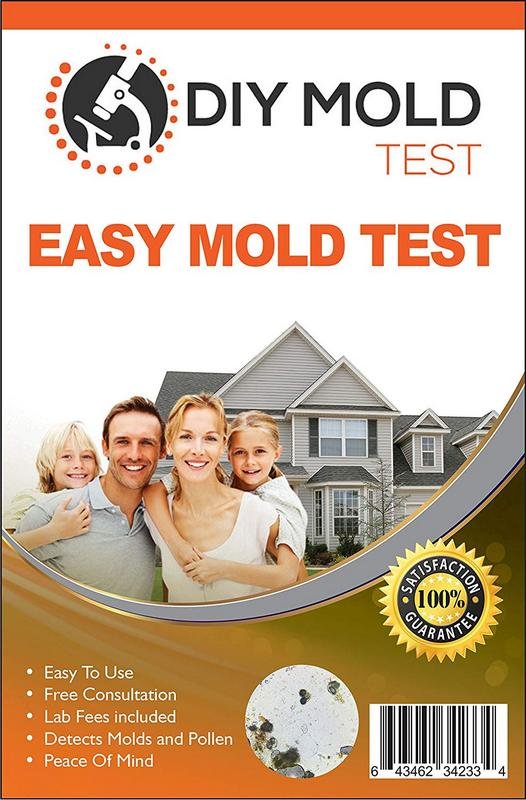 "This mold test kit is the most comprehensive surface tests we have seen, being capable of testing not one, not two, but all types of molds."
The reason why we think this is the best overall mold test kit is because it tests for all types of molds, not just one or two. Because of this, it is easier what kind of mold lurks in the corners of your home. It is an inexpensive mold test kit that contain 3 tape lifts to be used for your surface test. Inside the package you will also find a quick start guide to let you know how to get started in testing your home for molds. After getting the samples, simply send them through mail to a reputable lab.
Pros:
It is a very accurate mold test kit. You do need to take samples directly from the mold source. It is not an airborne test kit where you just leave it in a room. We think that works better in detecting what kind of molds infestation you have at home.
It is easy to use. Just get your sample in areas of the house you suspect has an infestation, put it in the mail, send it to the lab and wait for your results.
The turnaround time is quite fast. You get your results in a week or less through email. They also call you, so you don't miss checking out your email. It is also backed by excellent customer service, so if you have problems getting your results or if you want some information on the results explained, you can easily contact them.
"Aside from molds, this mold test kit can also detect pollen."
It's an all-around test kit you want to have in your home to ensure that you have good indoor air quality.
Although it is not as cheap as other mold test kits, this one already includes the lab fees, so that is one less thing to worry about. You only pay to ship the sample back to the lab.
Cons:
If you are from Texas, you might have to pay additional for the laboratory fees. It also doesn't come with a return envelope, so make sure you prepare one before taking samples.
This is a direct contact kit. You have to get to the source and take samples directly from it to send out. It's not the safest way to test for mold because you have to get in contact with it, but there are some detailed instructions in the kit on how you can protect yourself.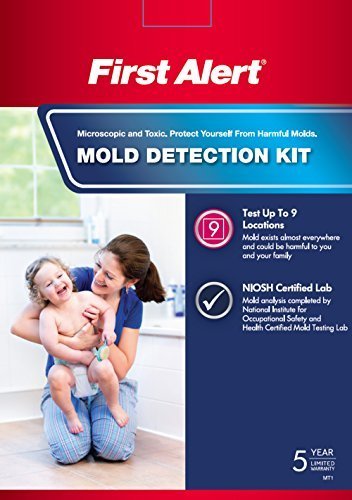 "This is an inexpensive mold test kit that can test more rooms in the house that your average mold test kit, making this a great value for your money."
If you are looking for a cheap test kit that gets the job done, look no further because the First Alert MT1 Mold Detection Kit fits the bill. Included in the kit are the test materials you need to test for 9 locations, a manual and a return envelope. Your samples will be sent to the Cardinal Laboratories, which is located in Beaumont, Texas.
Pros:
This mold test kit is very easy to use. This tests molds issue not just in the parts of your home but also on objects like dishes. If you like to buy vintage ceramics or pottery, you will definitely find this useful.
It tests for airborne molds. We don't relish the idea of getting too close to molds when taking samples, so this feature is definitely good. You just open the container and then leave it in the part of your home you suspect has an infestation. Wait for about 2 days before sending your samples.
"Aside from molds, it can also detect other things in your home such as radon."
The results come in fast. You can get your results in 5 days or less.
Cons:
You will have to pay extra for the laboratory analysis. It's not ideal but it really doesn't cost too much money. The main downside to not having the laboratory costs added to the purchase price is that you have to go to the extra trouble in sending your payment to the lab.
It comes with a solution bottle to encase your swabs but it's quite tiny. It's difficult enough to open it, let alone put something inside it. If you are going to put a Q-tip in it, you have to cut it in half before taking the swabs.
"You might be spending more money on this mold test kit, but since it is reusable, it's actually more cost-effective."
If you have a recurring mold problem in your home and you need a mold test kit that you can use every now and then, this one from My Mold Detective might be a better choice for you. The package includes a reusable air sampling pump. It is like the one used by professionals to test for mold spores, only cheaper. You also get an outside air sample cassette and 3 cassettes for indoor use.
Pros:
It is easy to use and the test is done fast. Unlike the previous one where you will have to leave the mold test kit inside the room for 48 hours, this one is done in as fast as 5 minutes. That means you can send your samples fast.
"The air sampling pump is the most accurate when it comes to getting samples and detecting molds."
It doesn't just test for molds, it also lets you know the levels of molds in each room. It will tell you if you have normal, slightly elevated or elevated levels of mold spores in each room.
You get your results faster than the previous test kits. In less than a week, you already have your results back and in such a detailed and well-explained form, too.
Cons:
It is quite a costly mold test kit. You will also have to spend more money on lab analysis. The cassettes will also cost extra if you have to use the kit again. But although it is more expensive than the previous ones, it is still cheaper than paying for a professional that will use basically the same equipment in testing for molds.
Conclusion
For those looking for a mold test kit that is as close to what the professionals use, get the My Mold Detective MMD103 Mold Test Kit. It provides the most accurate and the most comprehensive results. It's also the most expensive, so if you are not willing to spend that much money, look for something else. But it is the best choice out of the three if you are looking for not just accuracy and concrete results but also for fast testing.
The First Alert MT1 Mold Detection Kit is the least expensive one, perfect for people on a tight budget. It does come with a few caveats such as waiting for days to collect samples and results but it is a fairly good option and does a good job in testing for molds.
The DIY Mold Test Easy Mold Test is somewhere around the middle when it comes to price and performance, so we feel like this is the best choice for those looking for the most value. The results are accurate and you don't have to pay for extra laboratory fees.
How to Find the Best Mold Test Kit
To make a better decision when it comes to choosing the best mold test kit, here are a few factors you should consider:
Accuracy
Whatever type of mold test kit you are using, make sure it gives you the most accurate results. That way, you really know what sort of molds you are dealing with. We find the air sampling pump the most ideal when it comes to accuracy because it really extracts the spores in the air in just a few minutes. The sample isn't contaminated and it also tells you the levels of mold infestation you are dealing with.
Of course, direct swabs and samples are also good, just not as accurate as the air sampling pump ones. They are, however, cheaper, so they are a good alternative to those on a budget.
Ease of Usage
It should be easy to use. The last thing you would want is to grapple with the use of the mold test kit, especially since you are dealing with a potentially toxic substance. You should be able to take samples in just a few minutes. The kit should also be complete. The best mold test kits are the ones that include an envelope that you can send back to the laboratory for testing.
Results
The best mold test kit should test for different types of molds. Stay away from those that can only detect one or two types of mold spores. The more comprehensive the results, the better. Go for a mold test kit that will also tell you the level of mold problem you are dealing with.
Price
Most DIY mold test kits are fairly affordable but there are those such as the air sampling kit that might require additional expenses. You might have to buy the cassettes at extra costs. Look for those that already include the laboratory fee in the purchase price for convenience.
Frequently Asked Questions About Mold Testing
Here are a few frequently asked questions about DIY mold testing you should know:
Can You Test for Black Mold Yourself?
As you probably know, black mold is highly toxic and dangerous. You can use DIY mold testing kits to black mold kits. Just make sure you protect yourself from the spores. Wear protective gear such as goggles, mask and gloves when taking samples.
"Best use an air sampling mold test kit rather than the ones that require you to take direct samples (1)."
Can You Test the Air for Mold?
Yes, you can. You can use 3 different methods for air testing. First, you can leave the sample dish in the area where you suspect there is molds and leave it there for hours. Second, you can use the AC or heating mold sampling tests. This collects samples from your HVAC units. Third, get the sample directly from the growing mold.
How Can You Tell If Mold is Toxic?
Some molds are benign. There is no way to accurately tell but to send the samples to a laboratory. That might already be included in the purchase price of the mold test kit. The laboratory will test the sample you send out and then send back the results via email. The results will tell you what kind of mold you have and how high the levels of infestation are.
What's Next?
One way to battle mold growth is to use a dehumidifier. Visit our homepage to find out which of the dehumidifiers out there are the best ones when it comes to your personal needs.