You don't have to suffer through the humid and hot summer season. Air conditioners are there to make summers a lot more bearable. You and your family can live in comfort inside your home even when temperatures are scorching outside.
But when you go out there to find air conditioners, you might be surprised at the various choices you have. They come in different types and sizes. The features integrated in modern air conditioners also run the gamut. It all boils down to choosing the one that is right for the size of your home and has the features that will make life a lot more comfortable and more convenient.
Do check out the various types of air conditioners you can find today and which of the products out there are your best options:
Smart/Wifi air conditioners are the solutions to many of our air conditioning woes. As you probably know, air conditioners use up a lot of energy like most appliances that generate heat and cold air. The smart features of these types of air conditioners reduce energy wastes by detecting when colder temperatures are needed when you need them. They have programmable functions that you can use to customize the functions of the air conditioner to your preferred setting.
Since you can connect these air conditioners to your wifi network, you can access them no matter where you are. If you forget to turn off your air conditioner, for instance, you can access it through a phone application, so even if you are not physically present, you can still access your unit.
These remote features also make it easier to maximize the use of your air conditioning unit. For instance, if you want to come home to an already cool house, you can program the air conditioner to start working a few minutes before you arrive.
Some smart/wifi air conditioners also allow you to check your energy consumption, so you can determine how much you will pay at the end of the month and also figure out ways to conserve energy.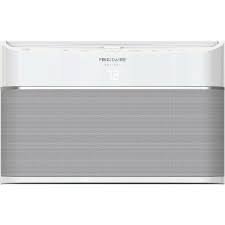 We like this air conditioner because it is easy and convenient to use. It makes controlling indoor temperature a cinch, thanks to its smart and wifi features. Compatible with Google Assistant or Amazon Alexa, this air conditioner makes way for seamless and effortless remote access.
With its 10,000 BTU size, this smart air conditioner can effectively cool down spaces as large as 450 square feet. Its smart functions also make it easier to maintain it, giving alerts such as clean filter indicators when needed. It also doesn't hurt that it looks nice and has a modern and sleek design you can easily showcase in your home. All in all, this is an air conditioner that is worth spending extra money on because of the many convenient features it comes with.
New ductless air conditioner systems are the solutions to homes that do not have central HVAC air conditioning. These air conditioning units can be installed only in rooms that need them without the need to install a duct in the room.
There are many benefits to this kind of set-up including cheaper installation costs. With ductless air conditioners, there is no longer a need to spend money on expensive ductwork installation. Maintenance is also easier as you don't have to worry about dirt accumulating in the ducts.
This type of system also boasts of more efficiency. There is no long ductwork for cold air to traverse, which prevents air loss. Cold air only travels a short distance, so you don't have to wait for a long time for your room to be sufficiently cooled down in the summer season.
It is also a more efficient system because it only delivers cold air to the rooms that need it. Unlike with a central air conditioning where the air travels to different rooms where the vents are open, this type of system is less costly to run. With central air conditioning, if you forget to close the vent in a room, cold air will still be distributed there even when it isn't needed. But with a ductless air conditioner, cold air is delivered only in rooms that need it.
We like this inverter-type ductless air conditioning system best because it is efficient and versatile. It is both a heating and a cooling system thereby saving you a lot of money in having to buy these appliances separately.
You will be hard-pressed to find a more feature-packed air conditioning unit, with this one boasting of modern features such as an independent dehumidifying function, sleep mode, auto protection system, auto defrost and auto cleaning functions, different speed setting and 2-way drain connection function.
Its smart functions are all integrated in a package that is resistant to wear and tear. The cabinet is resistant to corrosion and the parts are under a 2-year warranty.
Another reason why we think this is your best choice is because it works quietly. There is no annoying hum that will disrupt your sleep in the middle of the night, which tends to happen in some ductless air conditioning units.
Window type air conditioners are under ductless air conditioners. What makes these types of air conditioners such a great option for homeowners is their economical price and their small size. They can be easily integrated in homes that do not have central heating or cooling systems.
This is typically a better option for apartments and offices but should also serve homeowners well in areas of their home not typically reached by their central air conditioning system. If you have a new room that does not have a ductwork, go for this one. It can be installed in a work area such as the garage.
We have a comprehensive guide that will show you different types of window air conditioners out there and what they can offer you. When buying these air conditioners, go beyond what they can offer in terms of features and pay more attention to the size of air conditioner you are buying. A window air conditioner that is too big and too powerful for the size of your home can cause short-cycling and inefficiency. One that is too small for the size of space you have can make it more difficult for the unit to keep the home cool.
This is our top pick because it is highly efficient. It is the perfect choice for small to medium-sized homes and can quickly cool down a space, so homeowners don't have to wait for a long time to cool down the temperature of their room.
The accuracy of its thermostat also makes it a better choice compared to others. It is located in the remote control rather than in the actual AC body like most air conditioners out there. As a result, it is capable of more accurately determining indoor temperature compared to thermostats that are located near the window, when the external temperatures might mess up its ability to perceive indoor temperature accurately.
Design-wise, you will not have an issue with this unit. It looks modern and stylish, so it should blend in nicely with your other appliances.
Cool down individual rooms in your house with the help of through-the-wall air conditioners. Like what their name suggests, these air conditioners are installed through your wall. No ductwork is needed. It cools down the room that it is in, so you can install it in the bedroom, living room or any other room that does not have central air conditioning. Compared to central air conditioning, it is much easier to install.
Unlike freestanding cooling appliances, through-the-wall air conditioners do not take up a lot of space. These can be integrated even in small spaces and can also be hidden when not in use to maintain the aesthetics of your space. They come in different sizes, allowing you to utilize the size that fits in the space you intended for it.
Professional installation is needed for these air conditioning units because a hole has to be cut through the wall to make room for it. One part of it exhausts heat outside the wall while another part is needed to cool down the space.
You can now find a lot of features integrated in these through-the-wall air conditioners. Compare efficiency and features, to get one that is the right fit for your home.
We like this air conditioner because it effortlessly cools down bigger rooms. We think this is a great fit for open space designs. With its powerful air flow, you can cool down a room without having to wait for a long time. That is because it has excellent air circulating technology. It instantly provides the relief that most people look for.
Another reason to like this air conditioner is the fact that it performs economically. Even when it is designed for bigger spaces, it doesn't consume a lot of energy. You can keep your home comfortably cool without spending so much money. Best of all, it operates inconspicuously, so you can go about your day without being disturbed by its low humming noise.
It also boasts of a more accurate temperature measurement, since the thermostat is integrated in its remote rather than near the window, which is the case with many other window type air conditioners. Because it takes more accurate temperature measurements, it is capable of accurately detecting when the temperature set has already been achieved.
If your home has a casement window that opens sideways or swings out to one side, you need casement air conditioner. This type of air conditioner is designed for such a window type. They are similar in design to regular window type air conditioners but they tend to be thinner and taller. This is the solution to those old casement type windows that many homes have.
There are a lot of good and efficient casement air conditioners out there. Our guide will help you find the ones that suit the size of space you have. You can still enjoy the modern features found in other types of air conditioners such as LED display and programmable settings. Like all other air conditioners, it is also important to assess how powerful you want your casement air conditioner to be. Since they come in different BTUs, you would want to get the one designed to work in the space you have.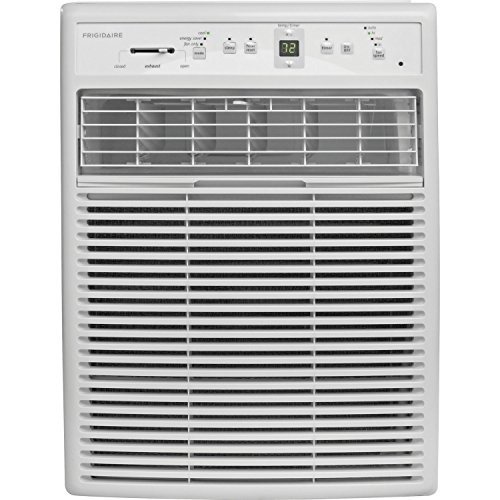 We like this casement air conditioner the best because it isn't just affordable, it is also high-performing and attractive. Its modern design works well with other appliances in the room. It won't be an eyesore in your room, for sure.
Its cooling capacity is more suitable for medium to large spaces. In fact, it is powerful enough to cool down rooms as big as 450 square meters. This unit also boasts of a dehumidifying function. If you live in an area where the humidity is a constant problem, this should be a good option.
We also like how quickly it cools down a room. That is because it has the ability to circulate air effectively, so even if you don't set it to its highest setting, it is still reliable in cooling down a space. It also allows users to program their preferred settings, making this a great choice for individuals and families alike.
Maintenance is easy with this air conditioner. Simply slide out the mesh filter and wash it. You don't have to keep on buying a filter.
What's Next? 
Need more help finding the right air conditioner to install in your home in time for the summer season? Go to our home page and check out the best reviews and recommendations for climate control !