Are you on the market for a new window fan? If so, you've definitely come to the right place. After hours of thorough research on what the market has to offer, we've selected the 5 best window fans that you can buy! Below you'll find our extensive guide that will help you choose the right window fan for your home, as well as a few tips to help out along the way.
So, which one of these 5 best window fans is the best choice for your home? Keep on reading to find out.
Best Window Fan Reviews
1. Lasko 2138 8-Inch Electrically Reversible Twin Window Fan
The Lasko 2138 electrically reversible twin window fan is a versatile and durable fan with two independent motors. It's designed to fit windows that are 25-inches to 35-inches wide, and 12 or more inches high. You can use it vertically or horizontally and it works equally well both ways.
With its independently controlled motors and its convenience of use, the Lasko 2138 is one of the best window fans available.
Let's check out some of its best characteristics to see what makes this window fan our number one top pick:
Pros:
The Lasko 2138 can operate in three different ways:
– Intake: cool air goes in;
– Exhaust: stale air goes out;
– Exchange: both fans work independently, one on intake mode, one on the exhaust.
According to most users, this particular window fan is great for nighttime use as it has an automated on/off switch that turns the fan on/off depending on the room temperature. It's also very quiet and you can easily adjust its speed, which allows you to customize your preferred cooling speed to your needs.
The Lasko 2138 is made out of high-density plastic and it's quite durable. It comes fully assembled and ready for window and table top use as well.
It has expander panels and a fixed grill to maximize its safety, which most users really appreciate.
Cons:
It's a bit difficult to clean and doesn't come with any type of sealing.
2. Comfort Zone CZ310R 9″ Reversible Deluxe Window Fan with Remote Control White
If you're looking for an affordable, yet durable window fan then look no further than this model.
The Comfort Zone CZ310R is easy to use, ergonomically designed and suitable for most windows. It has locking accordion expanders on the sides, and can easily and securely fit 23.5-37-inch wide windows.
Let's take a look at some of its other characteristics to see if it's the right fit for you.
Pros:
The Comfort Zone CZ310R is a three-speed twin window with a remote control which allows you to control fan speed, fan power, fan function, and fan direction on demand.
It has three different settings, exhaust, cool, and circulate, which you can control using your remote control or the push button controls on the fan. It also has three different speeds that you can choose, depending on your preference. This makes the Comfort Zone CZ310R one of the most versatile window fans in its price range.
This Comfort Zone CZ310R is made out of durable plastic, poly fan blades for maximum air movement and a rust resistant construction.
This particular model can be used both as a window fan and can also be set for table top use, thanks to its removable feet.
What's particularly great about this model is that it comes with both a removable cover and removable bug screen. You can use the removable cover to keep the hot air out when you're not using your fan, and the bug screen to keep out debris and bugs.
Cons:
It's not very quiet.
3. Bionaire BW2300-N Twin Reversible Airflow Window Fan with Remote Control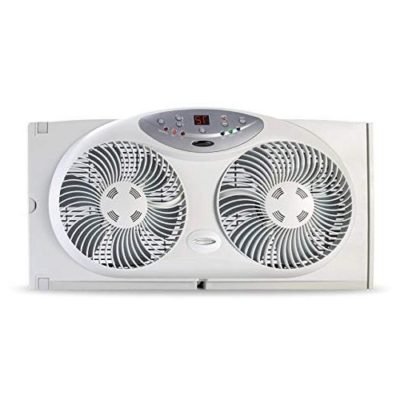 The Bionaire BW2300-N is a twin reversible airflow window fan with great quality and a simple design that goes great with every room.
What's also great about this model is that it comes at an accessible price, for such a high quality, durable product.
Pros:
It's not just the simple design and good quality that make this window fan so appealing and popular.
The Bionaire BW2300-N has two independently controlled 8.5" blades that can operate in three different modes, including: regular mode, exhaust mode and circulation mode.
The fan is quite easy to use, thanks to its LED screen control panel and remote control, which allow you to set and adjust various settings according to your preferences.
The fan comes with an adjustable digital thermostat which allows you to control your room temperature between 60 and 80 °F. Once the temperature is reached the fan turns itself off.
It also has water resistant motors which means that you can safely use it during rainy days as well.
The fan also comes with adjustable extension panels which allow it to securely fit in window openings of between 24.25 to 34 inches, with a depth of 4.25 inches and a minimum height of 12 inches. The fan is designed to fit casement, vertical and double-hung windows.
It has two 9-inch blades that are made to draw in fresh air, exhaust hot, stale air out or do a full room circulation.
Although all of these features are quite impressive, the most important feature of the fan is that it uses up less than 88% of the energy an air conditioner would use, which makes it quite cost-effective.
Cons:
It can start making significant noise after prolonged use.
4. Genesis 9-inch Dual Blades Reversible AirFlow Fan with Adjustable Thermostat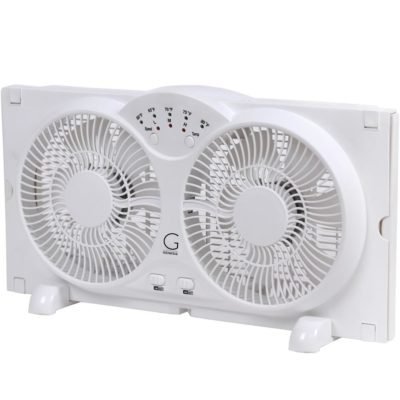 Although not as powerful as the Bionaire BW2300-N, the Genesis twin window fan can still be used to effectively cool down small to medium spaces.
This fan is electronically reversible. It's really quiet and comes in a simple and efficient design, suitable for any room of the house.
Let's see what else makes this fan a popular choice among first time users as well as return buyers.
Pros:
It's quite easy to set up and can fit up to 37" wide windows.
Same as the previous model we reviewed, it has 3 different speed settings, LED screen indicators and a thermostat you can easily adjust. Once you adjust your thermostat it will automatically turn the fan on/off to maintain your desired temperature and comfort level. You can control the temperature of the room between 60 and 80 °F.
This model can be used as a window fan, but it's also suitable for table-top use.
The Genesis twin window fan can help you cut down on your power bills, without sacrificing your comfort.
It has two 9-inch fans with durable copper motors for more durability and endurance.
The fan is super convenient and easy to use. It doesn't take up too much space and is easily portable, thanks to its built-in carrying handle. You can install it into your window or use it as a freestanding model, either way, you'll be satisfied with its performance.
Cons:
Although it's quieter than some of the previous models, some have said that it can sometimes produce a loud humming noise, which can be annoying.
Conclusion
We think the best option is the Bionaire BW2300-N Twin Reversible Airflow Window Fan. It might have a simple and streamlined design, but it is chock-full of features that will truly make your home more comfortable. Aside from the fact that it comes with different modes, this fan also has a thermostat that allows you to completely program the settings you want. The LED screen control panel makes it easier to operate. Its water-proof functionality also ensures you will be able to use this for a long time.
Buying Guide – Some Factors to Consider
To make sure that you are making a good buying decision, it is important that you take the following factors into consideration when buying:
Size. Of course, it makes sense to measure your windows first before buying. You don't want to end up buying one that is too big for the size of your windows. For those with longer or bigger windows, t is advisable to choose twin window fans. This is usually a better fit for these types of windows, so you are not left with unsightly gaps where air from the outside can still get inside. That can reduce the efficiency of your home. These small gaps may even allow critters and pests to get in your home.
Additionally, the size of the window fan should be directly proportional to the size of the room you have. It is a lot like buying air conditioning units. If you want it to effectively cool down the room, you would want to find one that is big enough to accommodate the size of your space.
Take the measurements needed before buying to make sure you are getting the right specifications.
Type. Another factor to consider is type. You have two basic options when it comes to window type fan and these are exhaust and intake. With the intake type of window fan, it pulls cold air from the outside and draws them to the inside of the house in order to cool it down during the summer. With the exhaust type, it removes the hot air from the inside and pushes them outside. Experts suggest getting both. You can use the intake fan at night and use the exhaust fan during the day.
Make. Who made the window fan? That will tell you a lot about its durability and safety. If it is made by a recognizable company, you can easily do your research and determine whether they create window fans with the best quality. Find out if there have been issues with their window fans before, especially when it comes to the safety of the blades.
Also make sure you get a window fan from a reputable company that has good customer service. That way, if you encounter problems with your window fan, you can talk to their customer service representative.
Noise. Some window fans have specifications when it comes to how much noise they emit. Check if there is such information in the product you are buying. The lower the decibel, the quieter it is.
What's Next
We can help you find more products to improve the temperature and air quality inside your home. If you want to find the best fans for every room in your home, be sure to read our general buying guide!