Cough can be a troublesome illness. It is embarrassing in public and can disrupt your sleep at night. When not treated early, cough can lead to even worse respiratory illnesses such as pneumonia or bronchitis.
Many people turn to over-the-counter medications for cough. But there are actually natural remedies that you can use to speed up your healing process without worrying about side effects. Children, especially, might benefit more from natural treatments. You can also find remedies that help increase your comfort, especially while sleeping.
One such remedy you can use is steaming through a humidifier. Go get yourself a humidifier for cough. This can help immensely when it comes to relieving the pressure from your chest and reducing the itchiness in your throat.
A humidifier may also make the environment less conducive for growth. That means they won't be able to survive for a long time in the air or on surfaces. It also enhances comfort, which will then lead to better sleep at night.
This article will help you find a good humidifier that will work for your specific needs. We checked out the best-rated ones out there and found those that are truly effective when it comes to producing steam that can provide relief.
How to Maximize the Use of a Humidifier to Alleviate Cough
A humidifier is just a tool. How you utilize it still plays a big role when it comes to producing the results you are looking for. Here are some of the things you should know in order to maximize your usage of a humidifier for cough:
1. Decide whether to use warm or cool mist.
Most humidifiers for cough today come with both a warm or a cool mist function. There really isn't a lot of difference to the efficacy of the temperature of the mist but there are those who might find warm mist a lot more comforting for them. However, when putting the humidifier in a child's room, it is better to set it to cool mist function in order to avoid accidents. If you set it to warm mist, the water will still be heated up to produce the steam you need. Your child could accidentally knock the humidifier over and spill the hot water.
When using a warm mist in a child's room, make sure you place it in an area where your child won't be able to easily reach it and knock it over.
2. Always clean your humidifier.
Keep in mind that molds and fungi like to grow in a moist environment. The water tank is a nice breeding ground for microorganisms. It defeats the purpose of using a humidifier to relieve the airways when you are also delivering harmful microorganisms into the air you are breathing. Empty the water tank when not in use and wipe it clean. Rinse all areas exposed to the water with a disinfectant or use a hand-held UV sterilizer to get rid of the microorganisms in them.
3. Make use of clean water.
Always use distilled water instead of tap water. Tap water can contain microorganisms, minerals, chemicals and hard metals that can be dangerous.
4. Still check indoor humidity levels.
Too much humidity in the air can encourage the growth of molds and mildew indoor. Still make sure there is enough ventilation in the room in order to avoid condensation. A hygrometer can be also be used to check indoor humidity level.
Best Humidifier for Cough Reviews
After checking out what the market has to offer, here are the humidifiers we find the best ones:
Here are the reasons why these products are the best:

1. TaoTronics Ultrasonic Humidifier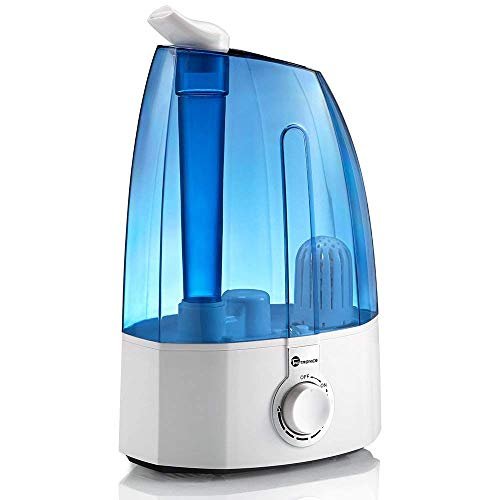 Keep you or your child's room healthy and comfortable during a bout of cough or cold with this humidifier that delivers clean mist without producing too much noise. It operates only at 38 dB noise level, which is the same as a library noise. It features double 360 degrees rotatable mist outlets, which expels mist in two different directions, thereby allowing you to make a bigger room more comfortable faster. It has a big 3.5L water tank capacity that ensures continuous production of mist by as long as 10 hours. It also has a smart low water protection feature that detects when there isn't enough water and then automatically shuts it off.
Pros:
Very affordable humidifier.
It has a large tank capacity that will allow it to produce mist continuously overnight.
It comes with a ceramic filter that gets rid of the microorganisms in the water. This ensures that it will not expel harmful particles and microorganisms into the air you are breathing.
The twin nozzles expel mist in two different directions, making this a great option for a bigger room.
It operates quietly. It won't intrude in your sleep.
It comes with additional accessories such as a cleaning brush.
The dial helps you control how much mist will be expelled.
Comes with a 12-month warranty.
It is easy to use. It comes with a manual that will help you learn how to operate it.
Cons:
Some said they didn't like that the top is not flat. This makes it trickier to refill it with water.
2. PurSteam World's Best Steamers Cool Mist Humidifier Night Light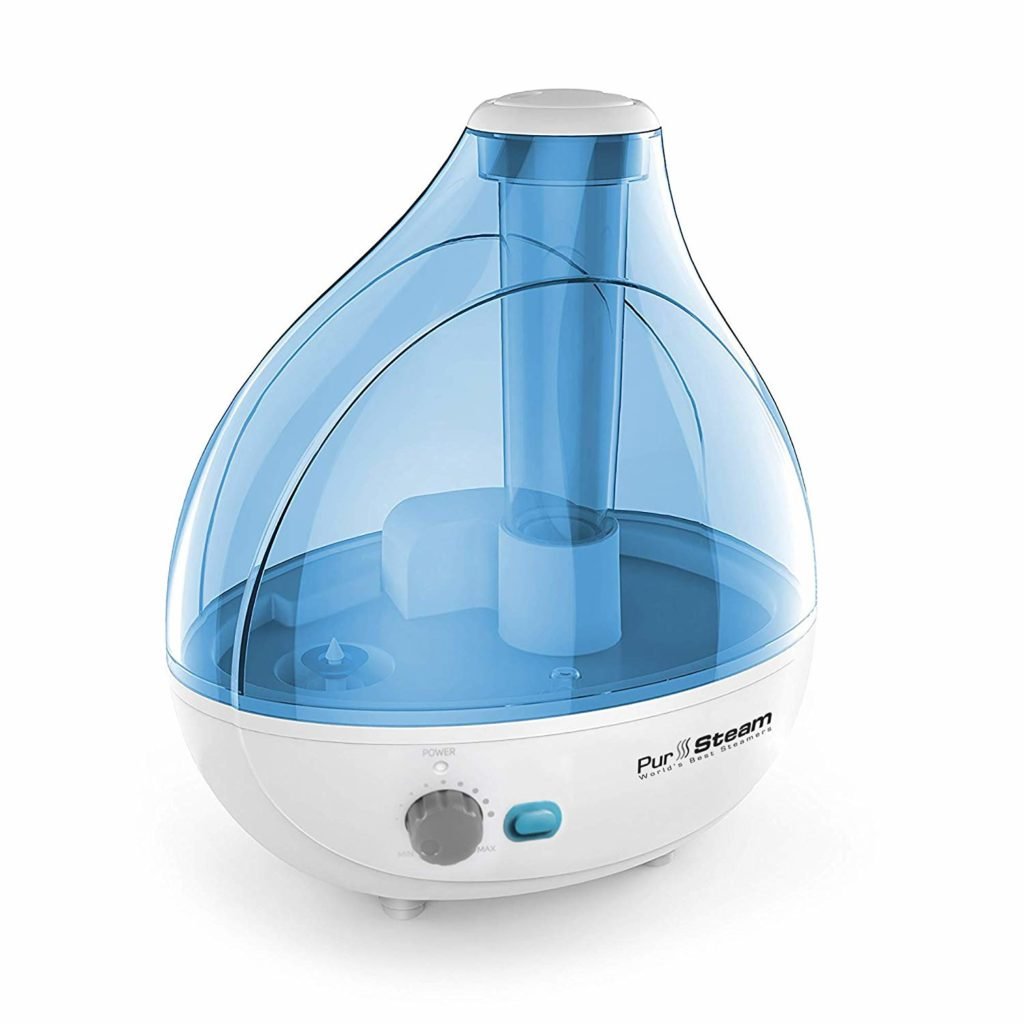 Don't break the bank trying to get the best humidifier for cough. This affordable choice is just as great as the more expensive ones with its 2.2 Liter water tank that work continuously for up to 17 hours. You can get the best and the most restful sleep with this humidifier. It has a front knob that is very easy to control. It lets you set how powerful the mist is going to be. Safety features include an automatic shut-off function and water level indicator. This ensures that it will not run when there is no water in the tank.
Pros:
One of the cheapest humidifiers out there.
It has a long run time of 17 hours and a big tank capacity of 2.2 liters.
It comes with a night light, great for using it in children's rooms.
It runs quietly.
Some even said they did not snore quite as much with this humidifier.
Comes with a good customer service. There were customers who had issues with it after a few months of use and they got a full refund.
Cons:
Some said the water tank does not snap securely to the base. That might increase its chances of getting knocked over.
3. Levoit Humidifier Warm and Cool Mist Ultrasonic Humidifiers
Click for price
This is a high-end humidifier that alleviates clogged nose, dry skin and itchy throat. It is one of the best when it comes to expelling mist. It has a 450ml/hour of mist output that also features 360 degrees dual nozzles to effectively expel mist in different directions. What makes this a cut above the rest is its RH or Relative Humidity Indicator that checks how high the humidity levels in the room already is. It also features Ambient Temperature that allows you to check whether the room already has conducive temperature and humidity.
Pros:
The large 1.45 gallons of tank capacity will make sure you get up to 36 hours of continuous run time when using mist level 1.
It has a big coverage. It delivers mist faster than others out there.
It even has a humidity indicator as well as ambient temperature indicator not found in other humidifiers. You can set your preferred humidity level.
The touch control panel makes this so easy to use. It even features a remote access.
Choose from 5 different settings – from cool to warm.
It comes with a timer.
This humidifier works quietly.
It works as an aroma diffuser as well. Just make sure of the aroma pads that come with it.
It is easy to clean.
Comes with a 1-year buyer assurance.
Cons:
4. Vicks Warm Mist Humidifier
Being an easily recognizable brand name, you can set your worries to rest knowing that this humidifier will serve you well. It features a 1-gallon tank that is capable of expelling mist for as long as 24 hours. It also promises to dispel mist that is 95% free from all kinds of bacteria. It has 2 output settings. It also comes with a medicine cup.
Pros:
This humidifier has a big capacity. It can work continuously for as long as 12 hours.
It has an automatic shut-off function.
Can be used with Vicks Vaposteam to create a medicated vapor.
This has a night light function.
It comes with 2 comfort settings.
It is easy to refill with water.
It has a warm mist function that makes the room warmer.
Cons:
Some said this is noisier than others.
Which One Should You Get?
Quiet Functions: TaoTronics Ultrasonic Humidifier. This humidifier is what you should look for if you want something that will run continuously without disrupting your sleep. It does a great job in filling up the air with healthy mist because of its twin nozzle function.
Most Affordable: PurSteam World's Best Steamers Cool Mist Humidifier Night Light. If you don't fancy spending too much money on something that you might only use occasionally, get this one instead. It is affordable but it will still give you many of the features you can find in more expensive humidifiers.
Best Features: Levoit Humidifier Warm and Cool Mist Ultrasonic Humidifiers. If you want to truly make a change to the air quality in your home, get this one. It is more expensive, but it is chock-full of advanced and convenient features you can't find in other less expensive humidifiers.
Ideal for Medicated Vapor: Vicks Warm Mist Humidifier. If you want to take it up a notch and use a medicated vapor, get this one. It can be used with Vicks Vapor products.
Tips in Buying the Best Humidifier for Cough
Before making a decision which humidifier to get, here are the buying tips you need to keep in mind first:
1. Check the water tank capacity.
The bigger the capacity, the longer it will produce steam and the less you will have to replenish it with water. If you plan on using it for the entire night, it is more ideal to get one with a bigger water tank. However, if you only need to use it for a couple of hours, one with a smaller tank should suffice.
2. Make sure you can control its steam output.
There are days when you might need a stronger output of steam while there are also days when a smaller steam output is just enough. Go for a humidifier that allows you to control how strong the steam is.
3. It should be easy to clean.
Some humidifiers come with a cleaning ball. This additional tool can get rid of the microorganisms and excess water in your humidifier, which can help prolong its life and prevent it from releasing bacteria and viruses into the air.
4. Make sure it is equipped with safety features.
Features such as an automatic shut-off function and a low water indicator are safety features that should be in the humidifier you are going to buy. This brings more peace of mind. In case the water in the tank is gone, it will automatically shut off and not keep on producing steam. A low water indicator will tell you when it is time to refill your humidifier.
5. A 360-degree mist outlet can be an ideal feature.
This is a nifty feature as it will expel mist in different directions in the room, thereby increasing its efficacy. You would want to look for a feature like this, especially if you are placing it in a bigger room.
6. A filter can help keep microorganisms at bay.
If it has a built-in feature, that can be a reassurance that it will keep microorganisms away. That way, the humidifier can produce steam without worrying that the steam comes with harmful bacteria and viruses.
If you keep these tips in mind, you should be able to find a humidifier that will truly work for your needs.
What to Do Next?
If you're not sure whether one of these models is the best choice for your home, no worries! Make sure you learn more about the different humidifiers out there. Check out  our top humidifier reviews for the best models in all categories.