Dehumidifiers are absolute lifesavers for a lot of people. Whether it's reducing moisture and mold in the bathroom or keeping the oppressive humidity at bay during the summers, they're an essential part of keeping many homes healthy and comfy. However, they take up an awful lot of space. It's hard to find a way to fit a bulky dehumidifier in the bathroom in the first place, so you can see why so many folks go without. The best small dehumidifiers give you powerful performance in a compact package, so you can defeat your moisture problems without taking up all your living space.
In this guide, we'll introduce you to our favorite small dehumidifiers for dealing with tight living spaces. We've chosen a few different options to suit rooms of various sizes, but even the model we've recommended for large rooms is still going to save you quite a bit of space over the competition!
Best Small Dehumidifier Reviews
Ivation 11-Pint Small Area Compressor Dehumidifier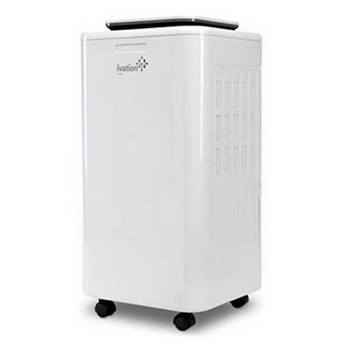 Click for Price
It's seriously compact but can still compete with the big boys for performance.
This Ivation 11-pint model is currently the smallest dehumidifier we recommend, period! It's seriously compact but can still compete with the big boys for performance. As long as you don't expect it to do more than it's rated to do, you'll love it!
You can use it for rooms as large as ~200 square feet. We don't suggest pushing it to its limits, especially because it's only rated for 11 pints of moisture removal at that scale. Still, it's more than enough to handle a typical bathroom or a walk-in closet where moisture is an issue. We also suggest it for something like a guest bedroom, laundry room, or crawl-space.
At 19.5″ x 10″ x 9.5″, it's compact enough to fit anywhere you need moisture control but are super tight for space. We're especially impressed by how reliable this thing is! For a company that haven't been making dehumidifiers nearly as long as Danby or Honeywell, Ivation have created a stellar little workhouse in this model!
Pros:
For something that actually has considerable power, it does a great job in dehumidifying a space without the noise. We find that we can run it day in and day out and put it in a corner and not notice it running. The heat it lets out is barely noticeable, so even in small spaces, it's not very obtrusive.
It has a solid build and performs well even in more demanding households. In fact, you can use this everyday for a year and it will still run in peak performance. It's a very reliable compact dehumidifier that you will find reliable even after many years.
The Smart Touch Operation is seamless and user-friendly.
Everything you need to know about its settings is found on the display. With just a touch or two, you can set the humidity levels to your preferences and its smart system will regulate it for you.
Cons:
As expected from a basic dehumidifier, it doesn't have a lot of cool features. We wish the humidistat function is a bit more accurate.
This might not be the most ideal choice for rooms where there are babies and children. The built-in air purifier makes use of UV light and ionizer, which is not recommended for our young ones.
Danby DDR030BDWDB Energy Star 30-Pint Dehumidifier
 Click for Price
It's an affordable, efficient little unit that's easy to fit in basements, bedrooms, dens, and any other smaller spaces larger than the Ivation is rated to handle.
Our compact recommendation to the average buyer is this Danby DDR-series dehumidifier. It's an affordable, efficient little unit that's easy to fit in basements, bedrooms, dens, and any other smaller spaces larger than the Ivation is rated to handle. We still wouldn't use it for medium-sized spaces, but this is a more industrial solution for small spaces.
It's not all that much larger than the Ivation but it can remove nearly 3x the water in the same time period. Compared to other small, 30-pint models of the same price, it's both more compact and more reliable. Plus, it's not underpowered like the competition!
Pros:
We like the overall minimalist look of this dehumidifier. It is small enough to fit in corners and odd spaces but powerful enough to dehumidify spaces as large as 1,500 square feet.
The humidistat for this dehumidifier is spot-on. You will hardly notice it working as well, so quietly does it work in a corner.
It has an internal mechanism that protects it from electrical damages.
If there is an interruption with its electrical flow and then electricity comes on, its power failure protection feature prevents the internal mechanism from getting fried up.
This small dehumidifier is quite reliable for its size. It does a great job dehumidifying even relatively bigger rooms like basements.
Cons:
It's just a small caveat but the back color is not the same as the front, which detracts from the overall aesthetic of the dehumidifier.
If you are using the bucket and not having it continuously drained, it can be tedious to remove the bucket. It's not the easiest and the most fuss-free collection system. You might end up spilling some water in the process of removing the bucket.
Danby Arctic Aire ADR30B1G 30-Pint Dehumidifier
 Click for Price
We're recommending both models.
The Danby Arctic Aire is our recommendation to those who want a compact solution for larger spaces. There are actually two different versions of the Arctic Aire available–one is a 30-pint model, and one is a heftier 70-pint model that's the most compact we've found to handle larger living spaces. We're recommending both models.
The 30-pint is a more reliable alternative to the DDR-series for smaller spaces, and the 70-pint model is the best space-saving solution for medium-sized and larger spaces. Both are efficient, effective, and also refreshingly quiet.
Pros:
We like that we can use it in the winter as well unlike other dehumidifiers out there. It has an auto de-icer system that prevents ice from building up on the coils, which is what often happens with dehumidifiers in basements in the winter season.
It has more safety and protection features such as the two-temperature function that enables the operation of the continuous use of the dehumidifier even until it reaches 5 degrees Celsius or 41 degrees Fahrenheit. It also has 15-ampere fuse protection.
This unit is quite durable.
A year or so later, it still works like new. And even when used in more demanding spaces like big basements it is still fairly reliable and doesn't break down easily.
We like how easy it is to use. There are no complicated buttons and initial setup that you need to do first.
Cons:
It does take some time to dehumidify your space. You might have to wait for a day or two until you can actually feel the difference. Compared to the others, this is also noisier. It also tends to blow out more warm air compared to the previous ones.
The humidity readings are not always accurate, which is why you might need to get a separate reader just to check.
Conclusion
Which of these small dehumidifiers should you buy for your home?
The Ivation is the obvious choice for the smallest spaces. It's not something you should push beyond its limits or use for standard-size rooms, but it's an absolute champ in tight spots like bathrooms, closets, etc.
The Danby DDR-series is the better choice for standard-sized rooms and other smaller living spaces. It's compact without compromising on performance or reliability. We recommend it to the average buyer looking for a small, high-quality dehumidifier. However, you really can't push the space ratings. You should choose the Arctic Aire 70-pint model below for any medium-sized and larger spaces.
If you want a compact model to handle a large amount of space, the Arctic Aire 70-pint model is the obvious choice. It's smaller than most other 70-pint models and still performs just as well. The 30-pint model is also slightly larger than the Danby DDR-series, but it's quieter and more reliable, so we recommend this one to anyone who can afford the difference in price.
The Danby DDR is the best small dehumidifier. For the average buyer it's strong performance and affordable price tag make it our top choice.
Buying Guide
Know Your Power Requirements
While it's tempting to simply buy the most compact and quiet dehumidifier you can find, you should never make any buying decisions without first establishing how much power you need from your new appliance. How many square feet do you need to dehumidify? How severe is your moisture problem? Choose the most compact option that can handle your space, not the smallest option period [1]!
Choose the most compact option that can handle your space, not the smallest option period!
Choose Extended Warranty Coverage
Dehumidifiers of any size are far from reliable appliances. They don't tend to have very long working lives, and while the pricier options may last a bit longer, the truth is they're not usually any better made than the budget offerings. That's why we always recommend opting for an extended warranty policy from a third-party provider, such as Square Trade. That way, no matter what happens, you're protected for a reasonable amount of time. You'll also have the added benefit of dealing with the warranty provider rather than the manufacturer. These manufacturers can be extremely frustrating to interact with, so it's hard to overstate how nice it is to just make a Square Trade claim and avoid the ordeal.
You'll also have the added benefit of dealing with the warranty provider rather than the manufacturer.
Check The Dimensions
We're confident that the models we've recommended in this guide are the smallest options that genuinely work well. However, if you're going off-piste and considering other options, make sure you check dimensions carefully! Not every appliance that's marketed as compact actually is [2]. If you're searching specifically for a small dehumidifier, chances are you have a set amount of space to devote to your new appliance. Check the measurements on any model you consider so you can be sure it'll suit your needs!
Not every appliance that's marketed as compact actually is.
Frequently Asked Questions About Small Dehumidifiers
Here are more things that you need to know about small dehumidifiers:
Should a Dehumidifier Be Upstairs or Downstairs?
A dehumidifier should be placed in your required space. If you need to dehumidify your basement, you should place it in the basement. If you need to dehumidify an upstairs bedroom, you can place it upstairs. The important thing is that it is placed in an area where it will effectively remove excess moisture. If you need to dehumidify rooms upstairs and downstairs, you should get multiple dehumidifiers. There are also whole-house dehumidifiers that are big and powerful enough to dehumidify an entire house.
Should a Dehumidifier Run All The Time?
You should run your dehumidifier all the time if there are persistent and continuous humidity problems in your home. Basements, for instance, require constant dehumidification because it tends to collect a lot of excess moisture. The same is true for high-moisture places like bathrooms and kitchens. However, it still depends on your needs. There may be days of the year or specific seasons when the humidity levels aren't so bad. It's a good idea to always check the humidity of your home to know when you should run your dehumidifier. Some dehumidifiers are also designed to automatically shut off once they already reached set humidity and run again when needed.
How Quickly Does a Dehumidifier Work?
How quickly a dehumidifier works depends on its rating. A 40-pint dehumidifier should be capable of removing 40 pints of excess moisture in the air in a day. You should start seeing and feeling a difference in just a day. However, it is still important to use the right size and capacity of a dehumidifier. For instance, a smaller dehumidifier might not work that well in a big basement or crawl space. You still need to take size into consideration for you to be able to experience the real benefits of having a dehumidifier in your home.
What's Next
Hopefully, you've seen one or two compact dehumidifiers that could suit your needs. You can find out more about any of the models recommended above by clicking on the links in our reviews. Or, see all the best dehumidifers to find even more solutions for your humidity issues!