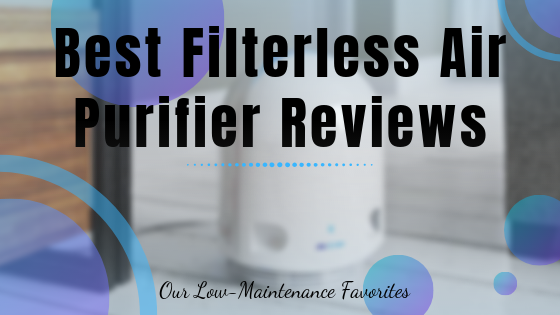 Are you on the lookout for the filterless kind of air purifier? You came to the right place. Here you will find some of the best air purifiers out there that are devoid of cumbersome filters. We chose the best ones that have excellent air purifying systems without sacrificing on durability and price. Find out below which products we recommend getting.
Best Filterless Air Purifier Reviews
Here are the filterless air purifiers you should set your sights on:
Now find out what makes these products a cut above the rest:
1. Airfree P1000 Filterless Air Purifier
If you are going filterless, better choose the technology offered by Airfree. It is the Patented Thermodynamic TSS Technology that makes use of a concept same as boiling water. It uses heat to eliminate harmful microorganisms. When air passes through this unit through its natural air convection system, the unwanted microorganisms will then be exposed to temperature as hot as 400 degrees Fahrenheit. After eradicating the microorganisms, the air will go through a cooling process before being expelled out into the environment.
It works in removing a plethora of microorganisms including mold spores, dust mites, viruses, pollens, bacteria, tobacco, pet dander and many other particulate matters. This particular unit as 450 square feet of capacity even with its 10.4 inches in height and 8.4 inches of diameter. It weighs just 3.5 lbs.
Pros:
This is a compact and portable filterless air purifier that you can place just about anywhere in the room.
The engineering is top-notch. It is a safer way to get rid of contaminants in the air. This technology has also undergone rigorous testing in laboratories all over the world, so you know that it truly works. It works even in the smallest of particulate matters.
It does not emit ozone like many other air purifiers out there. There are no emissions that can be harmful to the environment and to your health. It also does not use UV light and ions. It is safe to use even in children's bedrooms.
You can save a lot of money with this filterless air purifier as there is no need to keep on buying air filters. This one requires virtually no maintenance.
It works quietly as well. In fact, many people are surprised at how low its noise level is.
It comes with an adjustable night light. You can switch it off if you don't want it to disturb your sleep at night. The night light switch is found at the bottom.
It is easy to use. Simply plug it in and it will do the work for you.
The design should fit in modern homes.
Although the technology eliminates microorganisms by exposing them to high heat, this unit doesn't get overly hot. Many people said it is just warm to the touch but not dangerously hot.
It seems to be built to last for a long time as well. Many of those who bought it said they used it everyday for months and it is still going strong.
Cons:
There were those who said they experienced skin dryness with this.
2. The Pure Company Portable Air Purifier
Bring your air purifier with you no matter where you go. Just get this one from The Pure Company. It is compact and portable and weighs just 1.25 lbs. It even comes with a deluxe carrying bag to make this easier to bring with you on your travels.
This air purifier makes use of negative ionization technology. It is basically the same technology that you can find in waterfalls and thunderstorms. It has a 360 degrees air intake. At the bottom of the product is an aromatherapy function. Use your favorite essential oils.
Pros:
This is one of the most compact filterless air purifiers out there. It has 2.5 inches in height and 5 inches in width. It is compact, so you can place it just about anywhere.
The portability so makes this a great choice for traveling. No need to suffer from allergic reactions anymore in your hotel because this will help keep indoor air quality good.
It has whisper quiet operations. The fan makes a low white noise level that is conducive for sleeping.
The carry bag is a nice addition to the package. This is perfect when bringing it along for your travels.
It has an aromatherapy function. This means you can use it as an essential oil diffuser. Make your room smell nice with the help of this air purifier. There were those who said the aromatherapy function is just right – nothing too overpowering.
It is lightweight. With just over a pound in weight, this shouldn't be too difficult to bring with you.
Even with its small size, it still functions fast. You can tell the difference by how well it purifies the air you are breathing.
This product is also affordable.
No need to use tools or replace filters. It doesn't require any kind of maintenance at all. Just wipe the surface clean and you are good to go.
It runs quietly. You barely notice it running even when using it in a small room.
Cons:
This might not work for bigger rooms.
3. Kovoda Air Purifier
This air purifier has one of the most interesting technologies we have seen in a while. What it does is combine negative ion technology with a water drop backflow effect. It isn't just interesting to look at, it also helps in purifying indoor air. Its Magic of Water technology taps into the anti-gravity technology to allow water to be propelled upwards.  It does that through a negative ion technology, so while it does look futuristic, it actually has quite a basic mechanism.
It runs using 3W of power and has an air purification rate of 96.62% for PM 2.5 and 93.9% for formaldehyde. The unit itself has 6.2 x 6.2 x 10.6 inches of size. It operates at a decibel of 20-35, so it won't disrupt your day. In fact, its noise level is lower than the other air purifiers you can find in the market today.
Pros:
This would make an interesting piece of décor. You aren't just getting an air purifier, you are also getting a decoration that will make a statement on your desk.
The anti-gravity effect is interesting to look at. It even has a digital clock function at the top part of the hourglass.
It works well in purifying the air. Every second, it creates up to 10 million negative ions, effectively dispelling harmful contaminants in the air. It works in getting rid of formaldehyde in the air as well.
This unit also functions as a humidifier. It has 45-55 degree Celsius of temperature humidification.
It has a compact design that makes this a great choice in small rooms.
It works quietly as well. In fact, it has one of the lowest decibel settings in the market. The motor is made from pure copper material and it has a submerged pump, so it operates quietly.
The design is so attractive, you can actually give this as a gift.
Cons:
It might not be the most durable because of the glass parts.
4. Airfree Air Purifier Onix 3000
This filterless air purifier uses the same Patented Thermodynamic TSS Technology as the previous one from Airfree. The difference is that this one works better in bigger spaces. If you want to purify the air of spaces up to 650 square feet, get this one.
It can save you a lot of money on filters. It will save you so much time in maintenance as well. It effectively destroys harmful microorganisms in the air using an efficient function. It works quietly and even features a tilt sensor.
Pros:
This is the one to get if you are purifying the air of a bigger room. It has an excellent air purifying capacity that can accommodate the needs of even bigger rooms.
Like the previous one, this one has a dome shape with a stable base that should be easy to set up in any countertop.
Its black color prevents this from looking dirty easily. It doesn't require maintenance, so you can basically set it up, plug it in and let it run.
It truly works in getting rid of harmful microorganisms in the air. Many of those who used this said they always feel better and did not have to deal with allergies after using this.
You don't need to spend so much money on filters anymore.
It runs silently. It won't disrupt your sleep even when you are using this at night.
It doesn't use up a lot of energy.
Cons:
Some said they did not like the plastic materials of this product.
Which is the Best Filterless Air Purifier for You?
Best Overall Product: Airfree P1000 Filterless Air Purifier. We believe this is the best product for anyone looking to buy a filterless air purifier. It is not as pricey as the other air purifiers but has an innovative technology that allows you to make an investment in one go. Many people can attest to how well this purifies air. Those who suffered from allergies in the past experienced relief after using this air purifier.
Most Portable Choice: The Pure Company Portable Air Purifier. This is the product to look for if you want a filterless air purifier to bring with you no matter where you go. It has a nice and compact design that is easy to use and easy to travel with. Its air purifying benefit is commendable as well. Many people said they stopped suffering from allergies after using this.
Great Design: Kovoda Air Purifier. If you like your filterless air purifier to double as a decoration, this should be a great choice for you. The hourglass design easily makes a statement in any room and has a unique functionality that purifies a room.
Great for Bigger Rooms: Airfree Air Purifier Onix 3000. Get this one if you need to purify the air of a bigger space. It has a bigger capacity compared to the other Airfree model. It is easy to use and does not require too much maintenance.
Benefits of Getting a Filterless Air Purifier
Here are the reasons why you should consider going filterless:
More Savings. A lot of people spend more money in buying filters for their air purifiers. Although these filters might last for months before they need replacements, the costs can still add up.
No Maintenance. You don't need to replace filters often or even worry that dirt and dust are accumulating in your filters. There are those filters that require regular cleaning because bacteria can grow in them. With a filterless air purifier, you basically don't need t do any kind of maintenance work. You just simply turn the product on, and it will do the work itself.
Healthier Choice. Many of these air purifiers are good for the health because they don't have filters where molds or bacteria can grow. They even use innovative technologies that mimic the way nature works in purifying the air.
Quiet Operations. These air purifiers usually don't have the motor found in the filtered ones, so they often run quietly. There are even those 2 times quieter than the filtered ones out there. Check the decibels of the products out there and compare them, so you can choose the ones that will run quietly at night.
If you think these benefits trump those of the filtered ones, get the products mentioned above.
Conclusion
We know how important it is to have good indoor air quality. This is why you need to make sure your home has air quality that is conducive for breathing and can prevent allergic reactions from arising. We can help you find the best household tools and products to improve indoor air quality.
If you're still uncertain which air purifier is the best choice for your space, be sure to check out the best air purifiers available today in our general buying guide. We've got your back with even more reviews and recommendations to suit any need.