Save a lot of money without sacrificing on good indoor air quality with the help of air purifiers with washable filters. You can find a cornucopia of choices out there, but we will help you find the ones that will fit in your specific preferences and needs. Our recommendations below are some of the best when it comes to their air purifying efficacy, low-maintenance features, energy-saving benefits and user-friendly functions.
Best Air Purifier with Washable Filter Reviews
Here are the air purifiers equipped with permanent and washable filters:
Check out the features that these air purifiers have to offer:
1. Honeywell QuietClean Oscillating Air Purifier with Permanent Washable Filters
This is a tower-type air purifier that has a washable filter. Because you can wash it as often as you want, you can save a lot of money on filters and also keep internal functions of this air purifier clean and in great condition. It has an oscillating function, so it circulates air once purified. The unit tells you when you should wash the filter through an indicator.
You can easily feel its effects because it is capable of circulating air up to 5 times in just one hour. It can work in room sizes of up to 170 square feet. This product is AHAM certified and comes with 3 cleaning levels.
Pros:
Keep the air in small to medium-sized rooms good with the help of this air purifier. You can instantly feel the purifying effect because it circulates and filters air up to 5 times in just one hour.
It is capable of getting rid of harmful microorganisms up to 0.3 microns in size. That means this product can effectively get rid of pollens, household dust, pet dander and smoke particles.
The permanent air filter is easy to clean. You can easily take it out for washing or you can simply vacuum it.
The 3 cleaning levels are great because you can choose the right level to respond to your cleaning needs. If air quality isn't too bad, you can simply set it up to a lower level.
It is a tower type air purifier that takes up a small footprint.
It is heavy-duty. Many people have had this product for years and even took it to a few moves and this has held up quite well.
It works quietly. You can use it even at night as it won't disrupt your sleep.
Cons:
Some said cleaning it is a bit tedious, but since you don't need to do it that often, it is still easy to keep clean.
2. Hamilton Beach TrueAir Air Purifier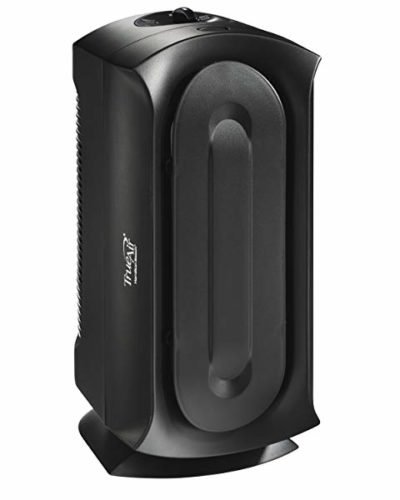 This might have a low price tag, but it has a lot of features that will make you think it is more expensive. The permanent HEPA-grade filter is capable of removing up to 99% of harmful allergens in the air. Simply vacuum it to keep it clean. No need to buy expensive filters.
Use this air purifier in rooms up to 160 square feet of size. It works optimally in small to medium-sized rooms and has ultra-quiet operations that won't disturb your peace. This unit offers 3-speed settings and can be set up either vertically or horizontally.
Pros:
Its price is one of its best features. It is one of the least expensive out there that can still deliver excellent air purifying benefits.
It has a fairly good coverage. It works optimally in rooms of up to 160 square footage. You can simply set it up on a table or a countertop. It can be placed vertically or horizontally, allowing you to maximize the space you have allotted for it.
It really does a great job in improving indoor air quality. It can filter out dust, pollen, mold spores, mildew, pet dander and many more airborne particles.
It works quietly. You can set it on your work table and not worry that it will disrupt your sleep.
The three-speed setting is ideal in maximizing its output.
Your purchase is backed by a one-year warranty.
It feels sturdy. Unlike other compact air purifiers that tend to be lightweight, this one has a more substantial weight of over 5 lbs.
It works so well with pet dander, so if you have pets at home, this should be an excellent air purifier.
It is a cinch to use. The control panel is easy to understand. Cleaning it shouldn't be a problem as well. A handheld vacuum cleaner is ideal when it comes to using this.
Cons:
Only the HEPA filter is permanent. You will still have to replace the charcoal filters.
3. Envion Therapure Permanent HEPA Type Air Purifier
Look no further than this one if you need to purify the air of a larger room. This has the ability to improve air quality of rooms up to 500 square feet. It is a nice tower-style air purifier with the control panel found on tp. You can set it up to work for your specific needs through its 24-hour automatic timer. It also features an optional ionizer.
The filters can effectively get rid of a variety of harmful air particles including bacteria, mold, smoke, pet dander and allergens. It works fast as well. It has a CADR rating of 155 for pollen, 132 for dust and 137 for smoke. The UV germicidal light that has been built in it further eliminates bacteria and germs lurking in your spaces.
Pros:
We like the sleek and modern design of this tower air purifier. You can easily incorporate it in your living room or any space without worrying that it will stick out like a sore thumb.
The digital display is easy to read. It even comes with a clean filter indicator, so you never have to guess when you have to take out the air purifier filter to wash it.
It works not just in microorganisms but also in eliminating household chemical fumes, carpet fumes and toxic paint fumes in the air you are breathing.
The 3-speed fan setting is a nice feature because it allows users to choose the right setting suitable for the level of pollution indoors.
It doesn't take up a large footprint. It also has a substantial weight of 15 pounds.
The lowest setting has noise that is virtually undetectable. In the highest setting, it gives off a white noise that makes it easier to sleep.
It is also one of the more affordable air purifiers out there.
Cons:
The blue light when you use the UV function is so bright that it can be disturbing at night.
4. Coway Mighty Air Purifier with True HEPA and Eco Mode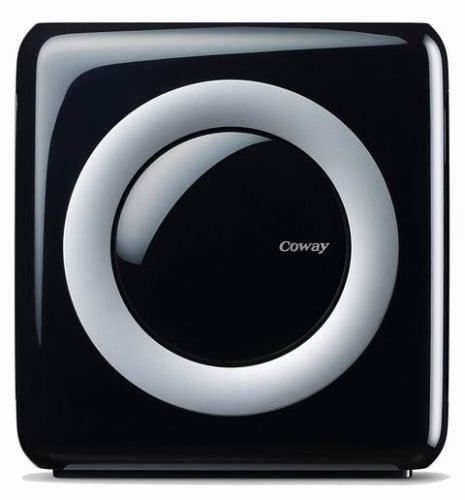 You will instantly notice this air purifier because of its sleek, square-shaped design. But aside from aesthetics, it also brings functionality to the table with its 4-stage filtration system. It comes with a pre-filter that is completely washable. This effectively captures bigger particles such as dust, pet fur and hair. The activated carbon filter ensures harmful gases and unwanted odors get filtered out. Next comes the True HEPA filter which works in filtering out particles and microorganisms no smaller than 0.3 microns. That should include pollens, pet dander, tobacco some, bacteria and viruses. The last stage features the Vital Ionizer, which helps in freshening up the ai through negative ion technology.
The excellent filtration technology of this product has received the BAF nod of approval. It should work in spaces as big as 361 square feet.
Pros:
The design of this air purifier is truly one of the best. It is fitting for modern spaces. It is big but doesn't take up too much space.
The pre-filter, which is responsible for keeping pet fur and dust at bay is washable. You can save a lot of money by not having to buy this filter.
This product has been equipped with a sensor. It detects the indoor air quality and lets you know how dirty your air indoors is through changing colors of its LED light. There are also buyers who said this has a good sensor because even when the unit is far, it still picks up smoke from the kitchen.
If it doesn't detect pollution for as long as 30 minutes, it goes straight to Eco mode. This will allow you to save more on energy.
You can also choose from 3 fan speed settings. Manually set them up to correspond to your current needs.
It has a timer function.
It lets you know when you should wash the pre-filter.
Cons:
It is a bit more expensive than the others.
Which Best Air Purifier with Washable Filter is the Best Choice for You?
Can't decide? Here are more things to consider:
Value for Your Money: Honeywell QuietClean Oscillating Air Purifier with Permanent Washable Filters. This might not be the cheapest option but every penny you spend on it is worth it because of how well it keeps the air purified. This is also one of the best when it comes to durability. It can hold up well against a good amount of abuse as evident with how many years this has served many people.
Budget-Friendly Choice: Hamilton Beach TrueAir Air Purifier. This is a good product to buy if you are on a budget. It still offers a lot of quality features including the ability to get rid of harmful particles in the air. It can be used vertically or horizontally as well, giving users more flexibility. Since it is compact, you can place it anywhere you wish without it intruding in your space too much.
Great for Bigger Rooms: Envion Therapure Permanent HEPA Type Air Purifier. Size is an important factor to consider when buying an air purifier. If you have a big room that needs air purifying, go for this one. It has the power and functionality that can accommodate bigger rooms without costing you more money.
Great Filtration System: Coway Mighty Air Purifier with True HEPA and Eco Mode. If your home often suffers from bad indoor air quality or there are people in your home prone to allergic reactions, get this one. It has a more capable filtration system that does a great job in keeping indoor air quality good.
Air Purifier with Washable Filter Buying Considerations
Need more help in identifying the air purifier that is right for you? Here are some important factors to consider:
Level of indoor pollution.
Some people may live in places where there is a higher level of indoor pollution. Such is the case of people who live close to the downtown area or those with high traffic areas. Also, if there are smokers in your household or you have more pets, you would want to look for one that has a more powerful filtration system.
Consider where you are going to place this filter. If you are going to put it in a bigger room such as a basement or a living room, make sure you choose one that has the ability to purify spaces that large. A smaller one will not cut it. Check the specifications and recommendations as to which air purifier is the best choice for you.
The filter should be easy to wash.
Not all of the washable filters out there are easy to maintain. Some might be difficult to wash or vacuum off. Look for those with filters you can easily take out and clean and those that do not require special tools to maintain.
Conclusion
Now that you've gotten an in-depth look at all our recommendations, it's time to decide which model is the best choice for your needs. You can find out more about any of the models mentioned here by clicking on the links in our reviews. That's the best way to check current prices, see full spec lists, and more.
You can also visit our reviews of the best air purifiers to see lots of other models to suit every need. So, if you haven't found something quite up your alley in this guide, you don't need to worry! 
Lastly, be sure to visit our homepage to find new reviews of products and appliances that can help improve your home's indoor air quality. Look for products that can become your ally in improving you and your family's health.