Having a humidifier at home can solve many of your mysterious maladies. If you suffer from unexplained congestion, allergy attacks or dry skin condition and can't point out the reason behind it, it could be due to the air you are breathing. If the air is too dry or there are allergens and contaminants, breathing can be more difficult. With a good humidifier in tow, you should be able to alleviate these common health concerns.
When it comes to humidifiers, you might want to set your sights on the ultrasonic ones. Today, you will find out what makes ultrasonic humidifiers better than other types of humidifiers and which of the ones you can find in the market today are your best options. Stick around to identify the best ultrasonic humidifiers that are good in terms of performance, capacity, price, durability and noise level.
Benefits of Ultrasonic Humidifiers
What makes ultrasonic humidifiers different from other types of humidifiers? These humidifiers are typically equipped with a metal diaphragm. What this does is vibrate using a high frequency in order to expel moisture into the air. They are capable of propelling small microns of water.
Here are the benefits you can get:
1. Virtually Noiseless Functions
Unlike other humidifiers that have a fan to expel moisture into the air, this type of humidifier does not. Because of that, it works quietly. You can operate it overnight and not have to deal with gurgling or vibrating noise that is common with other humidifiers.
2. Anti-Bacterial Features
One of the drawbacks of using ultrasonic humidifiers is that they do not come with filters that are used to separate the metals in hard water. However, many ultrasonic humidifiers today are made from materials with anti-bacterial properties that can prevent molds, mildew and other microorganisms from growing.
You can also help the humidifier prevent emitting white dust by using distilled water. This water is devoid of any hard metals and contaminants, so you should never have to worry about white dust.
3. Low Maintenance
Because there are no filters, there are fewer parts that you need to maintain. That can be an added advantage if you don't want to deal with yellowish filters. Other humidifiers that have filters will require maintenance or the dirt and metals in the filter can give off an unwanted odor.
4. Overall Costs of Using It are Cheaper
While the ultrasonic humidifiers are generally more expensive compared to their evaporative counterparts, you typically don't need to spend more money on filters. With evaporative humidifiers, you need to buy replacement filters to keep them running. But with this, that is not necessary.
These are some of the considerations you need to think of when deciding which type of humidifier to get.
Best Ultrasonic Humidifier Reviews
Here are the ultrasonic humidifiers you should be getting:
Check out these features:
Get temporary relief from all your respiratory problems with the help of this humidifier that is capable of delivering up to 24 hours of dehumidifying functions. It has 2.5 liters of tank capacity for the continuous production of mist. It features a 360-degree spout mechanism that allows effortless delivery of mist. It is very easy to clean and has an automatic shut off function that detects when the water level has reached low levels. It features a quiet touch panel function that you can use to easily manipulate the controls. With its 32 dB of noise level, this should be easy to operate.
Pros:
This humidifier has a big tank capacity that can operate for as long as 24 hours.
The handle has an easy lift feature. You can remove the tank and remove or clean the contents with ease.
The 360-degree spout ensures that it will expel mist effectively through the air.
It has an automatic shut off so that it won't run continuously when the water level is low.
You can choose from 3 different mist settings.
The 7 light colors are soothing.
It is backed by a 5-year warranty and a lifetime support from the manufacturing company.
It works quietly.
It comes with everything you need to keep it clean.
It is inexpensive and easy on the budget.
Cons:
According to some users, the light stopped working after some time.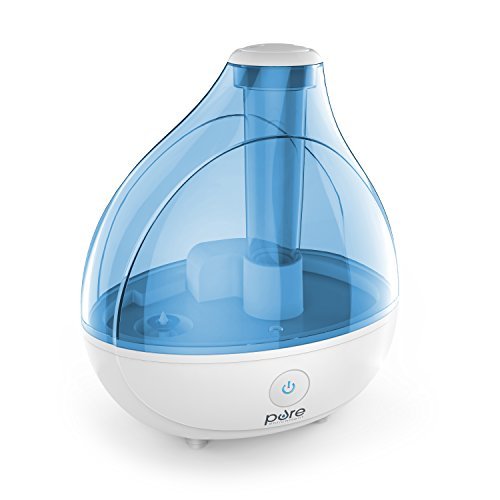 This ultrasonic humidifier has a 1.5L water tank capacity. It is capable of delivering up to 16 hours of continuous mist. The high and low-speed settings allow users to find their most ideal mist level. With its tank capacity, you can rely on this to provide humidifying benefits to medium-sized rooms. Other features include automatic shut-off and option night light.
Pros:
This humidifier has a big tank capacity that delivers continuous hours of run time.
The tank is easy to fill because of its big spout.
You have the option of setting how low or high the mist output is.
The mist nozzle features 360 degrees operations that can effectively distribute mist in the air.
The AC adaptor is conveniently located at the back instead of at the bottom like many humidifiers.
It runs quietly
It comes with a brush that you can use to clean the tank and the sonic tab.
Cons:
The power has a light that can't be turned off when it is in use. That can be annoying to some users.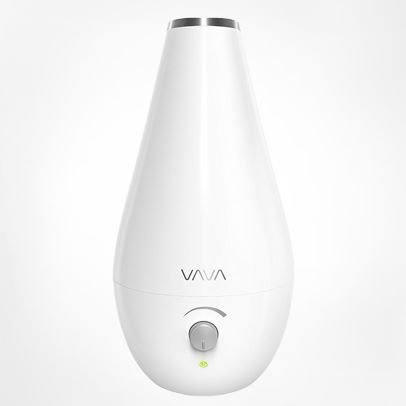 Get this slim humidifier that can fit even in narrower spaces. Even with its slimmer size, it still has a considerably big tank capacity of 1.8L. You can get continuous hours of mist. The tank is easy to remove and refill with water. It also features 360 degrees nozzle to deliver more mist into a bigger area. The LED indicator will let you know once you have achieved the right humidity levels. It works quietly as well.
Pros:
It has an attractive design. It is slimmer than other humidifiers out there, so it won't take up a large footprint.
The tank is big for its size. When set at the highest mist setting, it can run for as long as 7 hours. On a low setting, it can operate for days.
This humidifier has a good price.
Many customers can attest to how quiet it is.
The tank is easy to clean.
Comes with 18 months warranty.
Cons:
Some said they had issues with condensation.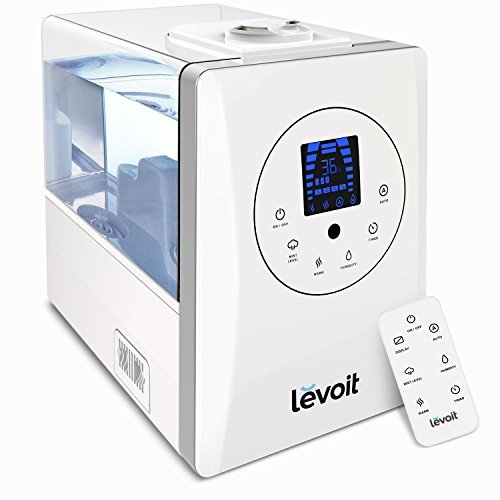 This is a more high-end ultrasonic humidifier that has warm and cool mist settings. It boasts of up to 15% faster-humidifying properties. The warm mist function also has the capability to get rid of most kinds of bacteria. The LCD panel allow you to see humidity levels in the room, so you can set desired humidity elves. The touch control is quite sensitive and easy to operate. It also comes with a remote control.
Pros:
This is capable of humidifying even large spaces.
It has 6L of capacity that can dispel mist for as long as 36 hours.
It operates quietly.
This has a touch control function that you can use easily.
The remote control is a nice feature to have.
The auto mode also comes handy when you just want the humidifier to detect the humidity levels on its own.
There is an aroma box you can use to add essential oils.
This is built to last. The materials can withstand impact.
The water tank is easy to clean.
It comes with a one-year buyer assurance.
Cons:
This is more expensive than other humidifiers.
Which One Should You Buy?
Reliable Functions: Tekjoy Cool Mist Humidifier.
You won't have issues with this humidifier that will effectively add more mist into the air you are breathing to provide respiratory relief. It is big enough to provide humidifying benefits to a small to medium-sized room.
Compact and Quiet: Pure Enrichment MistAire Ultrasonic Cool Mist Humidifier.
This is the humidifier you should get if you like something that is compact but doesn't produce too much noise. It can be relied on to humidify even medium-sized rooms. Many people also said this effectively relieved them of their asthma and other respiratory conditions.
Space Saver: Vava Cool Mist Ultrasonic Humidifier.
This humidifier is what you should look for if you want something that will fit in a narrower space. It won't disappoint when it comes to run time because it still has a big tank that will allow it to run for hours.
Works for Bigger Spaces: LEVOIT 6L Warm and Cool Mist Ultrasonic Humidifier.
If you have bigger spaces to humidify, get this one. It is capable of dispelling mist good enough to cover a bigger area. This is also a heavy-duty humidifier that can last for a long time.
Tips in Buying the Best Ultrasonic Humidifier
We get it. You want the best ultrasonic humidifier that you can rely on for a long time. But in order to find the right one, you should keep the following tips in mind:
1. Find a compact humidifier that you can easily find a space for in your house.
It shouldn't be too small or too big. It should have just the right size that you will be able to prop it on a table or leave it in a desk somewhere and not worry that it will be accidentally knocked over. Make sure it is also portable and compact enough that you can change its location any time you want. It should be lightweight as well.
2. Look for a good tank design.
Since you will be filling it up with water every now and then, you need to make sure that the tank design is not cumbersome to use. It should have a nice and solid handle that will make it easier to remove it from the base. Also look for one with a big spout. That way, you can clean the tank easily.
3. Choose a humidifier with a long run time.
It is more ideal to choose a humidifier with a long run time, especially when using it to humidify a big space. That way, you don't have to worry about refilling it repeatedly, which can be annoying. At the very least, it should have 10 hours of run time, but many large capacity humidifiers can last for as long as 36 hours, sometimes even longer.
4. It should have a high mist output.
Mist output is an important factor to consider as this will tell you how fast it will take to humidify a room. If the mist output is low, it might take a few hours of run time before you can actually start to feel relief. Most manufacturers include details on how much mist it is capable of expelling in an hour.
5. Choose those with easy controls and operations.
It is more ideal to pick a humidifier that has LED and touch functions. They are the ones that are easier to control, and they usually provide more settings for mist and time. You can set how strong the mist output will be to correspond to your particular needs and also set a time for it to automatically shut off.
In addition to these, make sure it comes with the requisite safety features such as the automatic shut off function as well. This feature means it will detect if there is a low water volume and then automatically shut it off to prevent overheating. A water level indicator will also come handy. Some humidifiers will also give off an alert tone once the water level has reached low levels.
Which One Should You Get?
Make sure you know what you are buying. With so many humidifiers out there, it can be confusing which one to get. Don't miss out on our advice and expert product reviews to be guided on which ones to get.